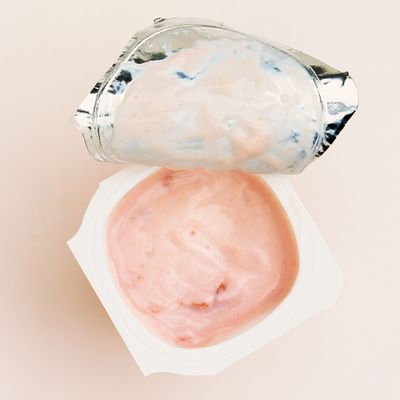 The milk goes into everything from Icelandic skyr to kosher Greek yogurt.
Photo: Dorling Kindersley/Getty Images
That cup of thickly textured Siggi's actually has a fascinating backstory: Refugees from Bhutan, the country sandwiched between China and India, are being trained to work as milkers in New York's dairy heartland. Originally forced to resettle in bleak camps in places like Nepal, they belong to a minority group of some 100,000 who've been kicked out by the Bhutanese government. About 40,000 have entered America in the last five years, and so far 23 (but an important 23!) have picked up dairy jobs through something called the Refugee Milker Training Program. The Times says the state saw it as a strategic move a few years back, beginning in 2014 "out of mutual need": Refugees could get agrarian jobs they were familiar with; farms could get more hands "to fuel the yogurt boom."
Participants attend courses at Alfred State College to learn to operate milking machinery, and even get help learning to use forks and knives (many of them spent 20 years in refugee camps). The 12-hour shifts they work four days a week provide one of the country's powerhouse dairy regions with a reliable, legal workforce. The Feds now do far fewer raids of these farms in order to detain undocumented Mexican workers — which, as it turns out, wasn't the most efficient business model. Best of all, the workers also have an advocate: a woman the Times calls "an indefatigable leader in the region" who runs a poverty-fighting nonprofit and reports that they and their families are making themselves at home in the dairy town of Warsaw, which has also considerably diversified its population.
[NYT]