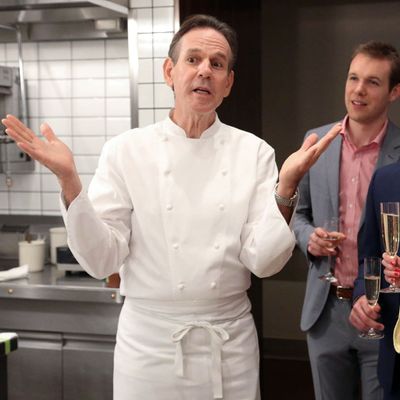 Keller, with guests in Per Se's kitchen.
Photo: Rob Kim/Getty Images
The recent murmurs among the kinds of people who frequent very fancy, incredibly expensive restaurants in New York indicate that Per Se — the Time Warner Center fine-dining spot that Thomas Keller opened to raves in 2004, and that currently charges $325 per person — isn't nearly as grand or exciting as it once was. In 2014, Eater's Ryan Sutton clearly laid out what he thought were the restaurant's main problems (much of the food feels old-fashioned, meals last too long, the menu supplements are too expensive and too plentiful), and the restaurant has been hit with a series of business setbacks in recent years: Also in 2014, the restaurant had some very public problems with the city's health department, and Keller's team had to pay $500,000 in 2015 for handling staffers' tips inappropriately.
And now this: Today, Times critic Pete Wells, a noted fan of Señor Frog's, weighs in on Per Se, which as of this morning still retained four stars — the paper's highest rating. As Wells writes, recent meals made him realize that star rating "needs a hard look." Very hard, apparently, because the critic does not hold back on this "grand, hermetic, self-regarding, ungenerous restaurant" where meals "ranged from respectably dull at best to disappointingly flat-footed at worst."
What needs work? Everything, it seems. Starting with the food:
The kitchen could improve the bacon-wrapped cylinder of quail simply by not placing it on top of a dismal green pulp of cooked romaine lettuce, crunchy and mushy at once. Draining off the gluey, oily liquid would have helped a mushroom potpie from turning into a swampy mess. I don't know what could have saved limp, dispiriting yam dumplings, but it definitely wasn't a lukewarm matsutake mushroom bouillon as murky and appealing as bong water.
And the service:
When one of my guests didn't like a sample of a red being offered by the glass, the sommelier decided to argue, defending his choice instead of pouring something new.

[…]

Servers sometimes give you the feeling that you work for them, and your job is to feel lucky to receive whatever you get.
And, of course, those infamous menu surcharges:
The supplements at Per Se can cause indignation, among other emotions. When my server asked, "Would you like the foie gras"— $40 more — "or the salad?," the question had an air of menace. When the salad turned out to be a pale, uncrisp fried eggplant raviolo next to droopy strips of red pepper and carrot, it felt like extortion.

[…]

With or without supplemental charges, though, Per Se is among the worst food deals in New York.
There are some things to like — the squash agnolotti is good — but in the end Wells knocks not one, but two full stars from Per Se's rating, leaving it with two (the same Times rating, incidentally, as the veggie-burger stand Superiority Burger). Wells famously dropped Daniel Boulud's flagship Daniel down to three stars in 2013, writing at the time that the difference in experiences for VIP customers and otherwise-anonymous diners was too large to ignore. At Per Se, though, it's all pretty grim.
The remaining Times four-star restaurants in New York City are Eleven Madison Park, Le Bernardin, Sushi Nakazawa, Jean Georges, and Del Posto. Señor Frog's currently carries a "fair" rating.
[NYT]