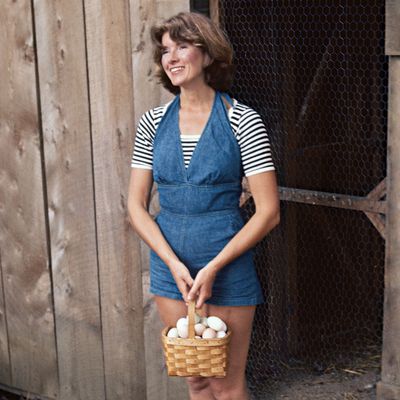 Those were the days.
Photo: Courtesy of Dan Barber; Susan Wood/Getty Images
The current issue of New York devotes its cover story to "beginnings": those moments when some of the country's most important people had their big creative epiphanies. For Blue Hill chef Dan Barber, it was all about eggs, specifically eggs cooked by his classically trained aunt: "I remember my throat was so sore and she cooked me scrambled eggs over a double boiler, you know, so they were supersoft and runny and she whisked them and they were like little clouds … It was revelatory. I felt like I'd never tasted an egg before."
Meanwhile, Martha Stewart talks about completing her first book in 1982, which she finished — or at least attempted to finish — after her family left for a Christmas skiing trip without her. But for Stewart, the big breakthrough came when she threw a party at the Armory and brought her own chickens:
I brought them in poultry cages and people were shocked to see real chickens alive and well. I brought in giant baskets of apples and bales of hay — brought in the harvest, basically. This is at the same time, by the way, that Studio 54 is doing walls of ice and all kinds of crazy stuff. People went nuts over that. They loved it. They wanted the country brought to the city and the city brought to the country.
There's a lot more, of course. Competitive eater Joey Chestnut reveals what it takes to house loads of food in front of strangers ("I was awful my first time. I was so shy eating in front of people"); Flynn McGarry got his start because, at 10 years old, he figured he could out-cook his mom; and Jerry Seinfeld remembers the exact day he quit his job at Brew Burger to be a full-time comedian ("It was a red apron, and I gave it to the guy across the bar, and I knew this was the greatest moment of my life").