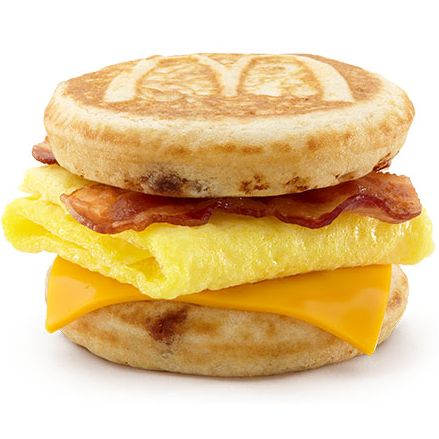 McGriddle fanatics are ecstatic.
Photo: McDonalds
McDonald's executives maybe got to tweaking too hard on the wild success of all-day breakfast because they're already trying to score their next adrenaline rush. This ballsy plan involves trying to fix customers' biggest complaint about the longer breakfast hours: that the menu is tiny. The Associated Press hears that stores in a strategically remote corner of Middle America (Tulsa, Oklahoma, to be exact) will experiment with adding the McGriddle to the all-day lineup. The McGriddle has a cult following insane enough that McCorporate almost didn't hear the end of it when the All-Day Breakfast menu debuted with a pancake-sandwich-size hole. Only a McGriddle can fill this hole, and soon — on February 1 — it will … if you're in Tulsa.
In addition to this sandwich, the 72 Tulsa-area stores picked for this trial (Tulsa's McDonald's game is strong!) are also going to do both biscuits and English muffins around the clock, another All-Day Breakfast menu first. Up till now, the chain has divided the nation into either biscuit or McMuffin territory. The problem with adding these items, though, is that they — in the AP's words — push McDonald's "operational limits":
The syrupy pancake buns for McGriddles and biscuits would need to be warmed up in ovens, which are also used to heat up apple pies, cookies and mozzarella sticks during lunch hours, said LeAnn Richards, a McDonald's franchisee who led a task force on all-day breakfast. McGriddles and biscuit sandwiches are also made with a frozen egg patty, instead of the cracked egg used in McMuffins.

That means franchisees — who already had to buy new equipment to offer all-day breakfast — would need to further juggle grill and oven space for an expanded menu.
The chain anticipates a lengthy test phase in Tulsa before trying to walk them out any further. According to the AP, McDonald's expects it'll need to observe the situation there for two to three months before "deciding how to proceed."
[AP]