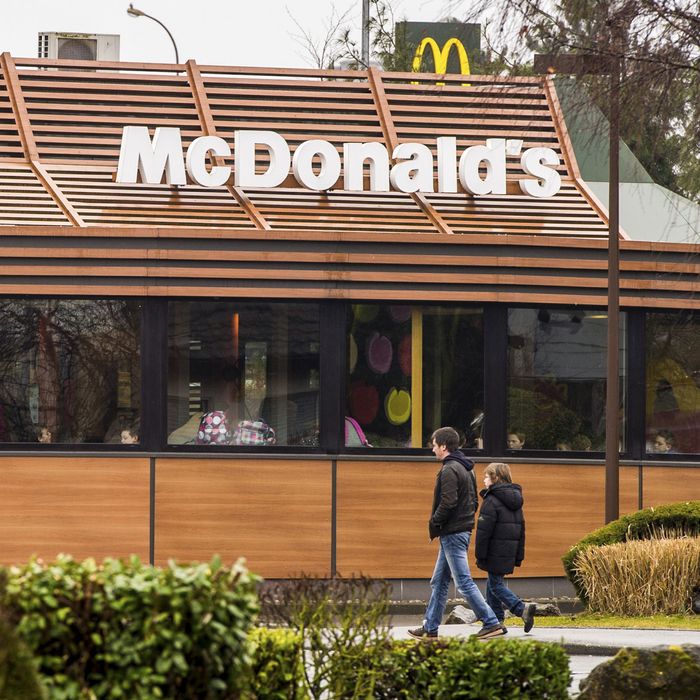 Prime real estate.
Photo: Philippe Huguen/AFP/Getty Images
Three consumer groups in Italy have found another new reason for Europeans to dislike McDonald's: Allegedly, the chain is charging franchisees as much as ten times the market rate for rent, in turn forcing them to jack up burger prices exorbitantly. The trio of consumer-rights organizations — Codacons, Movimento Difesa del Cittadino, and Cittadinanzattiva — filed their complaint Monday with the European Commission, accusing the chain of breaking EU antitrust laws with an unfair franchising system.
Among the complaints are that the chain locks store owners into restrictive 20-year contracts (about double the norm), and that it actually requires European franchisees to pay above-market rent for their buildings and the land. The groups say the practices give McDonald's "excessive and disproportionate control" over store owners, and they cite research that shows the resulting cost disparity: 97 percent of menu items in Bologna are more expensive at franchises than at company-run restaurants, 68 percent are more expensive in Rome, and 71 percent are more expensive in Paris. A small fry at a French franchise location might be almost 75 percent more expensive.
Not shockingly, the Service Employees International Union, the powerful U.S. group behind Fight for $15 that's slowly acquiring global clout, flew fast-food workers over to Brussels today to support the complaint. Its director says they "strongly urge" the European Commission to investigate the charges. For its part, McDonald's issued sort of a blanket denial of any wrongdoing, saying this business model "has been successful for many years and has helped create the best business opportunities for our franchisees and the best overall experience for our customers." The European Commission, which has already launched an "in-depth probe" into McDonald's relatively light European tax burden, said it's going to take a good look at this complaint as well.