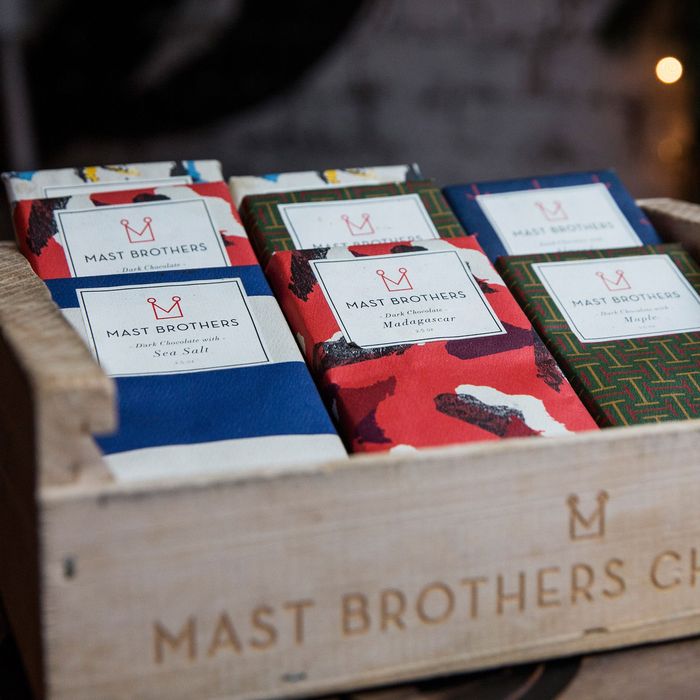 At one shop sales are down 60 percent compared to last year.
Photo: Andrew Burton/Getty Images
On December 7, Dallas blogger Scott Craig posted the first part of an investigative series on the popular Mast Brothers chocolate brand. By now, his report is well known: During the company's earliest days, the Mast Brothers, a brand built on the idea of hand-crafted authenticity and so-called "bean to bar" chocolate-making, made some of their products with remelted industrial ingredients, and the brothers were less than straightforward about how they marketed the product. Initially, the Masts denied the accusations, but after the story exploded and was picked up by mainstream media outlets, the brothers were forced to admit to the practice and apologize.
The remelting, of course, happened years ago, and nobody has made any claims about the authenticity of the company's current chocolate. (People have, however, complained that the quality has actually dropped compared to the early products that contained industrial ingredients.) Even still, the uproar was a problem for a company that had already begun rubbing many people in the chocolate industry the wrong way, and the timing, just before the crucial holiday-buying season, couldn't have been worse.
Perhaps unsurprisingly, a Mast Brothers representative told Grub Street that everything is fine: After evaluating its nearly 1,000 retailers, sales "held steady" in the three weeks after December 18 compared to the same period a year ago, and the company suggests that the media attention actually led to more revenue. Over that same three-week period, online sales doubled and overall company sales grew by "double digits." The chocolate-maker also pointed to its annual growth from 2014 to 2015, when overall sales increased by "double digits" and online sales grew by 40 percent. According to the rep, Mast is a "growing, profitable business, and retail sales are only one part of the overall business."
Five retailers contacted by Grub Street that carry the brand, however, say they did notice a drop in mid-to-late-December and early-January sales when compared to the previous year. (A sixth shop said sales figures remained steady, but customers returned bars because of the media coverage.) Larger retailers, such as Whole Foods and Dean & DeLuca, wouldn't share sales numbers. A rep for Shake Shack, which collaborates with Mast on Shack-only chocolate bars, would only say they haven't heard anything from customers or employees regarding the controversy. But some independent shop owners say sales dropped anywhere from 17 to 66 percent.
At Bklyn Larder in Park Slope, sales plummeted after the damaging media coverage, according to co-owner Sergio Hernandez, who was shocked by the decline. He sold $1,700 worth of Mast chocolate bars in the final two weeks of 2015, compared to $5,000 in 2014. Sales were so bad that Hernandez did not reorder bars in late December "after we saw the dramatic drop and all the negative media." Hernandez instructed his managers not to reorder "until we had all the facts in."
At Bedford Cheese Shop in Williamsburg, located two blocks from Mast's flagship store, sales dropped by 40 percent compared to the same period a year earlier. Sales were less impacted at Bedford's Gramercy location (only a 17 percent drop), which normally sells fewer bars than the Brooklyn store. In Brooklyn, a rep for the shop says Mast bars generally fly off the shelves. This year, though, they "went from selling really well to well."
Over on the West Coast, at San Francisco's two Bi-Rite Markets, sales dropped by a combined 27 percent compared to a year ago. And if you remove a single large purchase of 70 bars on December 19, the decrease was even starker: a 47 percent drop.
At another market, Brooklyn Victory Garden in Clinton Hill, overall sales of Mast bars remained about the same compared to last year, according to owner Tess Gill. But three customers made the odd move of returning their bars, something assistant manager Gabe Dolecal said he'd never seen before. The customers had two concerns: They asked whether Mast was still using industrial chocolate and why it recently stopped disclosing the origin of the beans on their packaging, according to Dolecal. "[They] read the articles, and they didn't want to support that," he says. (To be fair: Each bar's ingredients and bean origin are still listed on Mast's website.)
A rep for the company says these figures aren't meaningful: "Citing one or two shops that may have experienced a shift represents a very small fraction of retail partners and is not fully representative of sales on the whole."
Though everyone who spoke with Grub says they'll continue to carry the brand, some managers expressed concern and a desire to get to the bottom of this mess by talking to the company. At Bi-Rite, lower sales will translate to ordering less chocolate from Mast, grocery buyer Raph Mogannam explains. Meanwhile, Hernandez, of Bklyn Larder, says that he had already been planning on adding lesser-known chocolate bars to his shelves before the controversy, something that could take away from Mast's shelf space.
Hernandez was undecided about whether to keep carrying Mast products at all. Then he spoke to Rick Mast earlier this week. "We had a good conversation where he said everything has been the same since day one," Hernandez says. "I have no reason to disbelieve someone I've been working with for seven years." Still, Hernandez is going to decrease the number of Mast bars he carries — just two, down from seven — and go ahead with his plan to seek out lesser-known chocolate-makers, so the store can "continue to look for top-quality craft producers."