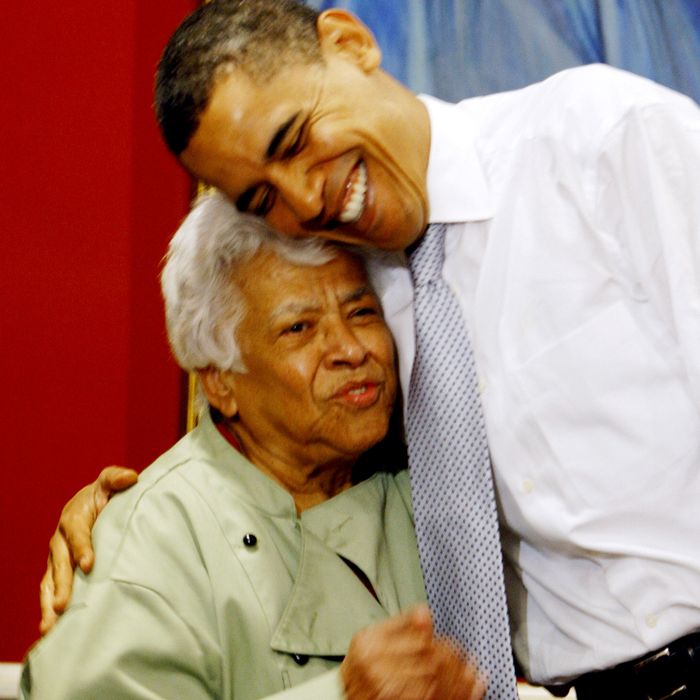 Leah Chase with President Barack Obama, whom she chided for adding hot sauce to his gumbo.
Photo: Emmanuel Dunand/AFP/Getty images
Through the late 1940s and early '50s, Leah Chase and her husband, Edgar "Dooky" Chase Jr., began to transform the family business, Dooky Chase's Restaurant, into a destination-worthy Creole restaurant. At 93, she continues to fire up the burners as the restaurant's chef. And now Leah Chase, since dubbed "the queen of Creole cooking," is being honored by the country's premier culinary body. The James Beard Foundation announced on Thursday that Chase will be the recipient of this year's Lifetime Achievement Award, an honor that's previously gone to chefs and restaurateurs such as Wolfgang Puck and Chicago's prolific Richard Melman. Chase, though, is much more than just a gumbo master.
She's been lauded as an advocate for civil-rights causes, once flouting New Orleans's segregation laws by serving both black and white customers. The restaurant became a center for African-American culture and a meeting place for black activists ("they would meet here and plan all of that over gumbo and fried chicken") and organizations like the NAACP. Those customers included the writer James Baldwin, Thurgood Marshall, and Ray Charles, who mentions the restaurant in his song "Early in the Morning."
When Chase first took over the kitchen, she told the Times in 1990, she tried to serve dishes like lobster thermidor and "wanted to have a restaurant like the ones on the other side of town." That didn't work out, so she turned to the food she grew up with: jambalaya, gumbo, a particularly renowned fried chicken, and so on. This turned out to be an excellent move.
Over time, Chase developed an exacting reputation and commitment to tradition. When the Southern Foodways Alliance, for which she served as the first president of its board of directors, named her the 2000 recipient of its Craig Claiborne Lifetime Achievement Award, the organization described her as a opinionated self-taught cook.
In addition to the aforementioned awards, Chase was inducted into James Beard Foundation's Who's Who of Food & Beverage in America in 2010 and had a gallery at New Orleans's Southern Food and Beverage Museum named in her honor in 2009. Together with her husband, she founded the Dooky Chase Foundation to further the causes she had supported during the civil-rights era.
Like so many other businesses in New Orleans, Chase's restaurant was affected by Hurricane Katrina, becoming inundated with five feet of water. She persevered, telling nola.com, "There's nothing you can do about it, but accept it. You take a good cry and you keep going." Her restaurant reopened in 2007, thanks in part to a benefit that helped raise $40,000 for the restaurant. Seven years later, a Times-Picayune judging panel named her fried chicken the city's best, with one judge calling it "damn near perfect."