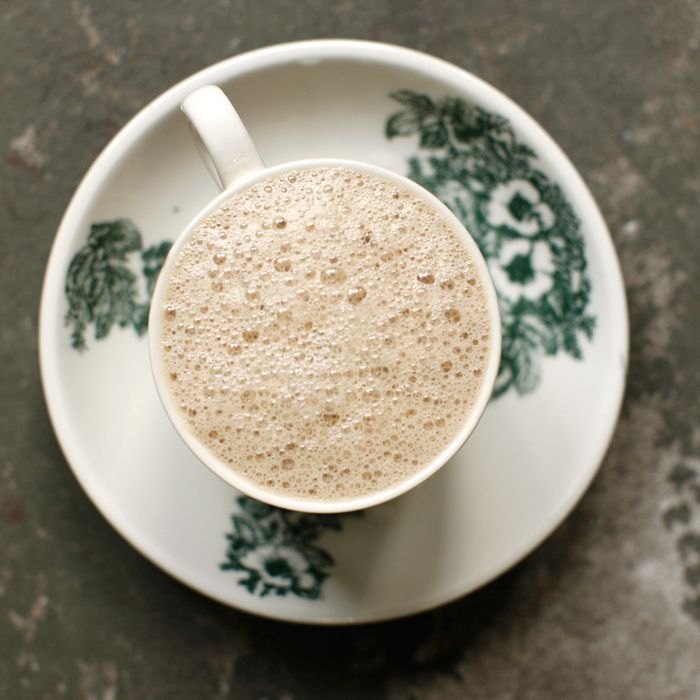 Pang even ships cups over from Malaysia, so the presentation is on point.
Photo: Melissa Hom
At Kopitiam, a teeny-tiny Malaysian café on Canal Street, there's a coffee drink that rivals what's served at Stumptown, La Colombe, and every other shop with exposed brick and mustachioed baristas. The beans for the $4 white coffee — already praised by New York Times critic Ligaya Mishan and which, despite its name, has nothing to do with a flat white or the newest Starbucks latte — are roasted with olive oil (not margarine, which is a traditional preparation) and brewed with a touch of condensed milk. Chef-owner Kyo Pang explains why most Americans haven't heard of it until now:
Malaysia's coffee is very delicate and very different from any other coffee. We realized that many people do not have much knowledge of it. Some people related our coffee to Vietnamese coffee, because we use condensed milk. There aren't many Malaysian restaurants that carry this fresh coffee, because it's labor-intensive, and instant coffee is more profitable. In order to correct all these wrong perceptions about Malaysian coffee, I think that it's important to … [show] that this is one of the best coffees in the world.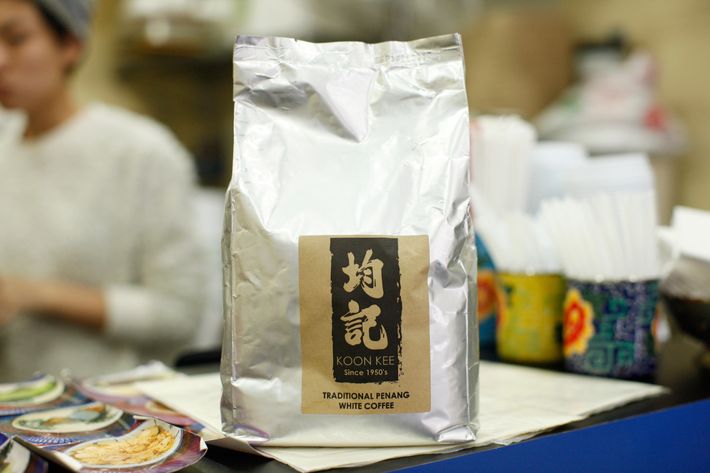 Pang has an exclusive partnership with Koon Kee, a coffeehouse based out of Penang, Malaysia. She boasts that Kopitiam is actually the first and only Stateside café to carry Koon Kee's products: The white coffee arrives as a powder, while the black coffee is made from beans that arrive biweekly and are freshly ground and vacuum-packed. She says:
Our white coffee is very delicate … It is less caffeinated. The way we brew our coffee is also very different: The water has to be above 200 degrees in order to force out the maximum [flavor] from the beans. We "hand-pull" it from container to container to drop it to a drinkable temperature, and also create a natural foam from the condensed milk.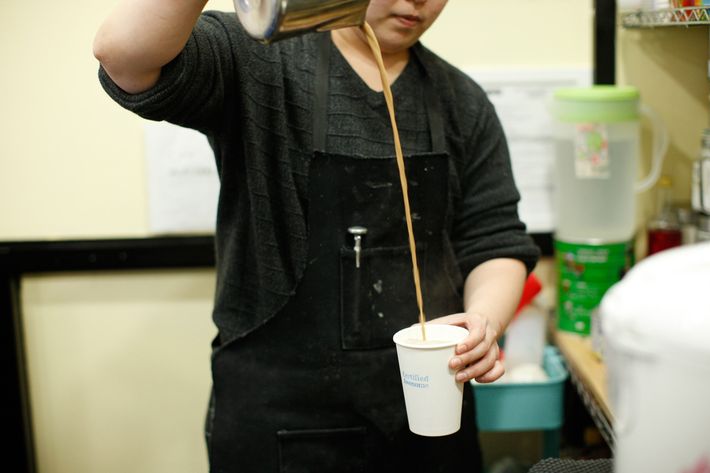 The drink is smooth and sweet — like a diet version of butter-dense Bulletproof Coffee. Serious coffee-lovers might scoff — the coffee flavor is faint — but the drink is complex and comforting. (Think of it as a highbrow version of those trashy, delicious lattes that come out of vending machines.) Plus: White coffee pairs especially well with Kopitiam's sweet snacks, like kaya-butter toast and sticky rice with grated coconut. It's worth seeking out, especially while there's snow on the ground.