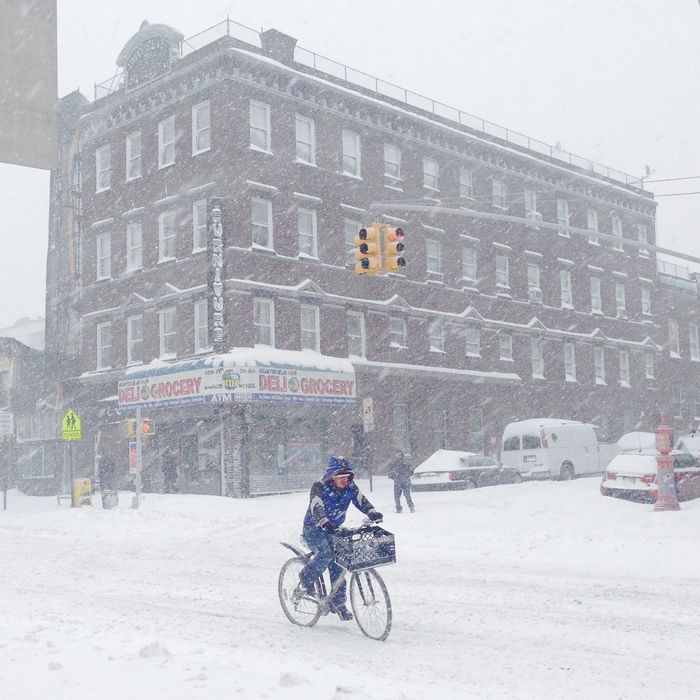 Hopefully on his way to a 25 percent tip.
Photo: Konstantin Sergeyev
This weekend's snowstorm delivered its share of physical damage, but it had a hefty financial toll as well: Resy, the app that lets customers nab hard-to-book restaurant tables, says Jonas stopped reservations on the app nearly dead in their tracks for both New York City and D.C. on Saturday, and also had a sizable effect on Sunday's business:
This would put a dent in weekend sales, but it's also not a huge surprise, since many (though not all) big restaurateurs in New York followed Mayor de Blasio's strong urging on Saturday to shut their establishments down:
Delivery services GrubHub and FreshDirect didn't exactly have record-breaking weekends either. GrubHub hasn't released any hard data yet, but reps did tell Bloomberg that they're currently handling a considerable number of refunds for orders that went unfilled — demand that was only exacerbated by the flood of media stories justifying blizzard orders for customers who tip way more than usual, as well as by the fact that GrubHub actually offered a 10 percent discount during Jonas. FreshDirect says it was reduced to making "only sporadic deliveries in Manhattan," and operations resumed citywide today. It adds that deliveries it couldn't get out in time are being donated to City Harvest and the Food Bank for New York City.
Really, though, considering how ridiculously well-stocked everybody's cabinets and pantries were, this all kind of makes perfect sense.