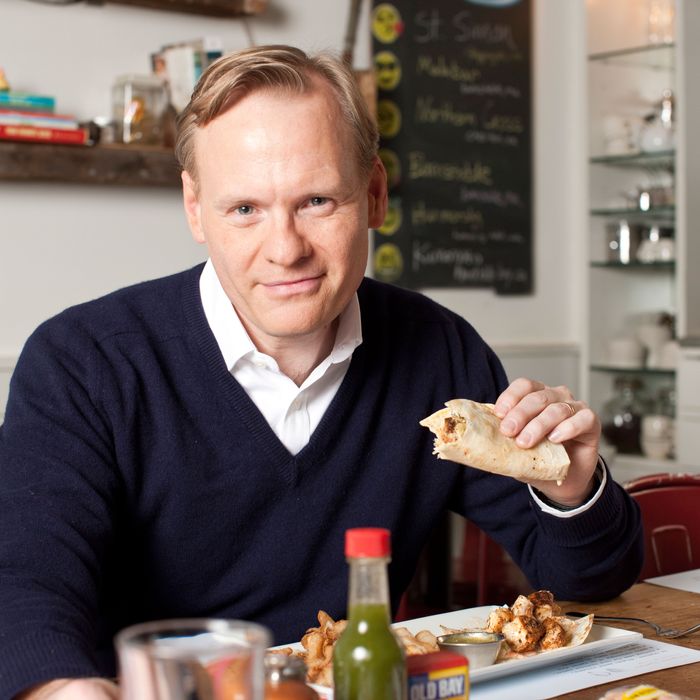 As the political director of CBS News, the host of Face the Nation, and a correspondent for Slate, John Dickerson spends much of his time running around the country. (He's also moderating the upcoming Republican debate in Greenville, South Carolina, on February 13.) But since Washington, D.C., is home base for Dickerson, this past week's blizzard seriously hampered his travel schedule. The stressful situation — he and his production staff had to check into a hotel near the office — led to some comforting, indulgent meals, like squash and carrots with chorizo sausage. Dickerson even broke his rule of never drinking before the night of the show, just because his roast chicken called for Sauvignon blanc. Read all about it in this week's Grub Street Diet:
Thursday January 21
This is a good day to start a food diary. It is my daughter's birthday. She loves food, so we are going to eat well. My wife makes French toast. What do you call French bread you put in the toaster? I ask the room. We share the load in our marriage. I make the bad dad jokes.
The butter is Parmigiano Reggiano cream butter — it comes in paper that crinkles, and feels like it had to be folded by real hands, not a machine. I think that makes it taste 10 percent better.
I stay at home to work. I am interviewing everyone by phone, and it snowed yesterday. Why fight the traffic downtown? Usually working at home means dry Barilla three-cheese pasta with a little butter and pepper, but we have some roast beef from Stachowski's Market. Jamie Stachowski sells sausage at the Sunday farmers' market near our house. He's from Buffalo, and listening to what's in every sausage and how to cook it is worth doing, even if you're a vegetarian.
Music and certain foods are time machines. Whenever I make a sandwich, I am returned to my father's house, where we lived together when I was in high school. I was in love with roast-beef sandwiches with Havarti cheese. As an adult, the bar for a truly great sandwich is high, but when I was a kid, I craved those simple sandwiches. Havarti was the first cheese outside of the yellow cheeses that I fell in love with. I would come home late sometimes and eat an entire block of Havarti with plain wheat crackers.
A midday surprise! My wife texts and asks if I want a tall flat white coffee from Starbucks. I am not a fan of Starbucks regular coffee, but the flat white is a little piece of gold in the day.
For dinner, we eat at Barcelona. It's very cozy, and everyone at the other tables also seems to be there celebrating something. There are many little plates and slapped hands as the four of us get grabby for the frogs legs, anchovies, patatas bravas, and olives. My wife and I have modest glasses of Manzanilla sherry.
We are lucky our kids like food because it offers a common space for non-contrived conversation. The four of us can all contribute equally. For the kids, they feel a little more adult. For us, we get to moon over their growing interest in the world without necessarily giving off the signal that usually causes them to shut down when it looks like we're mooning over their growing interest in the world. After a conversation warmed by exchanges over food, the conversation can wind into other topics we'd never be able to launch from a cold start. Only talk about the dog and the musical Hamilton (which they haven't seen but have memorized) occupy this same space.
Friday January 22
Friday mornings I do a series of radio appearances on stations across the country, talking about politics and what's coming up on Face the Nation on Sunday. So I make a hasty cup of 6 a.m. coffee and close the door to my office. This is an unsatisfactory breakfast.
On the way to the office, I stop at Jetties, a sandwich shop on the drive downtown, and order a Surfside sandwich — turkey, avocado, Havarti, and bacon, with waffle chips and an Arnold Palmer. It's a very pleasing sandwich produced with amazing consistency. It's two bitefuls too much, though. Perhaps three. I've eaten 100 of these, but this is a lesson I have to relearn every time.
Because a blizzard is about to hit Washington, the production staff at Face the Nation checked into a hotel near the office, so we won't get stranded at home. This takes us away from our families and the home-bound delight of mountainous dumps of snow, but it also puts us across the street from Blue Duck Tavern, a lovely and expensive Washington restaurant. It's the kind of place I'd normally go on a special occasion. In this case, there is chaos in the streets. Nothing is open. Who knows if we'll even survive the night? For our nerves and out of scarcity, it's only prudent that we convalesce in the embrace of the restaurant's back room.
I start with a gently dressed mixed-greens salad with Boston lettuce, my favorite kind of lettuce. For my main course, I have Rohan duck. I thought they were known for their horsemanship, but the Riders of Rohan apparently also raise a special variety of duck. It is delicious. The sides win the day, though — mushrooms, cauliflower, carrots, each in tidy little copper dishes.
I love this kind of dinner, where each forkful is a mix — a little duck, some mushroom, and a little sprig of the cauliflower. It's also fun to have an impromptu dinner like that with people you like to work with: All kinds of discoveries about their lives come out. Improvement also from a glass of Malbec.
Saturday January 23
I wake to about a foot of snow and treat myself to a hotel breakfast looking out on the courtyard. The snow on a circular patio table looks like an enormous panna cotta. The Fairmont has a vast buffet. I love a Sunday buffet at a hotel, but it is a workday for me. If you have the liberty of a Sunday of leisure, a buffet is a thing you can delight in. But if you're working, a buffet is like New Year's Eve — lots of hype, but often just a dull march. This Saturday, the buffet is just an invitation to decision fatigue. Too many choices. So I order a frittata with goat cheese and spinach and a side of bacon. The star is the English muffin. Perfectly toasted with a little jam.
The office is just four blocks away from the hotel, but I know nothing will be open, so I order a brown-bag lunch to go — chicken and avocado on brown bread. It is the best of the options. Of the sandwiches we have discussed, here this is the third-place finisher.
While at the office, I snack on David's lightly salted sunflower seeds. I can eat so many of these while writing that, even with the reduced salt, by the end of the day the inside of my mouth feels ragged, like a towel you stuff under the door to keep out the cold.
I eat dinner with some colleagues from the show at Cafe Deluxe. After a day looking into the computer screen, the lighting is a little bracing. It is the lighting they use when doing surgery on small areas that are hard to reach. The clam chowder is just the warm starter I need. I also need a roast chicken, and the kitchen delivers, along with some mashed potatoes and asparagus. I break my no-drinking-the-night-before-a-show rule with a glass of Kim Crawford Sauvignon blanc because the chicken seems lonely and in need of accompaniment.
Sunday January 24
Show day. Usually I am at the door of the local Starbucks the moment it opens at 6 a.m. on Sundays to get a tall flat white for the drive into the studio. This morning I am at the hotel, and at 5:30, they have no lobby coffee. This will not do. I wind my way into the kitchen and find a welcoming fellow named Oscar who gets me a cup.
Usually on show days, I eat a tough-to-manage sausage-egg-and-cheese sandwich. It always has 50 percent too much egg. If you try to remove some of the egg, the integrity of the entire operation comes unwound, and you might as well smear it all on your face and tie. Today we have eggs from the hotel across the street, and no one is hurt in the consumption of them.
After a bumpy ride through the snowy streets, I make it home to the smell of freshly made tomato soup, and the warm embrace of a grilled cheese sandwich with Gruyère cheese. My wife puts a thin layer of mayonnaise on the grilled-cheese sandwich, as all right-thinking people do.
My weekend starts Sunday after the show, and ends before I fly up to New York to do CBS This Morning from the studio. This weekend, because of the snow and canceled flights, I'm remote from Washington. I take advantage of this with a martini, which helps me write my Whistlestop podcast on Howard Dean.
On Saturday my wife has passed the time making beef stew, and for dinner, we have it over noodles with a bottle we've been saving from Barboursville Vineyards in Charlottesville, where we went to school. I think Anne decided to drink it to make my Grub Street Diet more interesting. Or to make me more interesting.
Monday January 25
The morning started as it often does, navigating the house by light of the iPhone. Up at 5 a.m., I learn the car that's going to help me get through the snow to my appearance on CBS This Morning can't make it up our unplowed street. I'm going to need some coffee. Instead I have a cup of disappointment.
Normally my morning coffee is about the most perfect thing a person can ask for. My wife makes it for me while I get dressed or read the papers. That she makes it for me is only the marginal act of love. The beans that she grinds are from Craft Coffee. I get a new coffee every month. It was my Christmas present, 26 years after she bought me coffee when we were in college because I was drinking the poison from the local market to stay up at night. She grinds it in a burr grinder that she researched the way people research cars. And she makes it with an Aeropress, which she bought long before everyone had one because she researched that, too.
Coffee and sandwiches always taste better when someone else makes them, but she has done everything but pick the beans herself. Oh, and she doesn't even drink coffee.
Anyway, it's 5 a.m., and she's asleep. The kettle is in its last death throes. It works every sixth time, and I'm pretty sure I have lucky six. It beeps as if it's actually working. I grind the beans. The clock is ticking. I can't be late. The cameras go on without me. The water is heated to a roiling 88 degrees. Whatever, I have to go. I press the lukewarm water through the grinds and pour it into a to-go cup. In high school I used to stay up to study for tests by eating spoonfuls of instant coffee. That's rock bottom. The cup of coffee I produced is the thin layer above that.
Washington is still pretty much shut down. Panera is open. Good for them. I order an egg-and-bacon sandwich. Bad for me. After a couple of bites, I send it to its reward.
For lunch, I head out again. I walk the streets ducking the ice that falls from the hairlines of the buildings. I make it to Potbelly, the only place that's open. When I worked at Time, we had a Potbelly in the building. I ate there four of five days a week, and then, suddenly, I could not walk by the place without getting queasy. That feeling never leaves you. Or at least it has not left me yet.
I came home to what you might suspect is more stunt cooking, but this is the way we eat every night. Squash and carrots with chorizo sausage from Stachowski and grains. For dessert, my son makes chocolate milkshakes.
Tuesday, January 26
Anne boils water on the stove, making my morning cup of wonderfulness. The kettle beeps in sorry solidarity every now and again. We both have to leave, so we abandon the kids with some chocolate croissants they can put in the oven. They still don't have school because of the snow, so they can eat them for lunch when they get up.
For lunch, I have a few flour tacos from District Taco. Once this place opened, it rescued me from the daily defeat of having to come up with a decent lunch. I'm in danger of eating there too much, though, out of laziness.
I can smell dinner before I even walk in the front door. Anne's making a roast chicken based on a recipe we got from Senator John McCain. I covered his 2000 presidential race, and he had some of the reporters over to his vacation home in Sedona, Arizona. He grills like mad when he entertains — on several grills all lined up. He puts the chicken on the grill covered in Hog's Breath, a seasoning from a Key West bar. He then bastes the chicken with lemon constantly. It's delicious. It also works perfectly with pork. It is perhaps my favorite meal that we cook at home. Not the fanciest, and certainly not the most complicated, but when your house is encased in snow and it's an election year, where sleep and time at home are scarce, it makes it feel like it's your birthday every time you have it.