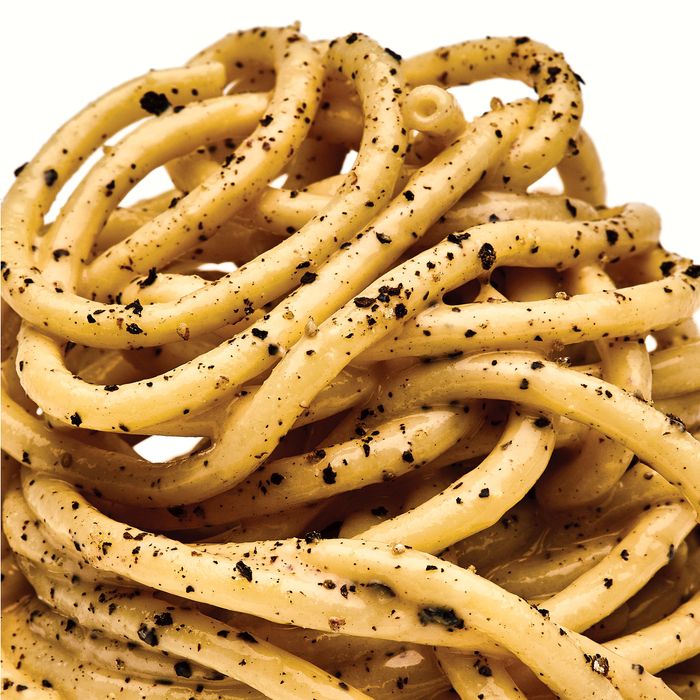 Momofuku Nishi's ceci e pepe.
Photo: Bobby Doherty/New York Magazine
Why do chefs love cacio e pepe, that ancient alchemy of sharp cheese, black pepper, olive oil, and pasta plus cooking water? "It has all the elements that make something taste good," says Dave Chang, better known for interpretive ramen than cucina povera. "Spice, salt, umami, dairy, and texture. It's in the pantheon of perfect dishes. You cannot make cacio e pepe better."
Of course, that hasn't stopped Chang and Josh Pinsky, the chef of Momofuku Nishi, from trying: Their unorthodox take replaces the traditional Pecorino Romano with a more Changian form of umami, a creamy, cheesy, proprietary paste made from fermented chickpeas (thus the dish's name, ceci e pepe). The result is remarkably true to form, and only the latest in a surge of foods that treat cacio e pepe as a touchstone rather than an inviolable recipe. You'll still find classic renditions all over town, of course.
But you'll also find the flavor profile applied to more unusual canvases: the communion-wafer-like "hostino" that begins a meal at Del Posto; softly scrambled eggs at Maialino; frittelle at Missy Robbins's new Lilia; pizza at Otto; and arancini at Eli's Essentials Wine Bar. Starchy sides take well to this treatment, be they orzo at the new downtown steakhouse Quality Eats, or house-milled polenta at Hearth, whose owner, Marco Canora, also provides a recipe for cacio e pepe popcorn in his cookbook A Good Food Day. And then there's the modernist wine bar Mulino a Vino, whose kitchen makes savory dough­nuts out of spaghetti and fills them with cheesy, peppery cream. Can Cacio e Pepe Doritos be far behind?
*This article appears in the January 25, 2016 issue of New York Magazine.