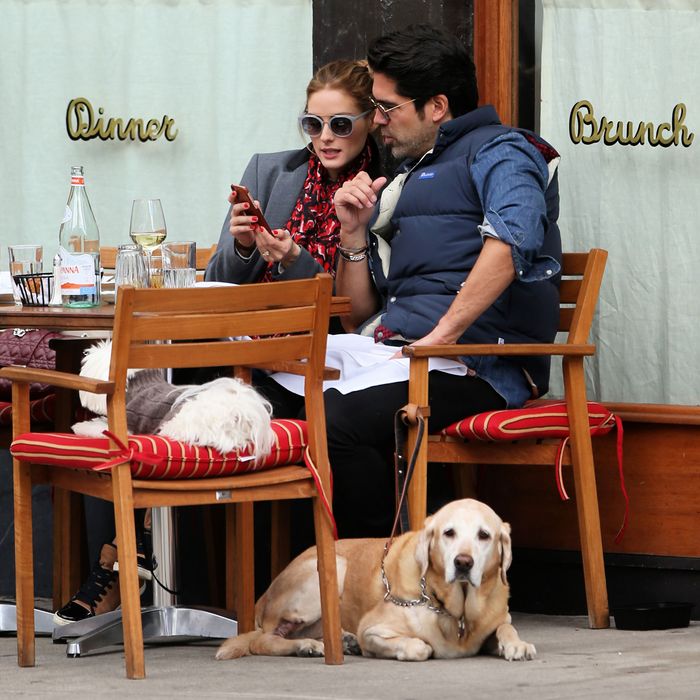 The Health Department does not approve.
Photo: Christopher Peterson/Splash News/Corbis
Real winter has finally caught up to New York, which brings yearnings for spring and dining alfresco. That's even more exciting this year because of the state's new law allowing dogs on restaurant patios, but dog owners around town are suddenly panicking that their pets won't be welcome to that first patio meal: They complain to today's Daily News that the Health Department, an opponent of the new law since day one, is trying to stymie it by crafting regulations "so burdensome" that restaurants essentially can't participate.
If passed, the proposed rules would include tag checks at the door to ensure dogs are properly registered, barriers to keep pets in the patio area and off the sidewalk, signs explaining where dogs can and can't be, and some ingenious way of preventing the animals from touching tabletops or obstructing walkways in between. Critics say it kills "the spirit of the bill" and makes it "virtually impossible" for restaurants to allow pets. "Just because the city opposes this law does not mean they are allowed to neuter it through onerous regulation," Linda Rosenthal, an assemblywoman from Manhattan who's promised to fight the rules, tells the paper.
Until January 26, people can weigh in on the proposed regulations, with a public hearing to follow that evening. Both the DOH and its opponents encourage would-be patio patrons to make their opinions known before then.
[NYDN]