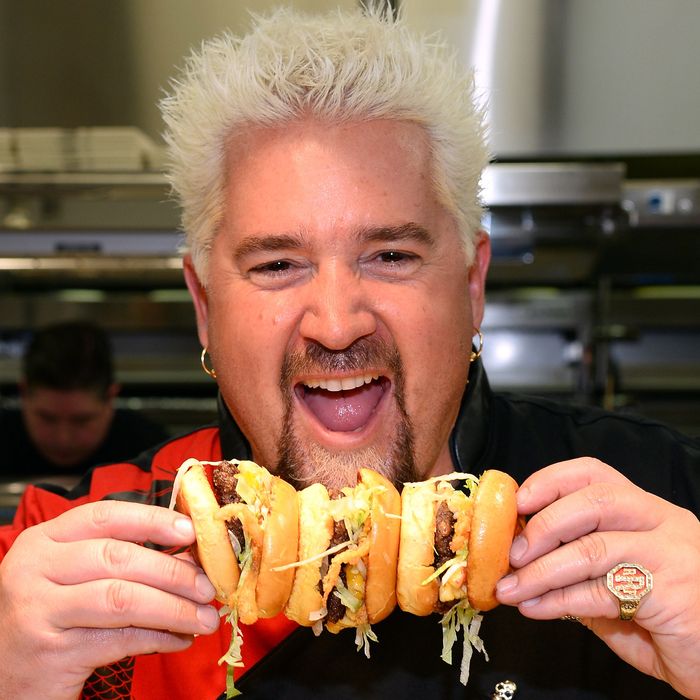 The only chef who should be cooking your Super Bowl Sunday meal.
Photo: Ethan Miller/Getty Images
Culinary maverick and aspiring wine snob Guy Fieri will be cooking a bombastic all-you-can-eat buffet for the Bullseye Ticket Group's Players Super Bowl Tailgate on Super Bowl Sunday — and it's only going to cost you $700. Emceed by Erin Andrews and featuring 25 top active players, the five-hour party starts at 10:30 a.m., has a premium bar, and will be going down right near the Santa Clara, California, stadium that's hosting the game.
There will also be two other Food Network personalities cooking, but let's focus on what really matters: Fieri's typically insane and over-the-top menu. There's going to be something called a "Live Nacho Bar" (so, freshly killed tortilla chips?), a Whole Hog Throwdown (will you have to fight for your pulled pork?), a Supersteak Sandwich Station, and a Flavortown Finale with doughnut bread pudding with a brown butter–bacon-bourbon glaze, because it's not the Super Bowl unless you have a heart attack.
[Mashable]