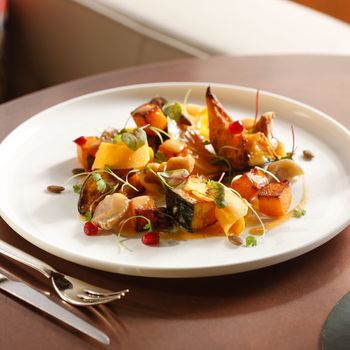 Gabriel Kreuther's roasted heirloom-squash salad.
Photo: Melissa Hom
The last year-plus has seen the true rise of the vegivore: There are daytime-only vegetarians, lines of customers streaming out of vegan shops, and meatless burgers everywhere you look. The produce-loving lifestyle is well and good during peak growing times, but what about now, when the cold weather naturally limits the things that farmers can grow? You're in luck: Even if you're missing late-summer tomatoes, there are all kinds of squash, tubers for days, and, hey, even some hearty greens, which chefs are turning into impressive, enjoyable dishes. Here are ten great options to get you started.
Roasted Heirloom-Squash Salad
Where: Gabriel Kreuther
Price: $19
Do as New York's Adam Platt suggests and hang in the more casual, laid-back barroom at Gabriel Kreuther's luxurious culinary wonderland. There you can enjoy the chef's roasted heirloom-squash salad, made with six different types of squash (kabocha, acorn, delicata, red kuri, and shaved raw butternut) along with toasted pumpkin seeds, micro celery, red-veined sorrel, and an appropriately wintry touch of roasted chestnuts and chestnut dressing.
Sunchokes
Where: Untitled
Price: $16
At Untitled, Michael Anthony roasts versatile, nutty sunchokes and serves them with fatty bacon and Shy Brothers Cloumage, a creamy, fresh curd cheese that's perfect with tubers and has a texture not unlike baked ricotta.
Roasted Cauliflower
Where: Maman Tribeca
Price: $13
The new, third branch of Maman serves a substantial, winter-ready salad of roasted cauliflower with yellow quinoa, dates, raisins, almonds, chives, red treviso, and turmeric. It's available during lunch and brunch.
Celery-Root Gratin
Where: Wassail
Price: $17
The menu at this vegetarian restaurant and cider bar is "winter produce or bust" right now, and one of the more appealing dishes you'll want before hunkering down this cold weekend is the celery-root gratin. It's made with potato, smoked Gouda, and broccolini.
Whipped Tofu
Where: Tilda All Day
Price: $9
The sunny, stylish Clinton Hill café goes totally vegan with this dish of whipped tofu with beets, charred scallion, and tahini.

Chicories Salad
Where: Superiority Burger
Price: $5
Winter often means hearty, rib-sticking food, but sometimes you want something bright to remind you of warmer days. That's the idea behind this almost-citrusy salad at Brooks Headley's East Village veggie-burger shop, which dresses Campo Rosso Farm chicory, market apples, pickled onion, and toasted Marcona almonds in a light caraway-seed vinaigrette.
Sweet Potato
Where: Wildair
Price: $16
At the Orchard Street wine bar, the kitchen staff piles tender sweet potato, nutty tahini, and ricotta under fresh herbs — a necessary douse of green during these cold days.
Roast-Beet Mole
Where: Pizza Moto
Price: $12
Pies are the focus at this restaurant on the Red Hook border, and the current menu has a pizza with a winter-greens-and-pistachio pesto, but they're also serving more vegetable-centric dishes. Take the roast-beet mole, here served with sesame seeds, ricotta, and minty tarragon.
Roasted Root Vegetables
Where: Willow
Price: $13
The Bed-Stuy restaurant from the team behind the Pines keeps it simple, serving a selection of well-roasted, slightly burnished root vegetables (like parsnip, onion, and sweet potato) with peppery arugula and a thick smear of lemon ricotta to brighten it up.

Winter-Squash Risotto
Where: The Heyward
Price: $20
Few dishes are better for fighting off the cold than risotto. This casual Southern restaurant goes all in with the squash, incorporating it in three distinct ways: a butternut squash purée, acorn squash cooked until crispy, and pumpkin seeds for crunch. There's also braised turnip greens, for those who can never have enough bitter, hearty greens.