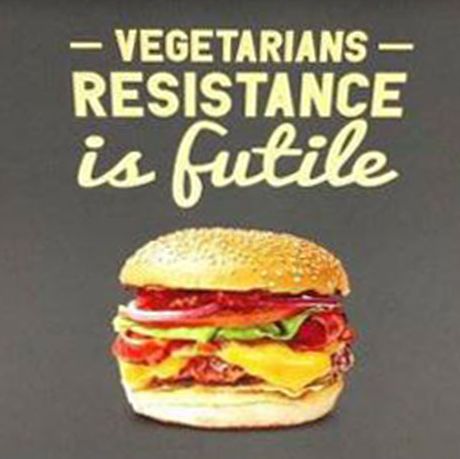 Hard to imagine that this was an entirely unforeseen consequence, but a popular U.K. burger chain's decision to run ads antagonizing vegetarians is backfiring spectacularly. To (presumably) generate buzz during England's month of "Veganuary," Gourmet Burger Kitchen, a spot with Shake Shack–like loyalty among many Brits, ran "light-hearted" ads in the London Underground that appear inspired by a list someone in marketing dug up of the lamest, most cliché vegetarian putdowns:
"You'll always remember when you gave up being vegetarian," one of the ads jokes. Another went with the well-worn "They eat grass so you don't have to" explainer about cows, while a third makes a bald appeal to Trekkies by announcing, "Vegetarians, resistance is futile." In small print at the bottom, there's a fake slogan that reads "Changing Lives Since 2001."
Strangely, the campaign didn't have its hoped-for effect, and in fact, many people immediately called for a boycott. The hashtag #gourmetmurderkitchen actually started trending as a result of the ads:
Initially, GBK semi-defended the ads as just some innocuous ribbing ("We're just channeling our inner-carnivore a little this January"), but the chain rethought that approach and has since posted this somewhat-passive-aggressive gem of an apology to Facebook:
We've been reading the reaction to our latest advertising campaign and needless to say, we're quite taken aback. The last thing we ever intended to do was offend or alienate vegetarians. The same vegetarians that we've looked after and fed since our very first restaurant. Our intentions were light-hearted and not meant to cause any offence, but clearly we have, and for that we apologise.

While we've served beef at the core of our menu since 2001, we've always catered well to the veggies out there, and that's never going to change.

So having read all your comments and messages, we've made the decision to take down some of the adverts. We'll still serve beef. We'll still serve veggie burgers. But hopefully we'll not tread on anyone's toes while doing it.

Best, GBK.