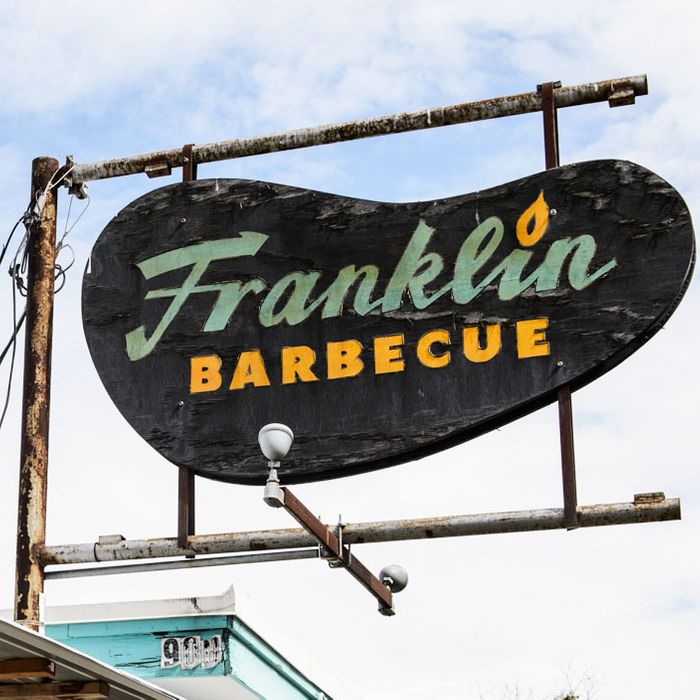 Come prepared for a wait.
Photo: Jim Bennett/Corbis
There's no doubt that New Yorkers are bona fide line-waiting pros, but their mettle would be tested at Texas's famed Franklin Barbecue. The joint outside Austin, whose line sometimes stretches for seven hours, is arguably the nation's most fanatical spot for 'cue, and one that the New York Times recently sent a reporter to check out (much like the Gray Lady's other "discoveries," like Brooklyn and #FreeTheNipple). Still, the Times offered an in-depth look at the country's craziest line. Here's the highlight reel:
• The first rule of Franklin Barbecue club is, you do not cut at Franklin Barbecue. The restaurant's ridiculous line is our nation's great equalizer. "Kanye West wanted to cut the line and we didn't let him," general manager Benjamin Jacob tells the Times. "Everybody's equal."
• Well, except for Obama: "On a trip to Austin in 2014, President Obama was apologetic as he cut to the front and stood at the counter." That's old news, actually, but what readers learn is that POTUS felt morally obligated to buy three pounds of brisket for the family behind him. ("Hold on — how many folks are y'all feedin'?" he apparently half-joked at the time.)
• "At least" two couples who met in line ultimately got married. Wonder who catered those receptions?
• Lots of people eat while waiting to eat. Taco runs are commonplace.
• Besides eating, other activities include playing beer pong and corn hole, reading Milton Friedman's Capitalism and Freedom, and bringing your own funk band.
• Workers say they've been offered thousands of dollars to let people butt in line. Each time, they've refused.
• After first opening the business in a trailer back in 2009, owner Aaron Franklin has sold out of meat every day since.
• Line-sitting is now banned by the restaurant, but Desmond Roldan, an eighth-grade entrepreneur who created the "BBQ Fast Pass" line-sitting service, made an amount of money "in the five figures," according to his dad.
• Two men at the front of the line said they showed up at 7:43 a.m., for a total wait of three hours and 17 minutes. "Oh, that's not too bad," Franklin replied. "I like the slow season we're in right now."
[NYT]