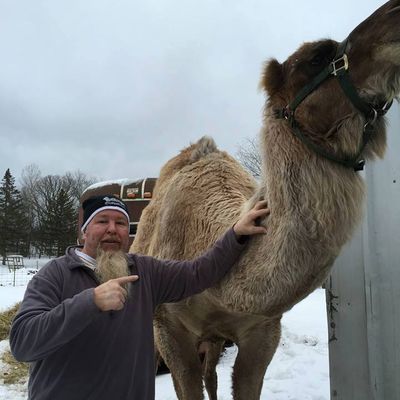 Dooley the camel.
Photo: Foolery's - Liquid Therapy
Okauchee Lake, Wisconsin, has found itself in the unlikely position as the center of a camel scandal. The uproar occurred after Foolery's Liquid Therapy, a local tavern, announced via Facebook that it was hosting a charitable, camel-themed event on Saturday, January 23, featuring both camel rides and camel burgers. Animal-rights activists were horrified, calling the bar and flooding the event page with anti-camel-cruelty messages.
A rumor that the bar would kill and serve the featured pet camel, Dooley, following the rides gained enough steam to illicit a statement, which unequivocally stated that Dooley would in fact live to see another day. (Still, though, the restaurant would serve camel.) Security was hired, and the event went on as planned on Saturday, complete with a protest from an organization called Global Conservation Group; meanwhile, rides were offered to the first 25 customers to order camel burgers, and proceeds were donated to Amish families in southeastern Wisconsin. Dooley the camel, as of press time, has declined to comment.