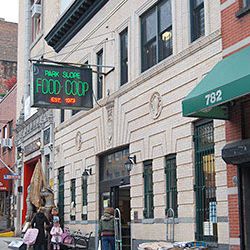 With the minimum-wage fight now a major 2016 political issue and everyone from McDonald's to Danny Meyer getting attacked over worker pay, food co-ops are worried that their prized alternative model built on member volunteers will be the next target. Since most co-ops rely on members to unload produce, stock bins, and work the registers in exchange for (at best) a discount, the National Labor Review Board is currently going after companies for underpaying for these kinds of activities, as co-ops do seem to be getting a pretty good deal on their labor.
As a result, the AP says, several co-ops around the country have simply phased out their volunteer programs entirely — Honest Weight in Albany most recently, but it mentions others, as well, in Pittsburgh, Indiana, and Vermont. It's a hard decision to make (the group work ethic creates a "very different loyalty to the store," they argue). But from their perspective, safe is apparently better than sorry:
The larger issue weighing on the board at Honest Weight and other co-ops is the fear that labor officials could classify their working members as employees rather than volunteers, leaving them open to charges they are violating minimum-wage rules. A small number of co-ops nationwide have settled complaints over the decades instead of testing that interpretation, according to longtime observers.
Honest Weight reps apparently just met with New York officials, who told them that "the potential risks of being found out of legal compliance were high." The members ultimately figured "the time to make a change is now," rather than once somebody's filed a complaint against them. The irony is that co-ops can be pretty dang profitable: A few years back, the slightly dumbfounding news broke that Brooklyn's Park Slope Food Co-op — which, thanks to some organizational differences, isn't at risk like other co-ops — was making roughly eight times more money than an average Whole Foods on a per-square-foot basis (over $6,500, versus $838). For people looking for a silver lining in this death of co-op-volunteer programs, however, maybe it's a sign that, in a world where Costco is the largest organic grocer and almost all of fast food has pledged to use cage-free eggs, the push for natural foods and social responsibility is outgrowing the movement that helped to start it.
[AP]