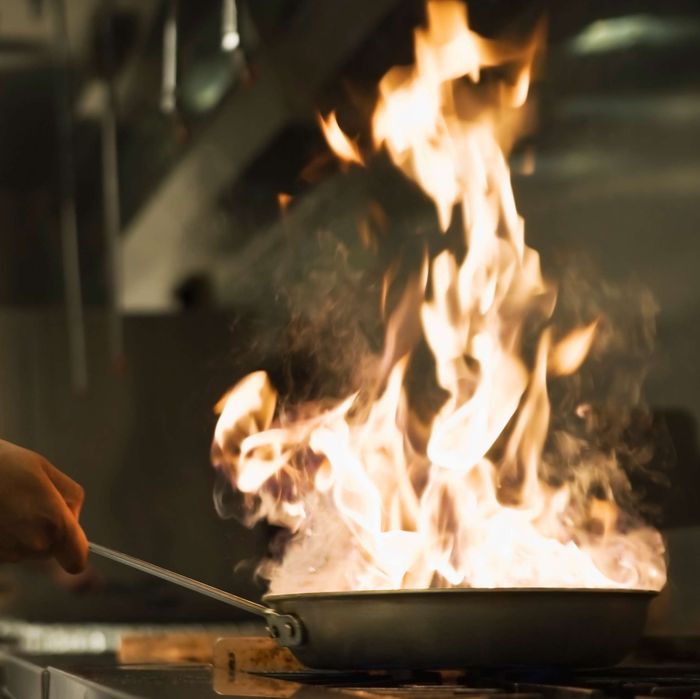 Stand back!
Photo: Tetra Images/Corbis
A mother and daughter say their dinner at Bocca East, an Italian joint on the Upper East Side, didn't go quite as planned after a waiter in the process of flambéing a dish table-side proceeded to light the daughter's face, hair, neck, and hand on fire. According to the suit, Judith and Laura Katz were sitting at their table back in 2013 when Laura became "engulfed in flames" from the neck up. She reportedly sustained "serious and severe injuries," which were in turn followed by burns to her mom once she "leapt to her daughter's rescue and attempted to extinguish the flames that were engulfing her daughter." Their suit, which demands an unspecified sum from Thomas Vito Bifulco, Bocca East's owner at the time, argues the restaurant was careless in allowing anything to be flambéed so close to patrons in a crowded dining room. The duo say that besides the "shock, fright and emotional distress" suffered, the daughter continues to receive medical care for her burns.
Bocca East was in the news in April, too, when an enraged customer attacked a manager after waiting an hour and a half for an omelette. While this wasn't the restaurant's fault (the violence part, anyway), these are not the kinds of incidents anyone in hospitality wants — especially since people are happy to catalogue them on Yelp. Bifulco apparently sold the restaurant six months ago, and, fortunately, Bocca East no longer offers flambéed dishes of any kind.
[NYP]