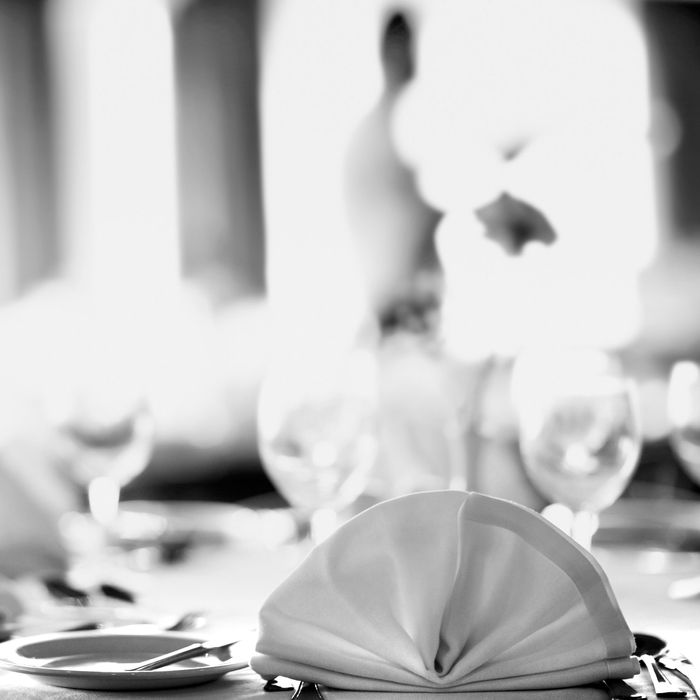 No, thanks.
Photo: Tim Pannell/Corbis
People have spent years predicting the death of fine dining in New York. This week's unsparing review of Per Se in the Times, in which critic Pete Wells cut the restaurant down from four stars to two in unprecedented fashion, may have finally killed it. At the very least, the write-up will help to further convince people that a certain style of fine dining — extended, Michelin-geared tasting marathons in luxury rooms with an army of service staff constantly circling the tables — is a relic of the past. Yes, of course there are still magnificent, grand restaurants in New York City (the venerated Le Bernardin feels as vital as ever), but you have to wonder why any young or new operators would ever want to bother with the complexities and hassles when there's more glory, and plenty of money, to be made right now at the lower end of the dining spectrum.
This isn't the first time Wells has taken one of New York's four-star grandees down: In 2013, he removed a star from the rating of Daniel Boulud's Daniel, calling out service that he felt had begun "turning its best face away from the unknowns, the first-timers, the birthday splurgers, the tourists," as well as "the kitchen's compulsion toward complexity," which would sometimes result in dishes that were overwrought. Those criticisms may sound like quibbling, but they are exactly the kinds of complaints that this type of restaurant must anticipate. Owners who strive to see their restaurants mentioned among the greatest in the world play a dangerous game. The entire enterprise has to be built on the idea of giving customers the best: the finest ingredients, lovingly prepared by the most skilled cooks, served in the most exquisite dining room by the most effortlessly charming-yet-attentive waitstaff. You have to surprise diners just enough to keep them engaged and excited to return while simultaneously making sure you give them exactly the experience they want. In return, you get to charge astronomical prices, but any slip from perfection calls the value proposition into question. The whole endeavor is daunting and astoundingly expensive, and it requires the kind of single-minded devotion and manic work ethic that would make Sisyphus feel lazy and aimless by comparison.
Since opening in 2004, Per Se has been regarded as a paragon of this style of service. In New York's restaurant critic Adam Platt says the Per Se review is about more than one formerly great restaurant that's slipped: "Sort of lurking in the background is the fact that people are much more critical of these types of restaurants than they were — we're all less patient about that kind of food. That's not how people want to eat anymore." Even people who run these kinds of restaurant seem to agree. In Chicago, Alinea — where chef Grant Achatz is a disciple of Keller's and where the structure of a meal used to follow a similar multi-hour tasting format (even if the food was more experimental) — is currently closed while its entire dining room undergoes extensive renovations. When it reopens, Achatz and co-owner Nick Kokonas have promised the entire dining experience will be rethought. And in Manhattan, Eleven Madison Park this month will trim the length of its tasting menu and adopt a more casual service style. Chef Daniel Humm — who is also opening a more affordable fast-casual restaurant, too — told the Times of the changes, "I think we're at a point where eating 25 courses is not necessary … That's not what we want anymore, as diners. It's too much."
The price at EMP, however, isn't going down, and it appears Humm's shift is as much about keeping up with changing tastes as it is about dealing with the rising costs of running a restaurant in New York. Staff wages, rents, and food costs are all rising while customers want better food for less money. Everyone is scrambling to find a way to deal with this, and at the moment it's not entirely clear who will figure things out first. Meanwhile, diners continue to be excited about restaurants like Semilla in Williamsburg — which also made most critics' best-of-2015 lists — where a diner can eat a tasting menu that starts at $85 per person. Semilla, or even Momofuku Ko and Atera — where the meals do cost closer to Per Se's price point, but the atmosphere is far more casual — remain proof that chefs can turn out cutting-edge food without all the overbearing ceremony that typically accompanies fine dining.
Even the biggest recent New York City opening that fits the classic fine-dining mold, and the one that people point to as evidence that the model can still work, is proof of this. Chef Gabriel Kreuther's eponymous restaurant on 42nd Street has won diners and critics over, but it's clear that Kreuther and his staff are fully aware of the realities of dining in New York in 2015, turning over a huge portion of their real estate to a bar and lounge area with simple, casual food and lots of cocktails. (It is also good — make sure to get the country sausage if you go.)
When Per Se debuted in 2004, it reportedly cost $12 million to open. That's a lot of money to recoup, even if you're charging $300 for dinner and $4,000 for vintage Krug. It would cost even more today. Meanwhile, customers line up out the door at Superiority Burger, where nothing on the menu costs more than $10 (and which now has the same Times star rating as Per Se), or the new Momofuku Nishi, where it would be difficult to spend more than $80 per person on food.
Manhattan will always have restaurants where it costs a lot to eat, but the balancing act required to maintain elaborate service and exquisite food at astronomical prices is becoming more and more acrobatic. People have rallied around Wells's argument that Per Se is basically a rip-off; in addition to the execution failures Wells wrote about, Keller and his team appear to have done little to keep up with the times or to endear their cause to the public. If Keller — undoubtedly one of the most influential, highly respected chefs in the country — has trouble convincing people that this style of restaurant is worth the high cost of entry, why would a young restaurateur think they could?