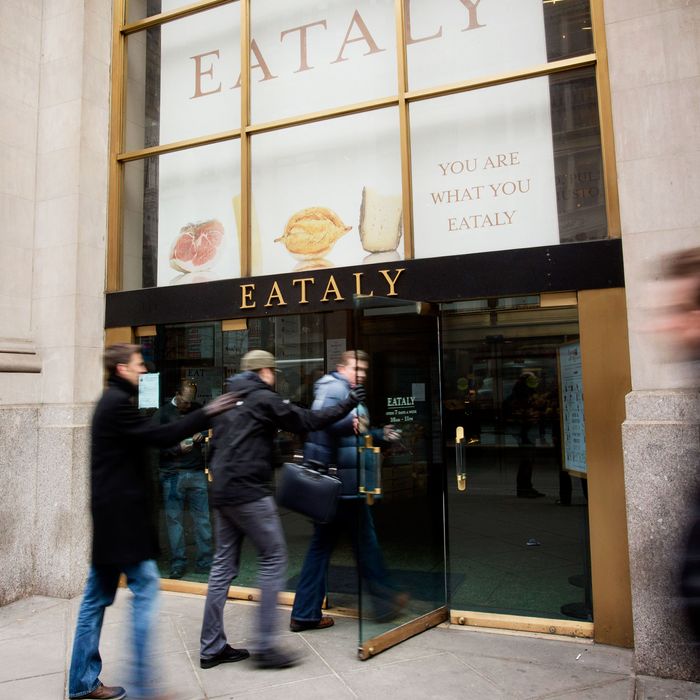 Oy vey.
Photo: Scott Eells/Bloomberg via Getty Images
This lawsuit may cause a double take: A white Eataly line cook claims he suffered "racial discrimination" while working at Mario Batali's food hall. As SNL-parody-worthy as it sounds, the 39-year-old's lawsuit against the company describes the struggle of being the lone white dude in a sea of Hispanic co-workers who wouldn't stop saying gringo. Per today's Post:
Scott Silberlight, of Staten Island, started working at the Flatiron food emporium last August, prepping ingredients and assembling dishes for $12.50 an hour, according to his Manhattan Supreme Court suit.

Silberlight, 39, said his mostly Hispanic coworkers regularly called him "gringo," a Spanish term for non-Hispanics.

When he complained to his supervisor, who was also Hispanic, the boss told him to keep quiet or there would be "problems," the suit claims.
"Scott, you are Gringo. It's not easy for Gringos to work with Mexicans," one of them said, according to the lawsuit, adding: "If Gringos were to run this (food assembly) line — this place would not work." Other Latino cooks called him "estúpido" and a "pendejo."
Silberlight maintains that all of his complaints fell on deaf ears. When he told supervisor Leo Gonzalez, his boss allegedly said "things would get harder" if he didn't learn to deal. He then went a level higher up the chain, to a head chef (who allegedly advised he "forget" about the insults) and another top Eataly manager (who allegedly told him to simply "hang in there"). In short, Silberlight says, "My cries for help went unheard." He quit after just two months on the job. According to the Daily News, he now holds another cooking job "at an undisclosed restaurant in the city" and gets regular psychological counseling.
A rep for Eataly says the company has a "culturally diverse staff" and will see Silberlight in court.