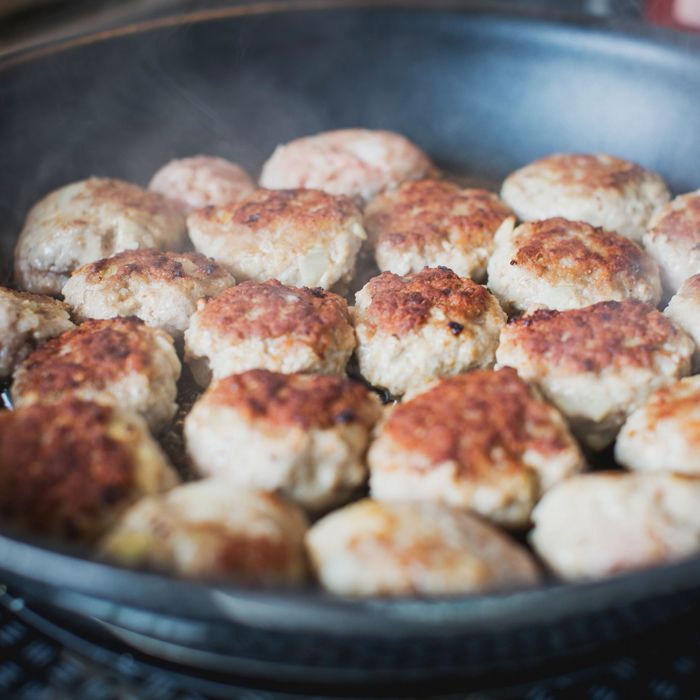 Randers's favorite school-lunch special.
Photo: Anke Scheibe/Westend61/Corbis
An angry Danish town is waging what locals have deemed a "meatball war" against immigrants who are supposedly destroying Denmark's identity by refusing to eat its traditional pork dishes. A law passed this week requires all of Randers's day cares and kindergartens to serve pork "on equal footing with other foods," whatever that means in actuality, even though critics tell the New York Times it's "effectively created a problem that did not exist for the purpose of stigmatizing Muslims." It seems nobody in Randers, Muslim or otherwise, has ever attempted to ban pork, so this law comes off looking predominantly like an attack on the country's growing immigrant population — or, by happenstance, on Jews living in Randers.
Other versions of this "meatball war" (in the native tongue, frikadellekrigen) have been around since 2013, when then–prime minister Helle Thorning-Schmidt blasted schools for supposedly caving to Muslim parents' complaints and banning pork. Almost no evidence backed up this claim, but the idea that the Danes' favorite meat needs protecting has been a hot-button topic ever since. Even fellow Scandinavian Ikea is making vegan meatballs these days, but the group that introduced Randers's law, the Danish People's Party, is openly celebrating it as a blow to "Islamic rules" and "misguided considerations dictating what Danish children should eat." It stops short of commanding people to ingest pork, but force-feeding bacon grease to the townspeople may be what it comes down to if this war on the "other white meat" doesn't end.
[NYT]