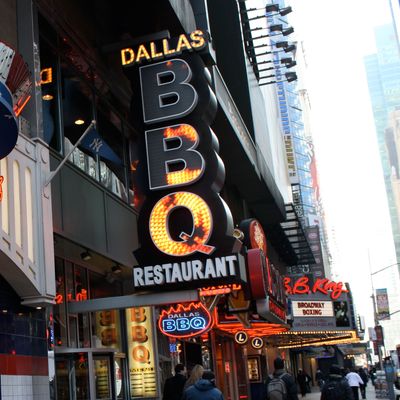 Don't go.
Photo: aveira/Flickr
Not content to give all the attention to Dallas BBQ's Chelsea location, which in the last year has seen hate crimes and face-punching, the sister restaurant in Times Square has landed in some hot water of its own. A transgender woman Andre St. Clair tells the LGBT news site Queerty that a group of strangers groped her "in a sexually aggressive manner," and then followed her back to her table to call her homophobic and transphobic slurs. Apparently, none of this seemed to bother managers at all. She says:
"I slapped his hand away and said 'do not touch me.' There were two females in the group I think, and one said 'ooooh she said do not touch her.'
"So the guy comes over to the table and strokes my arm. I said 'do not touch me. I already told you once, do not touch me' … He proceeds to ask me … 'you can't get mad at me for this, I just need to know … are you a man or a woman?' I said 'do not come over to my table and ask me such a ridiculous question.' And I asked 'are YOU a man or a woman?'"
…
"It was that thing where a man thinks he can touch a woman any time he wants to. So when they started laughing and turning around at us I actually did go over to them and said to the group 'this is ridiculous, you can't do this to people, and you're all assholes.' At that point, people started getting irate, I went back to my table and they started yelling homophobic and transphobic slurs."
"Both of my friends got up to say 'this isn't right, we're just trying to enjoy our meal and you're harassing us.'"
At this point, St. Clair says management came over, and someone in the group said, "It's just that my boy was feeling her or him or whatever." Dallas BBQ staff decided to put some distance between the two groups by relocating the other table across the restaurant, but St. Clair felt they should have been kicked out — an idea the manager disagreed with, as this video of the exchange shot by one of her friends shows:
Queerty asked the general manager to elaborate on what happened, and he tells the publication, "There were no threats, no violence, no crime committed, nothing happened." He says he "separated the tables, and that's it." St. Clair says she's filed a police report with NYPD and written a letter to executives at Dallas BBQ, which it's probably safe to assume will be her last interaction with the barbecue chain.
[Queerty]