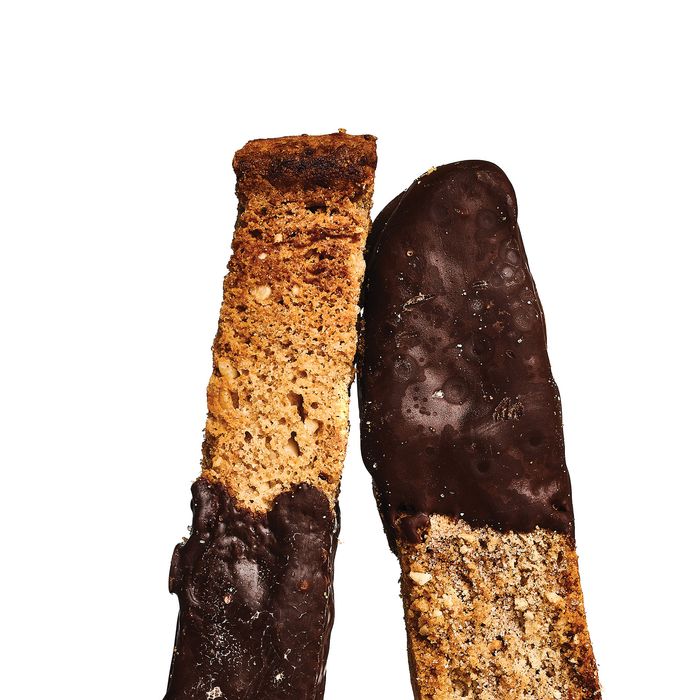 Bobby Doherty/New York Magazine
Photo: Bobby Doherty/New York Magazine
Funny how familiarity with certain foods changes over time. Take, for instance, mandelbrot. As Arthur Schwartz points out in Jewish Home Cooking, biscotti used to be described as Italian mandelbrot. Now, more often than not, old-timers introduce mandelbrot to the uninitiated as Jewish biscotti. Which is partly why Larry Finkelstein, who bakes a lot of the excellent treats at Court Street Grocers, where his son Eric is a co-owner, is hoping to spark a mandelbrot revival. His unabashedly non-pareve version calls for high-fat cultured butter instead of the usual vegetable oil. And he's not averse to dipping these crumbly confections in chocolate.
Mouse over or tap the image to read more.
On the menu at Court Street Grocers; $2 apiece; 540 LaGuardia Pl., nr. W. 3rd St.; 212-777-9292.
Photograph by Bobby Doherty/New York Magazine.
*This article appears in the January 25, 2016 issue of New York Magazine.