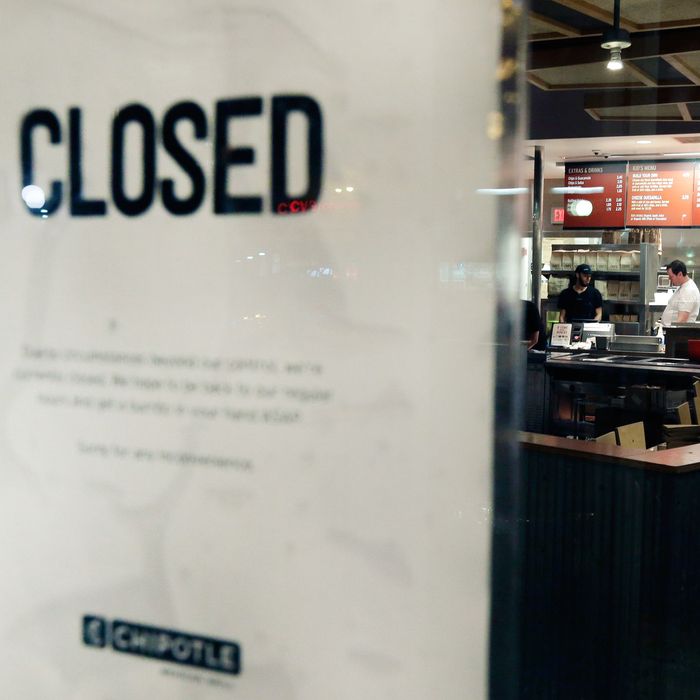 All those closed shops didn't help.
Photo: Steven Senne/AP/Corbis
Chipotle capped off a terrible 2015 with a 30 percent sales drop at "established locations" in December, with expectations that full fourth-quarter sales will fall just shy of 14 percent, owing to its ongoing issues with customers falling ill after eating the chain's food. And there's more bad news: Chipotle has also been subpoenaed and will be subject to a criminal investigation related to the norovirus outbreak at an outpost in Simi Valley, California. That outbreak, which sickened 100 customers and 17 employees, was one of two that occurred at Chipotle restaurants, and both were among this country's worst norovirus outbreaks on record.
The U.S. Attorney's Office for the Central District of California will conduct the investigation in conjunction with the Food and Drug Administration's Office of Criminal Investigations, according to Chipotle's filing with the Securities and Exchange Commission today. A lawyer representing the sickened customers tells the AP that a criminal investigation following this kind of outbreak is unusual and theorizes that employment violations might be the reason for it.
Whatever ends up happening, the investigation couldn't come at a worse time for the chain, which in the course of a year went from food-biz darling to food-safety-warning case. In addition to the norovirus outbreaks, an E. coli outbreak spread to nine states and forced the company to rethink its local-ingredients approach. The company's stock price has plummeted $227 (or 34 percent) from $664 per share one year ago today to $437 as of the market opening, and the company says it can't predict what the various fines or penalties associated with this investigation will end up costing.
[AP]