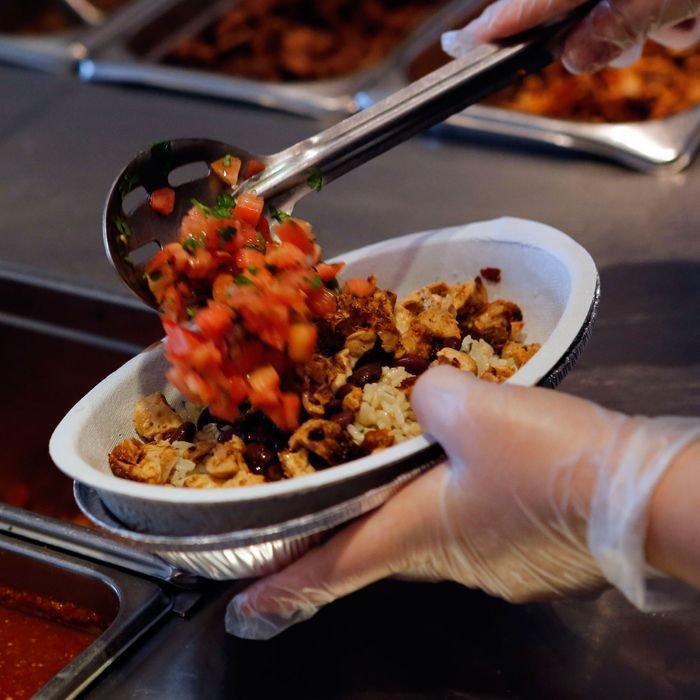 Bowled over.
Photo: Patrick T. Fallon/Bloomberg via Getty Images
To say Chipotle is struggling since its food sickened hundreds in nine states, tanked the company's shares, and got it subpoenaed is probably an understatement, but let's not forget the disaster is inflicting some collateral damage as well. The Bangor Daily News in Maine, where Chipotle's paper-bowl supplier is based, reports the burrito chain's serving vessels "have been piling up" as of late, leaving the paper mill no choice but to respond with some sadly drastic measures — layoffs of more than 5 percent of the plant's 470 employees.
Workers at the plant, which belongs to food service–product manufacturer Huhtamaki, had a hunch it was a bad sign when Chipotle's inventory started backing up, but the company says that because "we're talking about Chipotle, not some mom and pop shop on the corner," it thinks the chain "will bounce back" eventually, and they'll be able to re-hire those 25 to 30 workers. The layoffs apparently followed an otherwise great 2015, in which the factory actually added 100 employees.
A union rep echoes the belief that this is just a temporary mess, saying he expects it won't last longer than "perhaps four to six weeks — eight weeks at the most." But this assumes people are eager to dig back into burritos made by a company that, as of this week, has now also been accused of trying to cover up the first norovirus outbreak.