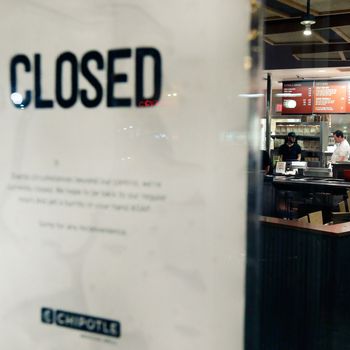 It's probably time for this.
Photo: Steven Senne/AP/Corbis
It's all hands on burrito: On February 8, Chipotle will take the significant measure of briefly shuttering all stores for a company-wide discussion about food safety. The meeting comes six months after five people became ill after eating at a location in Seattle, kicking off Chipotle's descent into food-safety hell. It doesn't stop there, either, as according to federal officials the E. coli outbreak that eventually spread to nine states may not be over yet. A spokesperson for the burrito specialist tells The Oregonian individual stores will talk about some of the changes Chipotle will be making. Presumably this is what the company was talking about in December when it said it would catapult "10 to 20 years ahead of the norm" with regards to food safety. All of those illnesses have taken their toll, as the company is projecting an 8 percent decline for fourth-quarter sales — though this is a better figure than the 14 percent it had projected earlier this month. After months of food-safety outbreaks that solidified 2015 as Chipotle's most depressing yet and ended with a 30 percent dip in sales and a federal investigation into the aforementioned California location, Chipotle is no doubt eager to get back to being America's favorite aspirational fast-food place and shed its newfound reputation as the home of the salmonella burrito.