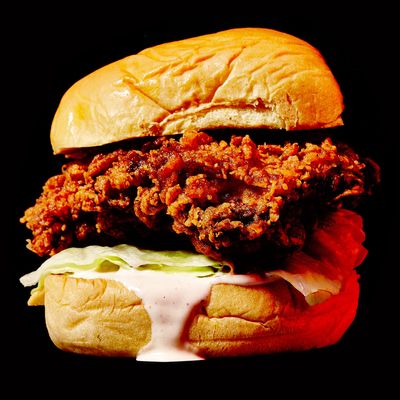 Just go to Wilma Jean's. You'll be Happy.
Photo: Bobby Doherty
The unexpected closure of New York City's midtown Chick-fil-A put this city's fried-chicken-sandwich freaks into full-on crisis mode. But here's the thing: New York is having a fried-chicken-sandwich moment. It's basically all anyone is cooking these days (besides veggie burgers), to the point where it hit its saturation point months ago. But for chicken-sandwich fiends, that means there are approximately 10,000 other places right now that you can get a crispy bird sandwich, many of which — dare we say? — are even better than Chick-fil-A's standard offerings. Rather than freak out over the temporary loss of one chain, just get the sandwiches at these 17 spots instead.
Fried-Chicken Sandwich
Where: Blue Ribbon Fried Chicken
Price: $8 to $10
New Yorkers loved the Bromberg Brother's fried chicken so much they opened a counter-service spot dedicated to the dish. Several sandwiches feature fried chicken, including the basic Blue Ribbon with special sauce, the bacon-and-ranch dressing variation the Rancher, or the Pit, made with aged cheddar, smoked bacon, and barbecue sauce.
Palace Fried Chicken and Baja Fried Chicken
Where: Fritzl's
Price: $12 or $15
To go with its standby fried-chicken sandwich, inspired by the crispy version served at the New York fast-food chain, the Bushwick restaurant recently introduce a sunnier version made with avocado, bacon, cheddar, and pickled jalapeño.
Chicken Sandwiches
Where: Hill Country Chicken
Price: $7.50 to $9.50
A predecessor to the current fried-chicken craze, Marc Glosserman's spinoff of his Texas-style barbecue spot serves four kinds of bird sandwiches: sour pickles only; with bacon, lettuce, tomato and ranch; spiced with chipotle mayo and kale coleslaw; and with spicy honey, red onion, cheddar, and sour pickles.
Chicken Sandwich
Where: Delaney Chicken
Price: $8
Brisket man Dan Delaney's UrbanSpace Vanderbilt food stall specializes in fried chicken distinguished by the use of wet batter. The sandwich is made with Duke's mayo (unofficial mayonnaise of the South), pickles, of course, and Crystal hot sauce, the fiery and fried southern regional classic.
Crispy Chicken Sandwich
Where: Mighty Quinn's
Price: $9
The barbecue chainlet smokes chicken thighs before breading and frying them. The result then gets seasoned with a fermented red chilies, garlic, and lime hot sauce, garnished with pickled celery and cucumbers, and served on buttery brioche.
ChickenShack
Where: Shake Shack
Price: $6
You'll have to endure the trip across the East River to one of the chain's three Brooklyn locations in Downtown Brooklyn, DUMBO, and Park Slope, but you'll find salvation. The ChickenShack appears simple and is made with lettuce, pickles, and buttermilk-herb mayo, but it was two years in the making and the meat is cooked with a sous vide-like method.
Spicy Chicken Sandwich
Where: Fuku
Price: $8
Located in the East Village space that once housed a much more cramped version of Momofuku Ko, David Chang's chain-to-be put the fried-chicken trend into full force when it opened in June. (It was, of course, quickly followed by the opening of Fuku+ in midtown.) It's inspired by Chick-fil-A, but made by a serious chef, and the chicken is marinated in habañero and served on a Martin's potato roll that, à la Chang's famous buns, is steamed.
Chicken Biddies and Fried-Chicken Torta
Where: El Cortez
Price: $11 or $12
Stephen Tanner's Mexican-ish sequel to the Commodore keeps it straight-up southern with these excellent, four-to-an-order chicken sliders with lettuce, mayo, and pickles. There's also a fried-chicken torta, the Mexican sandwich made with beans, avocado, stringy Oaxacan cheese, mayo, and more.
Hot Breast (or Medium)
Where: The Commodore
Price: $10
The original bar-restaurant from fried-chicken impresario Stephen Tanner features the cheekily named Hot Breast (or Medium), which if you opt for spicy is a white-meat sandwich with coleslaw, pickles, and hot sauce on a bun.
Fried-Chicken Sandwich
Where: Pies 'n' Thighs
Price: $12
The southern-style restaurant with locations in Williamsburg and the Lower East Side serves a fried-chicken sandwich made with a cutlet, bacon, jack cheese, ranch, avocado, mayo, lettuce, tomato, and onion on a toasted bun.
Fried-Chicken Sandwich and Buffalo-Chicken Sandwich
Where: Bobwhite Lunch & Supper Counter
Price: $10
The casual East Village restaurant serves both a fried-tenders sandwich with bread-and-butter pickles, with fries or slaw on the side, and a buffalo-chicken sandwich with breaded tenders and ranch dressing.
Fried-Chicken Sandwich
Where: Nitehawk Cinema
Price: $14
Williamsburg's hipster movie theater got in on the craze with its fall menu, serving a fried-chicken sandwich made with breast that is, this being Brooklyn, brined in pickle juice.
DIY Egg-Cheese-and-Fried-Chicken
Where: Egg Shop
Price: $14
This requires you actually doing something yourself and adding the side of fried chicken to your egg, cheddar, and hot sauce on a roll, but with Chick-fil-A down for the count you may just find it in you to manage the extra effort.
NYC Chicken Sandwich
Where: Uncle Sam's
Price: $7
This surprisingly good addition comes by way of a Chinese burger chain, a.k.a out of left field, and is made with moist white meat, panko crust, black-bean mayo, and bread-and-butter pickles.
Fried-Chicken-and-Waffle Sandwich
Where: Root and Bone
Price: $16
The southern restaurant merges the chicken-and-waffles obsession, which has somewhat died down, with the chicken-sandwich craze by serving the bird between two waffles. It comes with pickled green tomato and baby kale.
Hot Chicken
Where: The Meat Hook Sandwich Shop
Price: $13
The Brooklyn butcher shop's sandwich outpost gives the molecular gastronomy treatment to the Nashville classic, injecting it with meat glue and giving it a hot-sauce bath shaped like a small puck and served on a soft bun.
Fried-Chicken Sandwich
Where: Wilma Jean
Price: $7
Chef Rob Newton's take proves there's always room for more buttermilk: The bird is buttermilk-battered and served with a buttermilk dressing on, of course, a griddled Martin's potato roll.