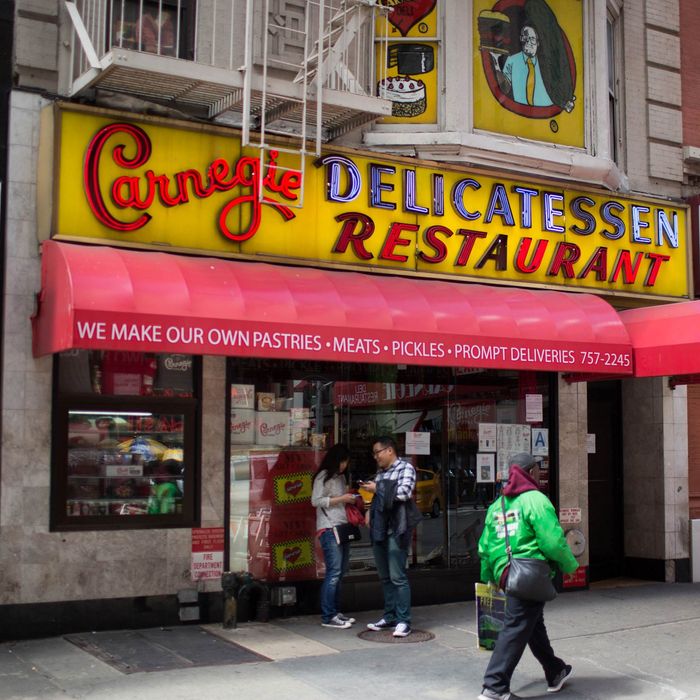 How much longer?
Photo: Kevin Hagen/Getty Images
Since Con Edison shut down New York's famed Carnegie Deli in April, owing to an illegal gas connection, the fate of the restaurant has appeared to be dismal. To refresh: Aside from the major problem at hand, owner Marian Harper Levine is embroiled in a nasty divorce with her husband, Sandy (the manager of the deli), because he cheated on her with a waitress. Oh, and the Levines also had to fork over $2.65 million in a settlement over wage theft. (Someone please option this story into a movie and call it Oy Vey.)
But could 2016 be the year of Carnegie Deli's comeback? The restaurant's upstairs neighbors finally regained heat and hot water over the holidays. Part of why it took so long is because the city insisted that Carnegie not only pay fines for stealing gas, but that it also upgrade all of the building's pipes. As for the deli itself, a spokesperson confirmed that Con Edison has signed off on the gas lines, and people have spotted cleaners inside Carnegie. Hopefully it won't be long until there's pastrami and corned beef galore.
[DNAinfo]