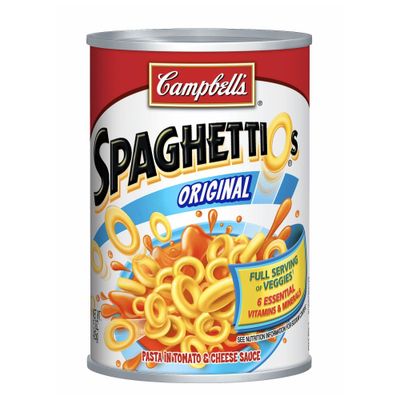 Uh oh, SpaghettiOs.
Photo: Campbell's
Campbell's CEO Denise Morrison tells the New York Times today that the company is breaking ranks with the rest of Big Food, a group that's largely opposed to GMO labels, by pledging to voluntarily disclose genetically modified ingredients. In another first, the soup- and Goldfish-maker is also backing a mandatory federal GMO label system, with Morrison saying they're "optimistic that a federal solution can be reached in a reasonable amount of time," but adding that if one can't, Campbell's will just strike out on its own. The new labels will be ready in 12 to 18 months, she says.
According to the paper, Campbell's provided an example of what these labels will look like, and they don't exactly scream transparency: A can of SpaghettiOs that complies with Vermont's GMO-disclosure law, which starts in July, has just one line at the bottom that says, "Partially produced with genetic engineering." The label then redirects people to WhatsinMyFood.com, a flashy but little-known site Campbell's introduced last year. The site of course lists what's in each product, including a bullet-point list of genetically modified ingredients, but there are also self-serving sections on ways the packaging is ecofriendly and on who made the ingredients and where. The idea, the site proudly declares, is that the company is being "more open about our products than ever before."
Morrison acknowledges that about three-quarters of Campbell's products involve corn, canola, soybeans, or sugar beets that are genetically modified. This could backfire among shoppers, given how much Americans dislike GMOs. But by going out on its own early, will Campbell's look good later?
To prove how serious it is about all this (and also look decidedly less like a giant hypocrite), Campbell's says it will also pull out of all of the trade associations and industry groups that don't support mandatory labeling.
[NYT]