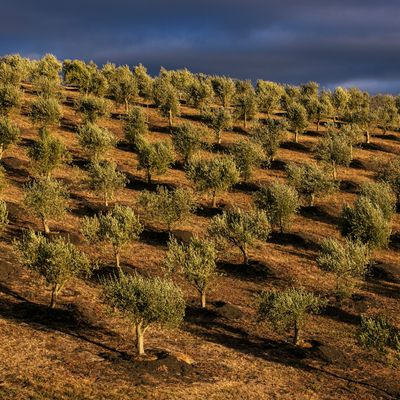 Ready to crank out that EVOO.
Photo: George Rose/Getty Images
California's olive producers are on the cusp of transforming the industry : The state's growers, who right now account for 0.1 percent of the world market, tell Bloomberg that an era of celebrated American olive oil is imminent. They're quick to note the similarities to that pivotal moment in 1976, when California wines, considered second-rate up till then, swept the European competition in the so-called Judgment of Paris. For instance, Cook's Illustrated's annual ranking of supermarket olive oils — its top award this time went to California Olive Ranch, a brand that's available in Walmart and Whole Foods.
Since olive oil here is so highly regulated, California's industry is all but impervious to the fraud rampant in places like Italy. The provenance of European olive oil has long been murky, with past studies suggesting as much as 69 percent of imported extra-virgin oils don't meet IOC standards, a weak spot American growers hope to exploit. Plus, Bloomberg describes California Olive Ranch's orchard as an "industrial marvel" where a vast system of mechanical harvesters and conveyors allows olives to be pressed without a finger ever being laid on them, which means bottles can go for as little as $7.
Obviously, Europe's multi-generation producers think these rookies have no clue what they're doing. The head of the International Olive Council, which accounts for 98 percent of output worldwide, dismisses California Olive Ranch's olive oil as a "commodity product," while one big importer says what Californians really need when it comes to olive oil "is education." A spokesperson for the North American group that reps imports like Bertolli and Filippo Berio says California's producers also "have a history of, I would say, bending the facts to support their sound bites."