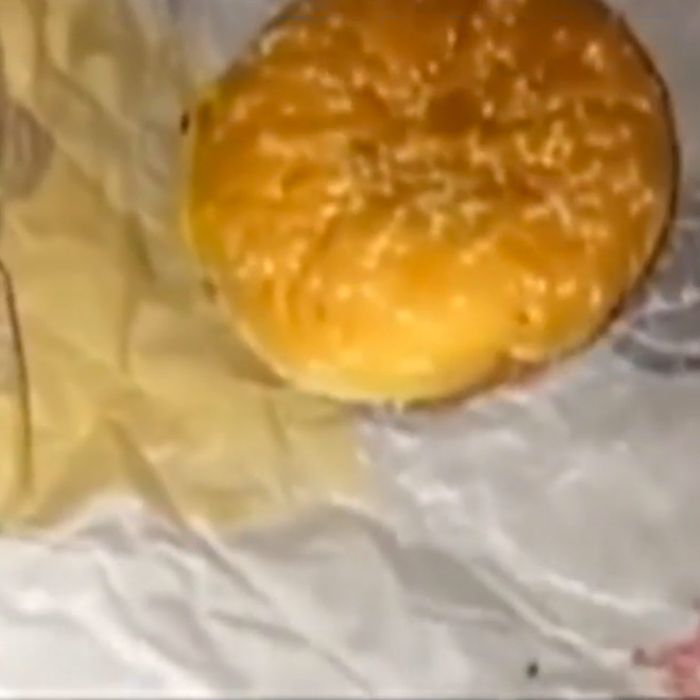 A man in Pittsburgh claims he and his girlfriend made a disgustingly freakish, Dalí-level discovery in the Burger King cheeseburger he brought home for her son. Jairis Davis picked up food from the chain's local outpost but says when he got home and they took it out, her 4-year-old son's sandwich was "crawling with ants" — which they of course wasted no time videoing, as is proper procedure nowadays:
"He opened it up and said, 'Mom I don't want this, there are bugs in it,'" Davis explains. "I said, 'No, there's no bugs in there.' Then I saw the ants crawling on the bottom bun and I took it right back." Burger King refunded his money and offered to make an ant-free sandwich, but he refused because at that point, he says, none of them were hungry anymore.
Davis's girlfriend has reportedly filed a complaint with the local health authority. But the people at Burger King are pretty adamant that the ants weren't theirs. The manager maintains that "there's no reason to believe" the bugs in the video came from his location, and the chain's media team has released a statement saying, "We have spoken with the franchisee that owns and operates this restaurant, and he has assured us that they practice all local health department and brand food quality procedures and prescribe monthly preventative care with a reputable national provider. Most recent documentation shows a pest-free restaurant as of 12.29.15."
Strangely enough, this same location was in trouble in 2014 for operating as a fake BK (food served "in a brown paper bag," and fries "in a Dixie cup"). Who knows what going on there?
[WPXI]