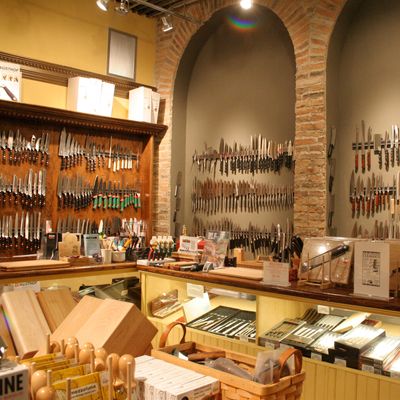 Broadway Panhandler's Norman Kornbleuth is pondering opening a knife store.
Photo: Shanna Ravindra
This week, the disheartening news came out that beloved kitchen-supply shop Broadway Panhandler will shutter in the spring. The shop has been family-owned for all four decades of its existence, but unlike another independent food-world favorite, Bonnie Slotnick Cookbooks, Panhandler owner Norman Kornbleuth has no plans to relocate his shop or sell it, and landlord issues aren't the reason he's closing up. In fact, he's choosing to retire on his own terms, so that he can spend more time with his family. Here he explains how his business has evolved over the years, why he's at peace with saying good-bye, and what he plans to do next.
How are customers taking the news?
We're getting a lot of customers coming by now that we've made the announcement. People recall buying things 30 years ago that they're still using today. They feel very sentimental about us not being around. On the other hand, when I get a chance to speak with people, they understand that I've been doing this for 40 years, seven days a week. I've been a workaholic, in terms of being at the store, and I've gotten to the point where I'm 72 years old, and I want to spend more time with my family. People understand that, and they're happy for me that I made that decision to move on.
How long have you been thinking of closing the shop?
It came into focus this past year. I think it was a combination of things — but primarily, my wife not being in as good health as she has always been. When you get to my age, a greater sense of how fragile life is sets in. At least for me. I felt that I didn't want to be away from my family as much as I have been. It was just time for me to do this. I've had friends who have passed away unexpectedly. It's not something I was thinking about for a long time, but for the past several years, I have.
Why do you feel it's right to close, versus passing on the shop to a family member or selling it?
My daughters — especially Heather, who works with me and does sales and marketing — never were interesting in the back-office part of the business. Heather was not really a candidate, as she always said, "I'm happy to be working with you, Dad, but when it's time for you to move on, I'm moving on, too." That was clear from the beginning. My other daughter is a successful psychologist, and although she loves to cook and help out in the store, she has a full-time job and a child. She was not going to change careers at this particular point. I've been approached by outside people who are interested in this store, and things just didn't work out. Maybe I just wasn't ready, or the person wasn't quite qualified.
Has running the store changed now that chains like Williams-Sonoma and Sur La Table are all over the city?
I can't say that it's changed a lot. Williams-Sonoma has been around for as long as Broadway Panhandler has been around. But I welcome an awareness of food and good-quality equipment. I wasn't overly concerned about those expansions because our products are different: We work with upscale manufacturers, as well as some really small suppliers who sell handcrafted, unique products. Our mix has never been the same as larger chain stores. We can pick and choose and make things special. I'm sure those stores have taken away some sales, but the mix of product and the value is different. I never looked at them as competition.
Does your decision to close have anything to do with declining sales?
Sales may have had some impact. Obviously, the internet has had an impact on, if not all retailers, hard-goods retailers. We have a website, and it was doing pretty well, but we're not as focused and sophisticated on running our business as a website operation. Our focus has always been on one-on-one interaction with our customers, to try and give them information to make a selection to fit their particular needs. That aspect of what we do — and what we trained the staff to do — is important.
What are your future plans? The Times story about the closing said you might open a small knife shop.
The knife story was the easy answer because I've always been involved with knives. I was a Cub Scout. It's always been a passion. When I was working for my father's wholesale business, we sold knives to the government. It's one of those things that I can always equate to jewelry: You can't tell how good a knife is by looking at it; there are performance-based qualities. I find that someone like myself, who knows a lot about it, can select knives that can do the job. Sometimes not terribly expensive knives, but knives that can take on the task. If I was going to do something, which I most likely will, at some point, I tend to drift into the knife arena.
How have you seen your business evolve over the years?
What drove my business had to do with changes in people's eating habits: Nearly 40 years ago, my customers wanted to re-create, at home, what they ate in restaurants. I think it was the evolution of food, and people's understanding of food, that got me very enthusiastic about what I was doing.
How have you seen people's cooking habits change?
Everyone makes their own choices. Healthy choices have been an important driver of food, certainly at home. I think when someone is concerned about what they're eating — How much salt is in there? How many carbs? — you can control that at home. I think, learning from chefs and recipes, people are recognizing that they have this ability. I think that's helping people eat food that's healthier and more flavorful and experimental.
What's recently been your best seller?
Basically, I always feel if you buy something good, it's going to last, and you won't have to buy it again. So, many of the things that drive sales are new things and innovations. Nonstick coatings have evolved. Some people are concerned about Teflon, and how food browns when you're using a nonstick pan, so there have been innovations in that area. Nonstick continues to sell well.
Are there any cooking trends that have annoyed you?
I wouldn't say a trend, but a lot of the newness in kitchenware is really gadget-oriented. That doesn't drive what we do at Broadway Panhandler, but we're always attuned to new things coming out, and we're skeptical. We test nearly every product that we sell to make sure it matches our expectations.
So many old-school New York businesses close because of rent increases. What's your relationship with your landlord been like?
Landlords have a product, and they have to get the most for it. As someone who has rented this space for a very long time, I understand that. The thing that's difficult for many retailers is that when things happen online, you don't need to spend money in real estate and rent. The landlords are very slow to come around to that, and I think that's a big problem for everyone who sells merchandise in a retail environment. Generally speaking, over the years, I've had a good relationship with my landlord, but I'm always trying to negotiate the rent. We're seeing stores go out of business at a faster pace than before. The new ones coming in are mostly banks and nail salons and drugstores — things that are on every corner. There are less and less shops like Broadway Panhandler. That's the reality of today. I had a good run, and I'm happy that I was able to do as much as I did, and had a following of good customers. I look forward, in the next month or two, to continue to serve those customers and be there.
Do you have a specific closing date?
Basically, I haven't fixed an exact date on it, but it depends on a great extent to how quickly I I sell my merchandise, and other promotions and events that are in the works. Right now, it's really open from six weeks to three months.
Are you emotional about saying good-bye?
I have mixed feelings — I described myself as a workaholic, so I'm not sure what I'm going to be doing, and how that will impact my life. I will try to keep busy and do volunteer work and a whole variety of things. There's no limit to what I might do. I'm not going to be sad about it; I'm just going to be doing something else. And maybe cooking more.