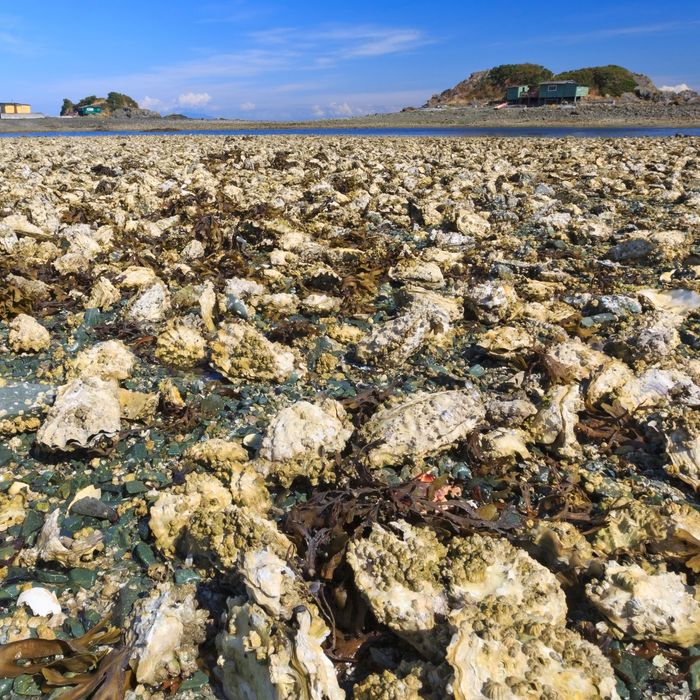 Oysters are suffering due to acidification.
Photo: Keith Douglas/All Canada Photos/Corbis
British Columbia's mussels, scallops, and famed oysters are suffering starkly from increased ocean acidification, another blow to North America's struggling Pacific fishery. Shellfish are particularly susceptible to the effects of acidification, thought to be caused by rising carbon dioxide levels, which make it difficult for the species' calcium and carbonate shells to grow, and are blamed for a 2014 die-off of oysters and scallops that numbered in the millions. Prices are, accordingly, expected to continue rising — they've increased 20 to 30 percent over the last three years — and the industry is worried about how customers will react.
One researcher for the Canadian governmental agency Fisheries and Oceans Canada gloomily says the issue has been building up over the last three decades, owing to factors like higher temperatures and decreased oxygen caused by climate change. That doesn't make it sound like an easy fix, but some are trying to adapt by growing shellfish with more acid-resistant shells.
The ongoing trouble plaguing BC's shellfish industry is just one of many problems affecting the Pacific fishery, which last year saw California, Oregon, and Washington's sardine fisheries shut down due to depleted stocks and, among other things, an algae bloom cripple those same states' Dungeness crab industries. (Five years ago, another plankton plague caused a major abalone die-off.) All three states eventually opened their crab seasons, at least in some areas, this year, but this serves as a reminder that it really does matter what seafood you're eating.