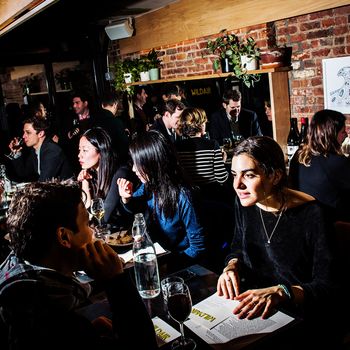 Wildair is a great spot to get to know each other.
Photo: Dina Litovsky
Picking the right restaurant for dinner is always important. Picking the right restaurant for a date — whether it's a first meeting, a special anniversary, or a night out with the person you married decades ago — is absolutely crucial. And not all restaurants are ideal for every date situation, and everyone's tastes — and comfort levels — are different. Maybe you want a sit-down place with flattering lighting, or maybe you'd prefer a festive taco spot that offers some distraction should things go south. No matter your dating style, here are the best date restaurants in New York City.
Downtown
Annisa (West Village)
Best for: Setting a romantic mood.
At Anita Lo's elegant flagship, the room, with its neutral colors and spare decorations, manages to be elegant without feeling ostentatious. The food draws from various Asian influences — see the famous foie gras soup dumplings or the pakora fried oysters currently on the menu — without strictly sticking to the continent. Lo's desserts, like her poppyseed bread pudding and salted butterscotch beignets, are also notably delicious, so make a note of it if your date has a sweet tooth.
Bar Primi (East Village)
Best for: Keeping it simple on a fourth or fifth date.
Andrew Carmellini's Bowery spot specializes in pasta and small plates, so you can split fried calamari with spicy aioli and tuck into bowls of spaghetti and clams, or fusilli with veal Genovese, while sharing stories of your semester abroad in Rome. The service and space are casual but nice, so you can impress without looking like you're trying too hard.
Biang! (East Village)
Best for: When you're in the mood for Chinese but want to step up your game.
The sit-down sister restaurant to Jason Wang's Xi'an Famous Foods chainlet, Biang! is the spot for introducing your date to the cumin and dried-chili-spiked flavors of Xi'an's Silk Road cuisine. The restaurant relocated from Flushing to a more centrally located East Village, but has preserved its menu of boiled and barbecued skewers, small dishes like its top-notch dumplings, and chewy noodles.
Birds & Bubbles (Lower East Side)
Best for: Champagne, with some chicken on the side.
If you're looking for a spot that's open late, or a cheeky spin on something usually reserved for fancier occasions, come here. Champagne and fried chicken are always winners, but the restaurant also serves a pan-Southern menu of dishes like buttermilk biscuits and shrimp and grits. Plus, the space is narrow, so it's easy to get cozy.
Blue Ribbon Downing Street Bar (West Village)
Best for: Meeting for a quick drink.
Tucked into a dark corner on Downing Street, this Bromberg brothers bar is well-designed, with its blond-wood walls, French limestone floor, and elegant marble bar cast in soft lighting. Food is light — think dishes like an "egg shooter" with Cajun shrimp and pickled peppers, toasts with smoked duck and foie gras, and French bread pizza — so you can order as little as you like or follow up with a full meal elsewhere if things are going well. The drinks list features accessible cocktails, beers, and an extensive choice of wines, with some half-bottles on the cheap and a few dozen full bottles affordably priced at $60 or less.
Decoy (Greenwich Village)
Best for: When you want to look like the one who knows all the secret spots.
There will always be an undeniable allure to dimly lit underground bars. This one is attached to the acclaimed, upscale Chinese restaurant RedFarm and specializes in cocktails and Peking duck. Big dishes — like that duck — must be ordered ahead and may be too much for two, depending on your ambitions, but there are plenty of sides, like fried rice and Katz's pastrami triangles, to satisfy.
El Maguey y La Tuna (Lower East Side)
Best for: An easygoing place to grab food before hitting the bars.
Sometimes you want to have fun and be close to plenty of post-dinner bar options without spending a ton. This Houston Street taqueria is not the best in town, but the southern Mexican cooking is enjoyable, the decoration kitschy and fun, and the margaritas cheap and plentiful.
The Fat Radish (Lower East Side)
Best for: When you need a spot that can please anybody.
With its lived-in walls and brick floor, this trendy but rustic Lower East Side haunt looks like a refurbished upstate barn that your friends may have gotten married in. The lighting will always do you favors, and the menu is a mix of mostly healthy, vaguely British pub food and vegetable-centric dishes. So you can get your heirloom carrots and monkfish green curry while your date indulges in a bacon cheeseburger and truffled duck chips. In other words: Everyone's happy.
Fung Tu (Lower East Side)
Best for: Bridging the gap between Chinese and Michelin dining.
Jonathan Wu's Chinatown restaurant serves Chinese-American like nothing you've had before. The room is attractively snug, yet there's still some space between the tables, which when combined with the dark, moody lighting at night will make you feel like you have some real privacy. Dishes like "China-quiles" with crunchy yucca chips draw on Wu's heritage and fine-dining experience at restaurants like Per Se, and it's the rare Chinese restaurant with an excellent, interesting wine list, so you can get adult beverages appropriate for the occasion.
Gottino (West Village)
Best for: When you're looking for the classic first-date spot.
For those seeking an old-world setting for their date, this West Village wine bar is the spot. It hasn't lost its charm in the near decade since it opened, sticking to its MO of Italian wines; rustic cooking like crostini with walnut pesto, olive-oil-whipped salt cod, and rabbit potpie; and a casual environment where you can talk for as long — or short — as you'd like.
Jeffrey's Grocery (West Village)
Best for: People who want to go out to a place that feels instantly recognizable.
This is a loud but still intimate West Village standby that's always busy, day and night, and the kind of place where you and your date can comfortably disappear into the crowd. There's a raw bar as well as prepared dishes like lobster spaghetti and duck rillette toast, but don't forget about the cocktails — you'll want to share stories over a few of them.
Maiden Lane (East Village)
Best for: A place where you can linger, with no expectations.
Post up at one of the high-tops, order an easygoing cocktail like a Dark 'n Stormy or a glass of refreshing white wine, and order some top-notch tins of canned seafood or fishy food like shrimp po'boys. It's a bright and welcoming bar, almost never so busy that you can't grab a couple of seats, and an easy place to get lost in conversation over a bottle of muscadet and tinned scallops.
Peasant (Nolita)
Best for: Hunkering down on a cold night.
The upstairs restaurant has gracefully aged since its days as a hot spot (and remains packed), but give up the glow of the open kitchen's wood-fired oven for the subterranean wine bar's more relaxed vibe. The flickering candles and stone pillars give it an appropriately rustic and authentically European feel, bartenders and servers are happy to help you explore Italian grapes like Nosiola and Fiano, and no one's ever going to rush you. And the food, as you might expect, is lovely.
Sammy's Roumanian (Lower East Side)
Best for: When you want a date that feels like a super-fun bar mitzvah.
This rowdy old-school Jewish steakhouse is not for when you're feeling civilized, but for when you're looking for a riotous night out. Vodka is served frozen, chicken liver is mixed at the table, there's music nightly, and no one ever seems to be afraid to dance. In other words, everyone is always having a hell of a time.
Shuko (Union Square)
Best for: Big spending on top-notch sushi.
If you have money to burn, the sushi here is immaculately prepared, and the design and atmosphere are fresher and cooler than some of the other staid, serious bluefin temples around town. The music is played a little louder than is typical, so you won't feel like you have to be hushed, and the chefs' progressive style makes this the place to take a sushi fanatic who has seen it all.
The Ten Bells (Lower East Side)
Best for: Disappearing into a big room and forgetting about the night.
The Lower East Side bar is a precursor to New York's natural-wine boom. It looks sort of like a Victorian cellar, but the music is contemporary, and the list is nothing but sulfite-free funky oranges, juicy reds, and musky whites. There's also a good amount of bottles at or under $60 on the list, so you can focus on the booze and keep food to light snacks like oysters.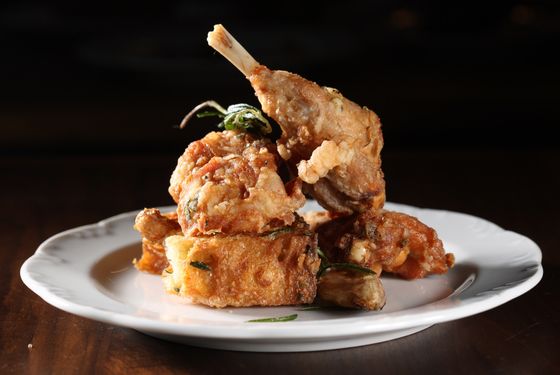 Via Carota (West Village)
Best for: An easy date night with someone you've known a long time.
The wide windows offer pleasant views of Grove Street that set the scene as much as the manicured-but-rustic design. Service is pleasant, and the cooking's solid. The result is a place that feels warm, cozy, and perfectly West Village, especially when you're digging into that bunless "hamburger."
Wassail (Lower East Side)
Best for: Impressing a vegetarian, even if you love meat.
Switch things up from the usual routine of beers or cocktails with a night at the city's only cider bar. (There's wine, beer, and booze, too, so don't worry.) Discover varieties of cider you never knew existed, split some jalapeño fritters, and indulge in some of the city's most unexpectedly delicious desserts. The food is all vegetarian, too, so this is a great spot if you want to keep your evening meat-free.
Wildair (Lower East Side)
Best for: A wine bar that's actually awesome.
New York's restaurant of the moment is a great place for a first date downtown: It's the rare wine bar with some excellent food, but no one will bat an eye if you order nothing but bread with your bottle. The wine list has lots of affordable options that the helpful sommeliers will point you to; just don't forget to finish with their chocolate-nut tart, like a chocolate-peanut variation that tastes like a gourmet cross between a Butterfinger and a Snickers.
Midtown and Uptown
The Cannibal (Murray Hill)
Best for: A fun, not-too-messy night with lots of meat and beer.
This meat-centric restaurant doesn't feel like it's in boxy, bland midtown, and it's a great place for a couple of hopheads looking for a less bro-y atmosphere. Expect lots of inventive charcuterie, like cochinita pibil head terrine and Peking duck rillettes. Vegetable preparations are equally creative, and the beer selection is varied and top quality, so you can drink saisons while your date drinks IPAs.
Erminia (Upper East Side)
Best for: Kicking it old-school.
The super-old-school restaurant won't appear on any list of the hottest restaurants around town, being more a secret no one wants to let out. It's romantic in a throwback way, and the Roman-inspired menu covers familiar territory like fettuccini with ragu, grilled calamari, and veal scaloppine. It's nothing new, but none of the people who treat it like a date-night destination seem to mind.
The East Pole (Upper East Side)
Best for: Crowd-pleasing fun uptown.
Those on the Upper East Side who dig the Fat Radish's healthy take on the British tavern will be happy to know they don't have to leave the neighborhood. The restaurant spans two levels and is decorated sparely, with enough variety in its cooking that you can feel confident bringing anyone here, whether they'll go for the macrobiotic plate, chicken Kiev, or a bacon cheeseburger.
Il Salumaio (Upper East Side)
Best for: Catching up after you haven't seen each other for a while.
The Upper East Side is not overrun with cozy wine bars like certain other parts of town, making this respectable and well-run restaurant from the San Matteo crew a coveted resource when an uptown evening is in store. It's a place you'll want to settle into, where you can order some crispy arancini and cured meats and split one of the bottles from the value-minded all-Italian list. Most clock in under $30, so if things are going well, it'll be no burden to get a second one.
Jean Georges (Upper West Side)
Best for: A serious celebration.
This is where you go when you have a good reason. The flagship restaurant of the French chef's international empire, Jean Georges is still going strong almost two decades in and has an ambience that's more conducive to dates than some of the other Michelin-caliber high-end spots in the city. The space (redesigned eight years ago) is posh and peaceful, with large windows overlooking the edge of Central Park, but thankfully service isn't overly finicky. Still, as elegant as the room is, you'll be focused on the food, which is as luxurious as you'd hope and often full of unexpected — but welcome — surprises.
Le Parisien Bistrot (Murray Hill)
Best for: Getting away from the city by staying in the city.
This is a quaint French bistro just like they used to make them. The cozy Murray Hill restaurant, run by a chef who cooked at Barbuto and Waverly Inn, has an old-school atmosphere and offers mostly classics like French onion soup and duck confit, with a few modern dishes like mussels in coconut milk.
Seamstress (Upper East Side)
Best for: Staying hip and local at the same time.
Go no further when you're uptown and looking for a downtown vibe. The front bar is always fun, but you'll find a surprisingly comfortable dining room if you're looking for privacy. The barmen are experts who will make you any number of classics beyond their list of house specialties, but the surprisingly inventive food like oysters Rockefeller finished with absinthe is what will keep you lingering.
Central and South Brooklyn
Convivium Osteria (Park Slope)
Best for: When you need that unexpectedly great neighborhood spot.
Bustling Fifth Avenue is right outside the restaurant's doors, but the garden, wine cellar, and charming old-world ambience will make you feel like you're far outside the city. The menu offers a pan-Mediterranean tour of Italy, Portugal, and Spain, with braised artichoke antipasti served alongside cockles with Portuguese sausage. Larger dishes like the whole roasted sea bass are worth your time, though, so save room for something you can really share.
The Good Fork (Red Hook)
Best for: A relaxed space with serious food.
This is a neighborhood standby for local residents, and a fun place to introduce someone who still hasn't made it to Van Brunt Street. One of the owners, a carpenter, designed and built the sharp-looking interior of this mom-and-pop restaurant himself. The food is mostly New American, with Korean accents, and the must-order items are the pork-and-chive dumplings.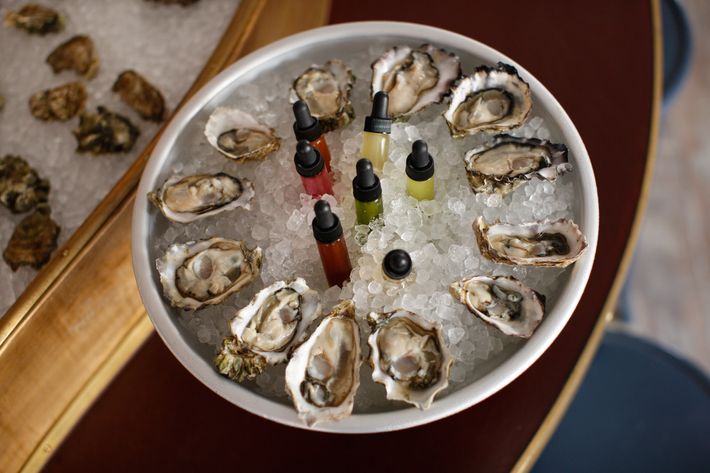 Grand Army (Boerum Hill)
Best for: Easygoing first dates that might turn into something more.
Head bartender Damon Boelte is a known cocktail expert, so you can expect excellent drinks to sip on and help you loosen up and ease into the conversation. To eat: a solid food menu for snacking with a heavy emphasis on raw-bar specialties, like platters of oysters served with sauces ingeniously housed in little squirt bottles — so you don't have to worry about getting cocktail sauce on your shirt.
La Vara (Cobble Hill)
Best for: Nights when you don't want to run into anyone you know.
This Cobble Hill restaurant has everything you want when wooing someone. The space itself is trendy but warm; the street is treelined and decked with brownstones; and the stellar and unique food, which draws from Spain's Moorish and Jewish influences, is from New York tapas masters Alex Raij and Eder Montero. For those in Manhattan, the Basque-focused Txikito or regional tapas hot spot El Quinto Pinto are small but similarly smart choices from the same team.
Littleneck (Gowanus and Greenpoint)
Best for: Keeping things very casual.
The restaurant's small size, at both locations, makes it well suited for couples, as does the fun clam-shack theme. The menu is short but sweet, mostly consisting of smart but sometimes straightforward takes on New England coastal cooking, with dishes like an Ipswich clam roll and Portuguese stew with chorizo. Split some steamed clams, drink some Maine cider, and pretend you're hanging out on the Cape.
Petite Crevette (Carroll Gardens)
Best for: People who have a few good bottles of wine they're ready to open.
The restaurant's small size necessarily makes it intimate, and the straightforward, daily-changing fish preparations and buttery, comforting vegetable sides makes for dependable, crowd-pleasing cooking. It's BYOB, too, so pick up a bottle of your date's favorite kind of (seafood-friendly) wine beforehand.
Roman's (Fort Greene)
Best for: Those nights when you need the perfect neighborhood spot.
The ever-changing menu at Andrew Tarlow's low-key trattoria — in many ways the ideal neighborhood restaurant — makes it a place that's as interesting for regulars as it is for first-timers. You can enjoy the benefits of knowing your way around while discovering something new like peposo (or whatever might be on the menu) together, and the typically high-quality, natural-leaning wine list doesn't hurt, either. End dinner by lingering over a glass of amaro and some chocolate sorbet, and you've got yourself a plan.
Rucola (Boerum Hill)
Best for: A solid dinner that won't break the bank.
Brownstone Brooklyn meets the Piedmontese countryside at this Boerum Hill restaurant. Split housemade pastas like rigatoni with pork bolognese, dig into a whole roasted brook trout, or snack on vegetable antipasti and cheese while sharing a bottle of Lambrusco. The wine list isn't expansive or cutting-edge, but it's very budget-friendly, with all but two bottles under $50.
Saraghina (Bed-Stuy)
Best for: People who have just met and want to keep it low-key.
The somewhat-out-of-the-way location means this restaurant is more of a locals haunt. Pizza is the focus, but there are well-executed trattoria-style dishes like ricotta cavatelli and seasonal specials, and the Italian-leaning wine list is substantial but still affordable. The expanded space includes a bar perfect for a few drinks and an informal date.
Vinegar Hill House (Vinegar Hill)
Best for: Making a night of it.
Decorated with salvaged décor and tucked away in the hidden, historic micro-neighborhood for which it's named, this early New Brooklyn adopter makes for a fun, if brief, escape within the city. The current chef is an alum of Blue Hill and Prune, and the kitchen turns out dishes like crostini with stracciatella cheese, cast-iron chicken, and pastas that are great for sharing.
North Brooklyn
Maison Premiere (Williamsburg)
Best for: Fancy drinks and an equally fancy atmosphere.
This New Orleans–themed cocktail and oyster den's perfectly groomed garden — when it's open during warmer months — is likely Brooklyn's most romantic dining destination. But if it's not the season, the well-appointed, meticulously decorated, and mood-setting dining room is no slouch. There's one of the city's better selection of oysters, world-class cocktails, and, if you're in the mood for dinner, French-ish food from a Ducasse alum.
Paulie Gee's (Greenpoint)
Best for: Taking a pizza date to the next level.
With its wood beams, cavernous dining room, and tabletop candles, this is one pizzeria that looks as good as its wood-fired pies taste. The pizzas feature inventive toppings like pickled pineapple, brisket from Hometown Bar-B-Que, and hot honey, and there are seven thoughtful vegan options for those who eschew meat and dairy. If Paulie's roaming the room, make sure you finish your meal with some of his limoncello.
Queens
Bunker (Maspeth)
Best for: When you want the hippest Asian restaurant in the outer boroughs.
Consider this your spot when you want to come across like a restaurant insider. It's a somewhat-off-kilter, casual Vietnamese restaurant in a nowheresville corner of industrial Queens that's become New York's hippest pho destination. Dishes like banh xeo, a crispy and savory egg crêpe with shrimp and bacon; the chicken-based pho ga; and grilled lemongrass short ribs, though, are reason enough to head here. Just be prepared for the possibility of a long wait.
Casa Enrique (Long Island City)
Best for: Mexican cooking that's impressive but not pricey.
A Mexican restaurant that's several notches above the taqueria without getting too stuffy. In fact, the prices are very reasonable, and the Michelin-starred cooking is some of the best of its kind in town. The bar emphasizes tequila and mezcal, so get a few margaritas; both the briny crab tostadas and rajas con crema are excellent appetizers. Service can be spotty, but it's always kind; the restaurant is typically very busy, but it's easy to have fun and focus on each other.
Dumpling Galaxy (Flushing)
Best for: Upgrading your plans for a dumpling night.
It's a carnival of dumplings at this Flushing restaurant located in one of the neighborhood's more upscale food malls. Helen You has roughly 100 different kinds of dumplings available — from the ordinary pork and chive to her signature lamb and green squash and the more esoteric preserved egg with pine nuts — and there are some solid dishes on the menu to fill out your meal. There's basic beer and wine options, too. Basically, this is where you take the person whose dream date is a dumpling house.
Hunan House (Flushing and Midtown)
Best for: Switching up your Chinese food routine.
The estimable Chinese restaurant, in Queens' Chinatown and midtown Manhattan, specializes in the smoky, fiery food of Hunan. The Flushing location looks like most Chinese banquet spots, only nicer. Go for the smoky meats and pickled vegetables (as in the sour string bean with minced pork), and wash it all down with easy-drinking Tsingtao.
Marani (Rego Park)
Best for: People looking to try something off the beaten path.
This Georgian restaurant is glatt kosher, so to accommodate Jewish dietary law, it's split into two levels, with one floor devoted to meats and another to the country's cheesy, delicious breads. Start your evening with some chicken in walnut sauce and smoky kebabs before filling up on (and fighting over) one of six kinds of khachapuri, the most famous style being the canoe-shaped adjaruli with its egg-and-cheese center.
MP Taverna (Astoria and Williamsburg)
Best for: Exploring just how awesome Greek food can be.
No one in New York does Greek cooking like Michael Psilakis, and his modern version of the Greek tavern is the place to introduce your date to the pleasures of lamb shank, mezze like crisp cod, and simply grilled fish. Almost all of the wine, which emphasizes Greek grapes like Retsina and Argyros, is priced under $50, so splitting a bottle is an easy choice.
Staten Island
Enoteca Maria (St. George)
Best for: People looking for a unique night out.
It's like getting all of the benefits of treating your date to your Italian grandmother's best-ever cooking without the awkwardness of having her there. This lovingly shticky Staten Island trattoria, located right near the ferry terminal, has a daily-changing menu from any one of a handful of Italian grandmothers. It also recently introduced a second menu from grandmothers around the world.
Joe and Pat's (Castleton Corners)
Best for: A classic, old-school kind of date night.
People don't flock to this thin-crust specialist for its (nondescript) atmosphere; they come here for the excellent pies. The crowd is always locals, students, families, and old couples sitting down for meals they've been having forever, but it offers a genuine slice of the borough's culture. The pie is so good you'll forget everyone around you, though, so you can focus on your evening together.
Killmeyer's (Charleston)
Best for: Beers with a side of classic New York history.
Real talk: The food at this long-standing, old-fashioned beer hall is not particularly good. But there's a lot of beer to be drunk — and the substantial list is no joke. It's a German relic that looks pretty good for its age, with a nice big bar and a Bavarian aesthetic, and sometimes there's music. It's located on a quiet road near a park at the western edge of the borough, and some say it's haunted, so if your date is into ghost stories, head here.
Sanrasa (St. George)
Best for: A date that feels like an adventure.
If you live outside the borough, make this top-notch Sri Lankan restaurant your first date adventure together. (If you live there, though, don't let that deter you.) The restaurant is small and cozy, with paintings of Sri Lankan landmarks and nice touches like folded napkins waiting on the table that show the others care. There are a bunch of Sri Lankan restaurants around here, but the curries and lamprie here can't be beat, and it's BYOB, so hit up your wine store and find the perfect bottle for this restaurant's spicy, heady food.
The Bronx
Zero Otto Nove (Fordham-Belmont)
Best for: Casual, no-expectations fun.
Cap off a trip to the Bronx's Little Italy with a visit to the street's best sit-down pizzeria. The cavernous dining room, with its wood-burning oven on display and paintings of Italian architecture, is endearingly cheesy. So are the Salerno-style pies — less soupy than their otherwise similar Neapolitan forebear — which are made with the nearby Casa Della Mozzarella's excellent namesake cheese and toppings like the strangely compelling butternut squash purée with spicy pancetta.
Tra Di Noi (Fordham)
Best for: Kitschy red-sauce in the best possible way.
When you're in the Bronx and looking for a more classic red-sauce meal complete with checkered tablecloths and a killer lasagna, opt for this trattoria opened by a first-generation Italian chef. The dinner menu is supposed to rotate often, but you can expect familiar classics like linguine with clams and chicken cacciatore. Keep it simple, and remember how good the past is together.
More Restaurant Suggestions From Grub Street
Where to Eat the Best Ramen in NYC
Where to Eat the Best Sushi in NYC
Where to Eat the Best Brunch in NYC
Where to Find the Best Tacos in NYC
Where to Eat the Best Late-Night Food in NYC
The Best NYC Restaurants for Groups
Where To Drink the Best Coffee in NYC
These Are New York's Best Bars for Cocktails
This post is updated regularly.