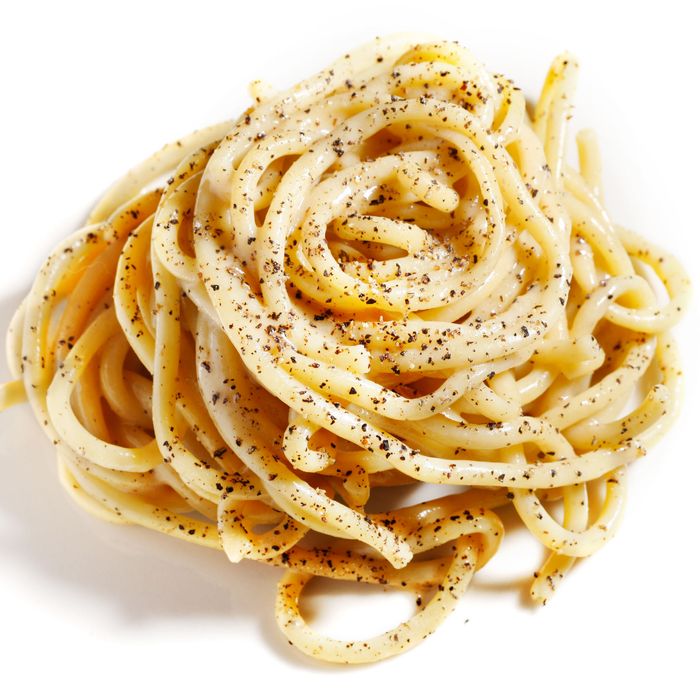 Momofuku Nishi's version looks classic, but swaps out cheese for fermented chickpeas.
Photo: Melissa Hom
This week's magazine takes a look at how chefs are adapting the flavor profile of the classic Roman pasta, spaghetti cacio e pepe, to things like pizza and doughnuts, and hypothesizes that it won't be long until we're munching on Cacio e Pepe Doritos. All of which is not to suggest that the dish itself is in decline. In fact, traditional versions of what must be the original mac 'n' cheese have never been more popular. Here's where to find it.
Hearth
It's not on the menu, but if you time it right (non-dinner-rush hours), Marco Canora will whip up a special-order spaghetti alla chitarra cacio e pepe that would make a Roman expat weep for joy.
I Sodi
No surprise here: Rita Sodi makes some of the most craveable pastas in town, and her spaghetti cacio e pepe is no exception.
Lilia
Missy Robbins refuses to categorize her exquisitely chewy, curly-edged malfadine with pink peppercorns and Parmigiano-Reggiano as cacio e pepe or even a variant, citing her unorthodox use of butter and the absence of Pecorino Romano. But these pasta geniuses are notoriously picky.
Lupa
No one's saying that cacio e pepe didn't exist in New York before this Mario Batali trattoria came along. But Lupa is where a lot of local pastavores got their first taste of the dish, and the kitchen's bavette (similar to linguine) version is still the gold standard by which they rate all others.
Maialino
C.e.P. addicts can get Nick Anderer's spot-on tonnarelli rendition at lunch and dinner, and as a late-night snack, then come back the next morning for softly scrambled cacio e pepe eggs.
Momofuku Nishi
David Chang's radical version switches out Pecorino Romano for the Momofuku Lab's cheesy fermented-chickpea paste and makes it work. What's also surprising and remarkable: how delicious and perfectly textured chef Josh Pinsky's housemade bucatini is.
Mulino a Vino
Does filling ravioli with a mixture of cheese and cream infused with black pepper that, through modernist kitchen techniques too complicated to get into here, achieves an almost ganachelike texture qualify as a proper cacio e pepe? Who cares when it tastes this good?
Perla
A nicely balanced, perfectly al dente bucatini version that rides under the cacio-e-pepe radar.
Sandro's
Where Roman-pasta aficionada Mimi Sheraton goes for authentic (off-the-menu) spaghetti cacio e pepe. Just call ahead to make sure chef Sandro Fioriti is in the kitchen: This is one dish he insists on making himself.
Upland
When Justin Smillie decamped from Il Buco Alimentari e Vineria for Upland, he took along a few dishes too good to leave behind, including those peppercorn-crusted short ribs and his almost-as-famous bucatini cacio e pepe.
Otto Enoteca e Pizzeria
Otto's off-the-menu linguine cacio e pepe is so expertly calibrated you can even get it delivered without it turning into a gloppy mess.