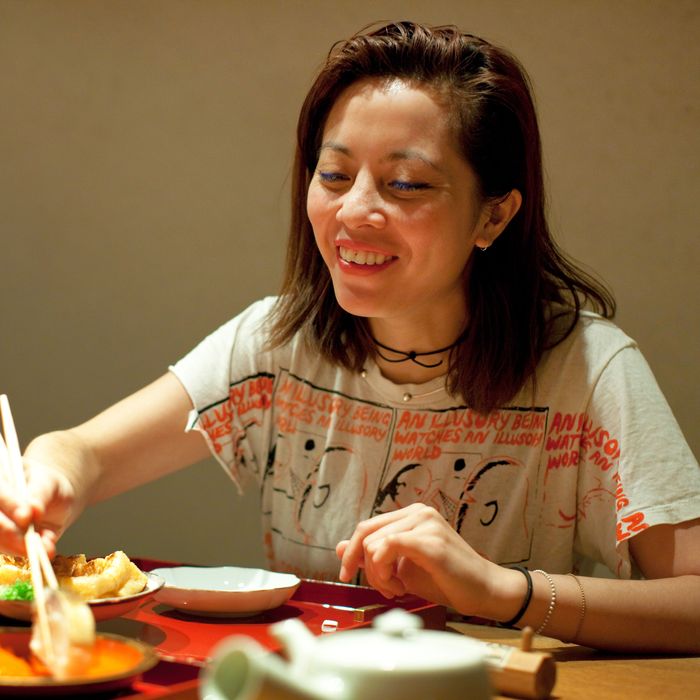 "This food is what I wish I could eat every day," she says about Kokage.
Photo: Melissa Hom
As the executive chef of Mission Chinese Food, Angela Dimayuga isn't just responsible for the food — she's involved in every single aspect of the business. She manages a huge team, tastes new wines, thinks about micro design details, partakes in photo shoots, and, now, wakes up at 5:30 a.m. on weekends for the restaurant's just-launched dim sum brunch. Somehow, Dimayuga still manages to carve out time for herself: This week, she met friends for lunch at Pho Vietnam 87, enjoyed a date night eating at Kokage and seeing Hamilton (and, yes, she brought food for the whole cast, again), stopped by Momofuku Nishi, and even cooked at home. See how she does it all in this week's Grub Street Diet (then, check out Dimayuga's thoughts on "kamikaze" kitchen culture):
Thursday, January 7
I wake up feeling very full. Last night, Danny [Bowien] and I had a night together on the line at Mission Cantina. I was checking out the new Cantina wok station and tasting some of his new Americanized Chinese dishes he launched a few days ago. We were also celebrating two important milestones: We were hosting a little get-together to celebrate Dana Cowin's last night of being the EIC of Food & Wine, and my and Danny's four-year anniversary of working together.
The party went late, and Danny and I skipped out to have a date, rushing to catch a quick omakase sushi dinner at Hasaki. In 25 minutes, before the sushi bar closed, we talked about the crazy years we shared together and our future. Our sushi chef also alerted us that we managed to eat 20 pieces of sushi in that time. He knows I usually tap out at around nine or ten.
Back to this morning. I wake up feeling the sushi still in me, so I don't eat anything until about 1 p.m. I'm expediting tonight, so I figure I should eat while I can. I have some toast and tea. Often it is PG Tips in the morning, with some half-and-half — a residual cold-weather ritual after living in Glasgow for a half-year in college. I have some really nice bread I got from the sweet people at High Street on Hudson a few weeks ago in my fridge. I usually keep bread in my fridge since I never know when I'm going to be eating at home again. It turns out perfect as toast. The bread is their famous rye, and it is so good … the crumb is beautiful, and the texture is similar to the jiggly-ness I like of Tartine's fermented bread. I love it.
I have some blackberry jam from Tartine that Chad [Robertson] and Richard [Hart] gave me when we were on book tour a month ago, when we did a dessert toast. My fridge is usually filled with things that don't have trouble spoiling: lots of pickles, koji, etc. I have some homemade kefir butter I borrowed from work that goes on the rye, too, with salt, pepper, and fennel fronds left over from making borscht the other night.
At work, we're having our weekly management meeting. I think it's rude to munch on things during meetings, so I have several beverages in front of me. I was recently called out as a multiple-beverage-in-one-sitting person by Chris Ying, Danny's cookbook writer. It's true. I have a short Americano with whole milk, my fave green smoothie (piña, kale, avocado, coco H2O, date, mint, ginger) both from Dimes, and a water, and Sam Anderson, our bar director, brought me a glass of some sprouted walnut-cashew milk he wanted me to try, too.
Service beings promptly at 5:30 p.m., and during service I have lots of lemon water (always) from my S'well bottle, and a mapo snack (we in the kitchen colloquially call anything we eat at any point in our work day a "snack"), which is a small rice bowl of a half-cup of salt-cod fried rice and three blocks of tofu with the spicy pork ragout (tasting the batched food items to make sure there is consistency). I also have small bites of tasting food as it goes out: umeboshi and kale, egg-roll ends. Service ends at midnight, and at my computer, I have my typical end-of-service "big ass salad": lots of watercress, gem hearts, mint, cilantro, mung-bean sprouts, bean sprouts, smoked chicken, peanuts, sesame, and flaxseed, dressed with a bit of hoisin, lime, and fish sauce.
Later, I meet my friends for a quick one at Legion — a rarity, as I hardly ever go to Williamsburg, but I'm feeling good and hang for a friend's DJ set while I sit and catch up with friends. Over a tequila shot and a Tecate with lime, he shows me his working cover art of his new record.
Friday, January 8
Kind of a day off. I start my afternoon meeting two of my closest buddies, Shane Feirstein, owner of my neighborhood bar in Bed-Stuy, Lover's Rock, and Arley Marks, beverage director of Dimes and co-owner of the soon-to-be meadery Enlightenment Wines. These guys are my brothers, and I love them. They've recently converted me to their favorite pho spot, Pho Vietnam 87 on Chrystie.
This place is the best. We like the nuanced details that make it special: the use of lime versus lemon, the generous portion of lettuces and herbs (all of which are super fresh), and that we each get our own (nuoc cham) dipping fish-sauce bowl, which makes double-dipping totally okay. We also agree we are equally obsessed with the unknown visionary who loves trains and created the loud train motif which echoes through the entire space. There is a mini train mock-up, complete with a rail attached to the ceiling at the end of the restaurant, that looks like it could have been at a Warner Bros. store at the mall. We also appreciate the three single-person bathrooms, because we could all go at the same time if we wanted to.
We order beef la lot (ground beef that is seasoned with fish sauce and rolled in betel leaf that looks a lot like small stuffed grape leaves), which are awesome because they come with vermicelli rice patties to roll them up in peanuts, pickled carrot, daikon, and baby spring-onion buds. In the kitchen, they sear the rolls quickly, so the meat is juicy and rare on the inside. So special! We also get the fried spring rolls. I roll those up in lots of the mint and green leaf lettuce that it comes with, and steal Thai basil and bean sprouts from the pho garnish plate. I roll this massive wad and, while squeezing so the packet doesn't burst, I carefully dunk the roll in the nuoc cham. It's like a hand salad.
We eat get our own No. 1, which at most pho places is beef pho with everything. I like mine with the eye of round on the side (say beef on side), so you can dunk the rare lean meat in the broth like fondue when you feel like it. No. 1 has a good variety of beef parts: sliced brisket, omosa (bible tripe), beef ball, and beef tendon. My favorite is the few bits of tendon thrown in. To me, the best beef tendon is braised so long that it has the characteristic of a hot Haribo gummy bear — jiggly, chewy, and dense at the same time. Pho 87's tendon is right at the hot-gummy-bear stage.
Afterwards, we are full and wrap in our layers and hats. After kisses outside, we go to our respective places of work. We'll probably meet again here next week.
I go to work and check in with everyone for a few hours, then run some personal errands. My favorite tailor is back up north of Delancey, next door to El Rey. I drop some items off at the tailor and say hi to Gerardo [Gonzalez]. He asks if I want to try a ginger tea. It's delicious and restorative, and it's so heavy on the ginger juice that it's spicy, which I'm super down with, and acidulated with hibiscus. It's nice and foamy on top from warming on the espresso machine's milk steam wand, and I tell him he's like my shaman, because my throat has been pretty sore from the cold weather.
Afterwards, I rush back to MCF to pick up some to-go food for the cast of Hamilton. I did a dinner for them in the foyer of the Richard Rogers Theatre back in October, and when I got to meet the cast members, they were so, so sweet and grateful and mentioned how they work so much and don't get a chance to eat enough. So I figured I'd bring some fried rice and snacks for the cast and team. I set up the boxes on a six-foot table, labeled everything, and rushed over to catch a pretheater snack at Kokage on 39th.
I've been meaning to check out Kokage forever. I've been to Kajitsu, the vegan, kaiseki fine-dining restaurant about five times — one year even having a chance to catch the special New Year menu. Since then, the restaurant has moved up to the 30s, in a two-floor building, with Kajitsu on the top floor, and a tea shop and a more casual, non-vegan restaurant called Kokage below. I've never eaten at Kokage, but when peering in, I've always been obsessed with the simple but exquisite curly maple tabletops. It's really gorgeous in there. I also love the small, realistic sakura tree by the host stand.
My date and I quickly order and (maybe rudely) speed through such delicately plated food because we have 40 minutes to showtime. We share a rice beer and sencha tea with grilled pumpkin nama-fu (a type of traditional kaiseki chewy mochi), sardines braised in dashi with umeboshi, and then for entrées we share a bowl of uni and ikura donburi that comes with a tiny red miso soup, and a mini pickle plate of nuka (rice bran fermented) pickled daikon, napa cabbage, and braised kombu. The other dish we share is cold soba with grated daikon, shiso, nori, and umeboshi. This food is what I wish I could eat every day. I rush out feeling great and go to the theater a minute into the show.
We are completely floored that the team at Hamilton hooked us up so generously, because by the time we plop down to our seats, we look up and see that we are seven rows from the front, center orchestra. I feel flush with their generosity and am in disbelief with the opportunity that we could watch such talent. I'm completely captivated for the next three hours. At the end of the show, I get to greet the cast members and re-meet them. They are truly stars putting on such an impactful program, and I'm so inspired with their talent, kindness, and graciousness. I sleep very well.
Saturday, January 9
I wake at 5:37 a.m. and snooze for a bit. For a few weeks now, we've been doing dim sum brunch, which I'm spearheading to perfect and strategize. I have new odd hours of getting to MCF on Saturdays and Sundays at 7 a.m.
Before I get on the train, I chug some plain kefir to get things digesting properly. At work while I'm prepping, I sip on a green kombucha over crushed ice. I eat a quart container of Rice Krispies and milk quickly while I'm putting together our version of sha qi ma (crispy batter and honey snack) offered at dim sum. We do a "Hurricane Rice Krispy Treat," a play on the Hawaiian "hurricane popcorn," which is kettle corn seasoned with seaweeds. This one has lots of seeds: toasted pumpkin seeds, white poppy seeds, white sesame, and flaxseeds, and is finished with two types of seaweeds: aonori (fine green seaweed) and kizami nori (fine long hairs of black sushi nori). I eat a small chunk of it.
I'm also testing our "mochi custard," a version of the Filipino dessert called bibingka, which is a rice cake roasted in banana leaf. This is a mash-up with Hawaiian butter mochi as well. I build a custard with butter, bound together with sweet glutenous rice flour, and pour it over a pan lined with banana leaves. This weekend, I'm testing out floating some tart apples in the custard, and finishing the cake in the wood oven to char the apples. It turns out pretty well and smoky, and for plating, I finish the cake with Chantilly cream and satsumas. I might like this version.
Chef Quynh [Le], my chef de cuisine, lets me taste some beef dumplings he is testing. They are folded in wonton and floating in a beef-brisket broth seasoned with a tiny bit of balsamic vinegar. He shaves fresh horseradish on top, and it is really good. We add dill — will sell during tomorrow's brunch.
During service, I enjoy cold cans of Seagram's seltzer by the wood-oven station that I'm working. At MCF, Sam and I agree that a can of cold Seagram's seltzer is the best — the bubbles are big and plentiful, almost painful going down for the first few sips, but so chuggable. The dewy can, with its silver-and-frosty-blue logo, makes it looks so desirable. I also have a small rice bowl of our "hot-and-sour" soup from our hot cart. It's not hot-and-sour soup at all, but another Filipino dish of sinigang, a tamarind soup. I have some broth over hot jasmine rice and lots of the vegetables: confited daikon, and braised spinach, okra, and long bean.
Brunch ends, then later I walk toward Chelsea with my sweety, who gifts me a salmon onigiri for my walk, because I'm hungry again. It's the best kind of onigiri: expertly wrapped where the nori is separate from the rice ball, so when you unwrap it the nori then gets contact with the rice. You get fresh, crispy nori with soft rice, as if this onigiri was just freshly prepared for you. I go nuts over thoughtful packaging like this — it's the first time I've experienced this, and I'm a big onigiri fan. I love it. This one is from Cafe Zaiya in the East Village. We talk about how necessary this kind of wrapping is for all onigiris worldwide.
Later, we stop and warm up at Ear Inn over two pints of Reissdorf Kölsch. We notice that they oddly serve quiche here, and then a long conversation about quiche spirals. We are starting to get super hungry, so I meet my friends Audrey Louise Reynolds and Frank Falcinelli, one of two Franks of Frankie's Spuntino and Prime Meats, for a dinner double date.
They invited us to the new Momofuku Korean-Italian concept, Nishi. We are afraid because on arrival we see the massive, MCF-style line wrapping around the block outside the restaurant. Thankfully, we have a reservation and get to safely sit inside the restaurant. We eat so much. Jordan Salcito, the beverage director, gives us really, really nice wine. My favorites were a white Burgundy and funky Grenache-Syrah blend from California.
We order all the appetizers and end up getting two of the Wagyu sirloin crudo with black truffles. Moments before, we had shrimp in their shell, seasoned with sancho peppercorn. I take the little ones and wrap the sirloin around it. Surf and turf, baby. Dave Chang does an excellent version of one of my favorite Korean noodle dishes, naengmyun. His version is a beef-tendon-and-apple appetizer in pear broth, and it's delicious. I'm really into the romaine and walnut bagna càuda "Caesar": I eat it with my hands and eat most of the plate. When you're eating so many shared dishes, no one notices.
The tofu with trout roe is such a nice surprise: delicate, like you should eat something like that slowly. My favorite entrée was the leg of lamb and soft cranberry beans, very rosemary-y and seasonal. We slam two pistachio Bundt cake slices (texture of the crust is so dense, compared to the soft interior) and a panna cotta with plum vinegar and nice olive oil. We are giddy and full.
On the way out, we see Kate Krader for lots of hugs: She lets me sip on her apéritif slushie — a salted limoncello. Audrey and Frank give us a ride to Brooklyn, and we end up having a tour of their house, then nightcaps. While wearing their 3-D glasses for fun, we watch the news on their giant flat-screen over sakes, big glasses of water, and elegant adult fruit snacks from Juice Press: my favorite, dehydrated mango, and a superfood nut-and-fruit mix.
Sunday, January 10
Alarm at 5:37 a.m. again for dim sum. Chug some kefir yogurt and orange juice before the train.
While setting up, I snack on a few satsumas and pomegranate. I have a plain kombucha over ice during service. I am so full from dinner last night. I think I might have a food hangover. Dim sum is busier than yesterday and zooms by. I eat more of the new dishes we are testing. One is shrimp rolled in cheung fun (soft sheeted fresh rice noodle). Ours is steamed with sweet potato and pea shoots, doused in sweet soy and sesame seeds. I like this one.
After brunch service, we have a wine tasting. Everyone gathers in our front parlor bar to meet one of my favorite winemakers, François Saint-Lô, and his sister Justine, who does the wine-label drawings. I first tried one of their pét-nats over a year ago and loved it, and we were able to sell it in our restaurant this past year. They use low-tech processes to make some really special natural wines. Saint-Lô is definitely a rising star in the natural-wine world.
One of our servers asks if the wine is considered "biodynamic," and they basically answered "yes" and share some visuals of their vineyard, their use of horses versus tractors … and one of their most poignant responses is that they believe the people, their team that cares for the grapes and produces the wine, also make it biodynamic. They're a peaceful commune of people making special wine. When tasting their product a year back it tasted very special, and meeting them really proves that fact that it is indeed special.
After the tasting, I check in with the dinner service line and add some greens to some of our dishes as embellishments. We're getting some really nice hydroponic mizuna and red mustard greens from Radicle Farms, so I instruct my team to add the greens as embellishments to some of our dishes. Things looks good, and we're getting busy, so I make my way out.
For dinner, I have a simple meal at one of my favorite neighborhood spots, Cocoron. I really like the texture of the soba and get what I call the "radish tasting." I start with Japanese mountain yam and umeboshi. The radish is cut into large discs with umeboshi sandwiched between. It comes in toasted nori that you wrap around the sticky radish, like it's onigiri. Japanese mountain yam is one of my favorites — it has a crunchy but slimy texture I really like. I also have a daikon salad with yuzu dressing and shiso. To finish, I have a cold soba dish with a nameki mushroom and daikon hot dip. Nameki mushrooms are little preserved mushrooms that also come a bit slimy. I'm a fan.
I rush over to see my friend Maia Ruth Lee, who is having her opening at a gallery in Chinatown off Chrystie. Her work looks amazing, and there is such positive support. We'll celebrate over dinner tomorrow. I grab a beer with some friends visiting from California at Home Sweet Home, because it's just down the street and quiet. I turn in early that night.
Monday, January 11
Monday is my actual day off! Though I do wake up at 8 a.m. to do a Food & Wine photo shoot over at some studios in Bushwick. It's for the May issue, and I'm doing a demo of some dishes for the team. They take really good care of me during hair and makeup and get me an Americano that I have with milk. I have lots of fun talking to the groomer about hair dye and beauty products. I don't normally get to indulge in conversations about this topic, and I'm thoroughly enjoying myself.
Me and the Food & Wine team share some of the goodies I demoed: a crab-fried rice and whole shrimp in fish caramel. It feels so early to eat all this seafood, but it's fun and we're excited. The shoot goes very well, and we wrap early, so I make my way back to my house.
At home, I catch up with emails over a grilled cheese made with the High Street on Hudson rye and my favorite Cabot clothbound cheddar. I make tea to go with it — a huge mug of some Kettl-roasted sencha tea that I got as a gift from one of our tea purveyors. Zach's tea at Kettl is my all-time favorite. This one is a roasted green tea that smells so savory and caramel-y. I eventually make two mugs' worth. With my grilled cheese, I also make a side of diced Fuji apple seasoned with Maldon, coarse black pepper, and fancy olive oil on the side. This apple snack is something I eat often, sometimes with cottage cheese or yogurt, too. I crave it all the time.
For dinner, I'm meeting with Maia and some friends from Dimes. We're having a little girls'-night celebration for Maia's solo show opening last night. We plan on meeting at Kang Ho Dong Baekjeong, one of my favorite Korean-barbecue spots.
We all arrive exactly at the same time and give hugs to each other outside. Deuki Hong, the executive chef and owner, greets us and has a table for us right away. The table already has so many little plates of banchan, egg, corn, and cheese on it, cooking in the little moats attached to the meat grill. We are ready for a big meat fest. We are nervous when all the raw-meat plates come out. There's pork jowl, bulgogi, two types of short rib — looks like several pounds of meat. We end up doing a great job and finishing most of the meal.
Tuesday, January 12
Today is my meeting day with Danny. On the way to work, I grab a quick bagel at a local, trusty bagel spot in Brooklyn: Bergen Bagels. I have a sesame bagel toasted, with an orange juice. I like the plainness of a sesame bagel with cream cheese every now and again, and the OJ has some perfect acidity to wash it down. I've become obsessed with a sesame bagel with cream cheese since rewatching The O.C.. Bagels are a common theme in the series, because the dad is from New York and brings his breakfast-eating qualities all the way to Orange County. The characters always have puffy California-style bagels, and they just look so good and gross to me. I'm currently rewatching the series again as a late-night guilty pleasure, and it's so good.
I meet Danny at Cantina and munch on a few chips with nacho dip. He lets me try his new "KFC-style coleslaw." I grab an Americano with half-and-half over at El Rey and bring it up to our Stanton Street office. We chat about the week to come, and I consider going with him on a trip to Philly for the day. We bought the Zahav cookbook together and have been ogling over it for weeks now. I definitely want to go next week. I do a bunch of office work and head out around 8 p.m.
I have some friends meeting me at home for a simple dinner. Gerardo from El Rey is coming over to chat about some work stuff. We end up talking about our 20s and partying in San Francisco in the early 2000s. We both lived there around the same time but never met. I make us a canned cockle salad with shaved fennel tops, Espelette, lemon, olive oil, and some intense red-wine vinegar that I've made here at my house for the last year and a half. We also share some Frankie's olives and some peeled chestnuts.
For dinner, we have some red wine he brought over, and I make a really simple spaghetti I call "emergency food," because it has so few ingredients that I always have lying around. The sauce is made with canned cannellini beans that have been cooked down until the beans just break in garlic, olive oil, and chicken broth. You finish the dish with lots of lemon juice, parsley, and lemon zest. This is something I make for myself often — I learned to make it from an Italian roommate I had in college, who was from Tuscany. We also have one of my other favorite weird "chef at home" plain foods that I call "baby broccoli": whole broccoli, quartered, and steamed so it's very soft, with no seasoning. We eat this hot and with our hands before devouring the spaghetti. Gerardo remarked that one of his curious line cooks asked, "What do chefs make at home?" I told Gerardo to tell him about the baby broccoli.