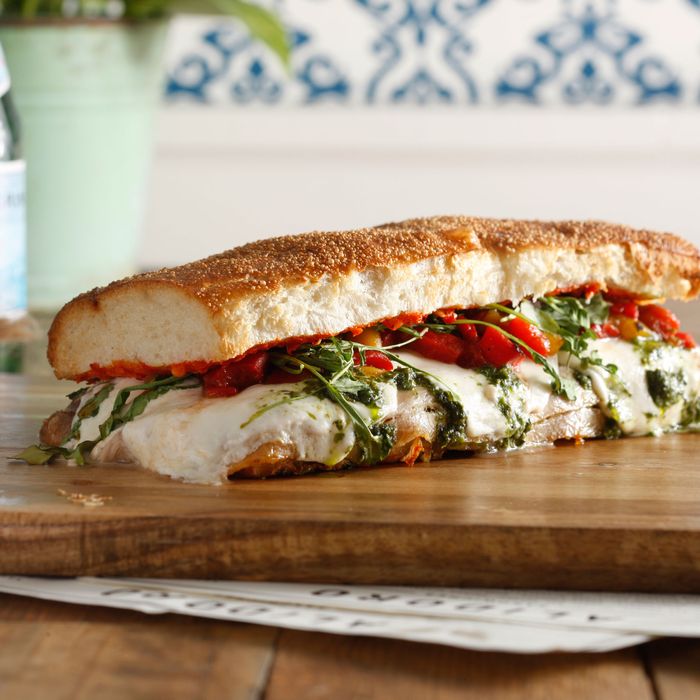 Fratelli d'Italia: porchetta, basil pesto, fresh mozzarella, hot peppers, sweet peppers, and arugula.
Photo: Melissa Hom
After several decades of standing by the conviction that the only good Italian hero is a cold Italian hero — not to mention surviving the pressed-panini craze of the early '00s — the superb sandwich artists at Alidoro have reconsidered their position. Chalk it up to a thaw in customer relations, or just an effort to satisfy seasonal demand, but for the first time in the 30-year history of the shop (formerly known as Melampo), partner Walter Momente has gone electric and unveiled ten new hot heros at the midtown branch only. (Alidoro scholars will note that there was a brief dabble with pressed Alidoro-sanctioned sandwiches offered on a menu at Nolita's Randolph bar several years ago, but Momente dismisses that as youthful indiscretion.)
In fact, according to Momente, who says he's spent the past two months obsessing over his hot-hero technique, there is a precise science, if not an art, to the form. And that science or art does not involve a panini press or a George Foreman grill but a TurboChef Tornado combination convection-microwave oven (list price: $12,000) that magically toasts the sandwiches in a matter of minutes, or even seconds, depending on the type of sandwich. The results are terrific. The sandwiches the Underground Gourmet tried, including the Bari (hot soppressata, sautéed mushrooms, and Bel Paese cheese), and another called the Tommaso (speck, radicchio, Gorgonzola), were perfectly crisp on the outside and resolutely unsoggy, the flavors of the ingredients intensified by the heat. (Bear in mind: These constructions are still spiritually Italian, as opposed to Italian-American, so don't go expecting mantles of melted mozz or caches of sausage and peppers.) In addition to the ten new oven-friendly combinations, Momente has deemed a number of Alidoro classics as suitable for the TurboChef treatment. Here's a look at some of the new additions to the lineup.