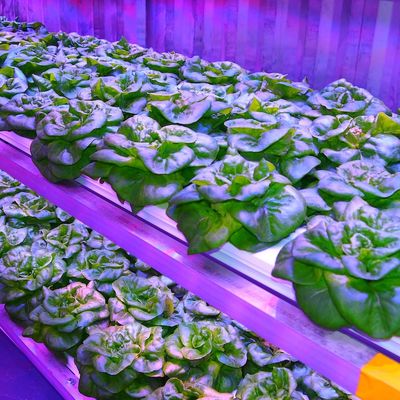 Powerful lettuce.
Photo: verticalharvesthydroponics.com
Finding fresh and affordable produce in rural Alaska has essentially been impossible, but two new start-ups, Alaska Natural Organics and Vertical Harvest Hydroponics, want to change that by bringing local, year-round farming to a state where officials say as much as 95 percent of food is imported. Urban indoor farming has sprouted up in places like Japan and Chicago, and now it's showing its virtues as a solution in climates with more extreme conditions that limit agriculture. It's a smart answer to an enduring problem, as Alaska's growing season averages a mere 105 days a year.
ANO raises and sells the crops itself, while VHH retrofits shipping containers into portable indoor farms — capable of growing 1,800 heads of lettuce and herbs at a time — that can be brought to restaurants and remote areas. But both use hydroponic farming, wherein crops are raised in water, without soil, under LED lights. ANO founder Jason Smith hopes to create smaller-scale versions of his indoor farm, and says he's talking to one indigenous group about possibilities, while VHH co-founder Cameron Willingham tells the Times that his containers are "Artic-capable." The technology is particularly useful for residents in rural areas where roads are rare, meaning access is often only available by air or sea, and fresh produce is low-quality and very expensive.
[NYT]