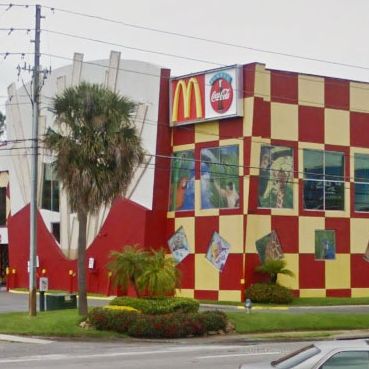 It even has an indoor waterfall in there, somewhere.
Just six months ago, McDonald's looked doomed. Now stocks are way up, and a franchisee is tearing down the "world's largest entertainment McDonald's" in order to build an even bigger entertainment McDonald's next door.
Can't chalk this one up to McCorporate's sleeper wisdom of all-day breakfast, though, since the old location off Orlando's touristy I-Drive offered families so many things to do that they probably would've considered eating McSpaghetti. There were animatronic McDonaldland characters, bowling lanes, slides, arcade games, a "Mickey D's Magic & Mayhem Comedy Magic Show," and occasional gator shows (this is Florida, after all).
Although the place had its naysayers (here's a nugget from the most recent TripAdvisor review: "Felt like a abandoned Chucky Cheese, all the murals weirded me out"), the 12,000-square-foot location has apparently been an iconic part of I-Drive since it was built in the '70s. Besides being brand-new, its replacement is also 50 percent larger — 19,000 square feet of McWonder — and owner Oerther Foods tells the Orlando Sentinel it "nears completion."
As an added bonus this time around, it will feature self-serve kiosks so adults can have a blast gamifying their burger orders.
[Sentinel]