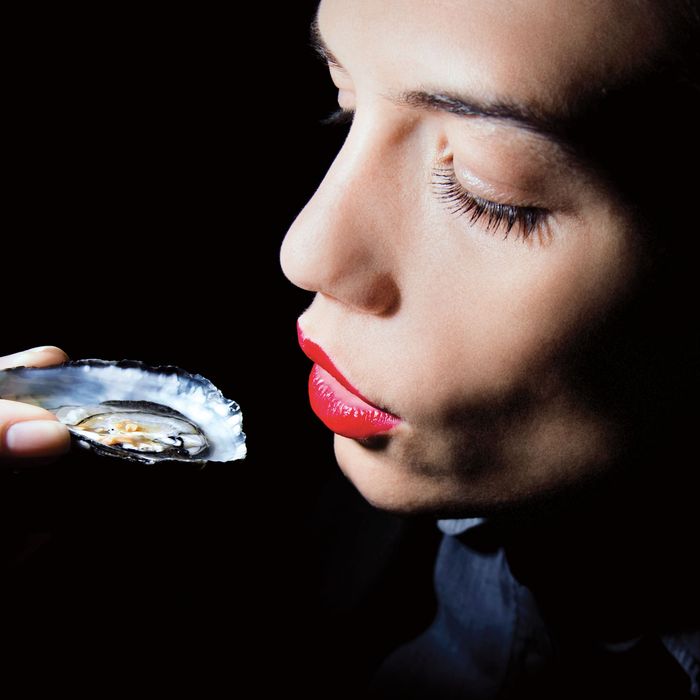 Lupulo.
Photo: Dina Litovsky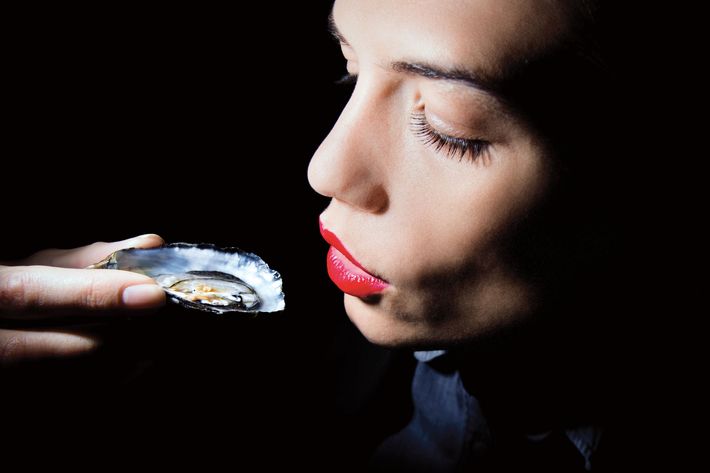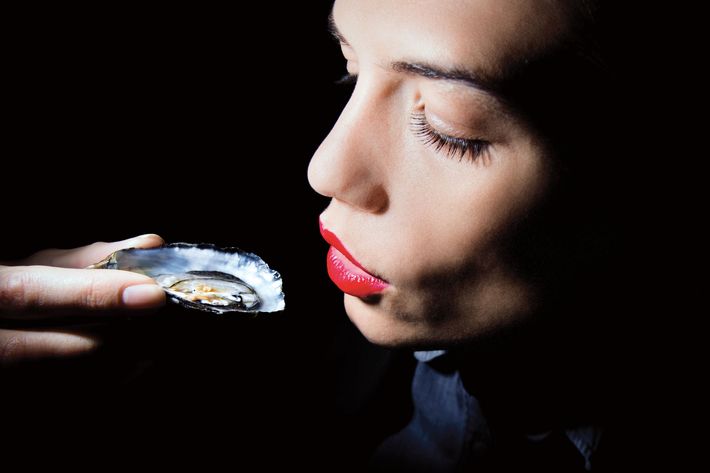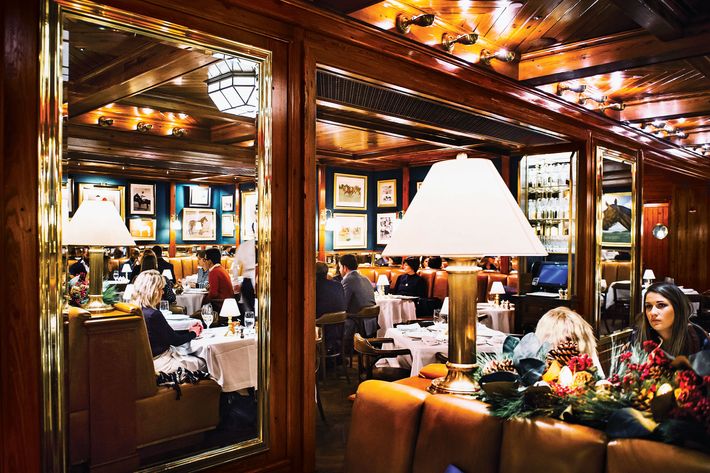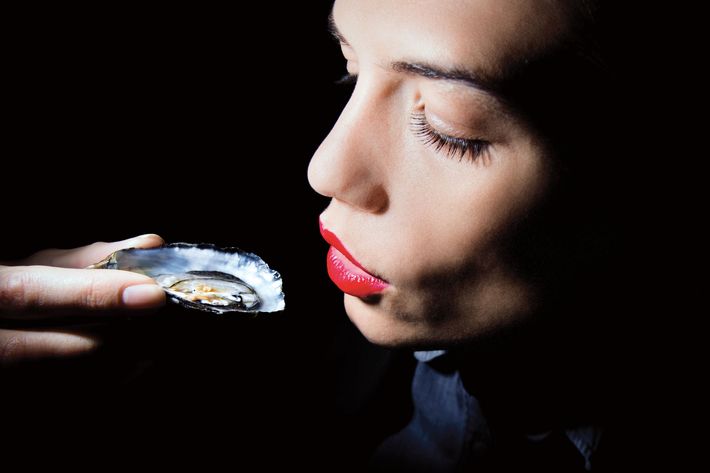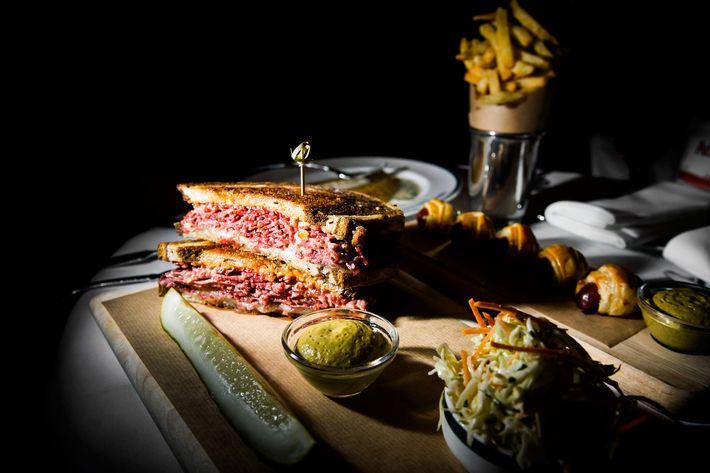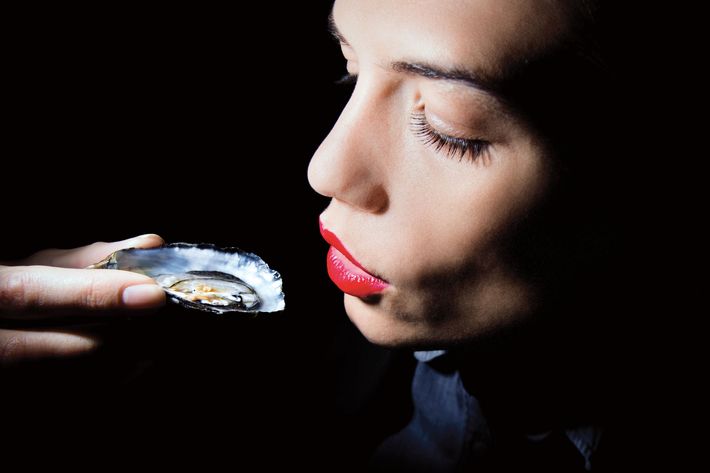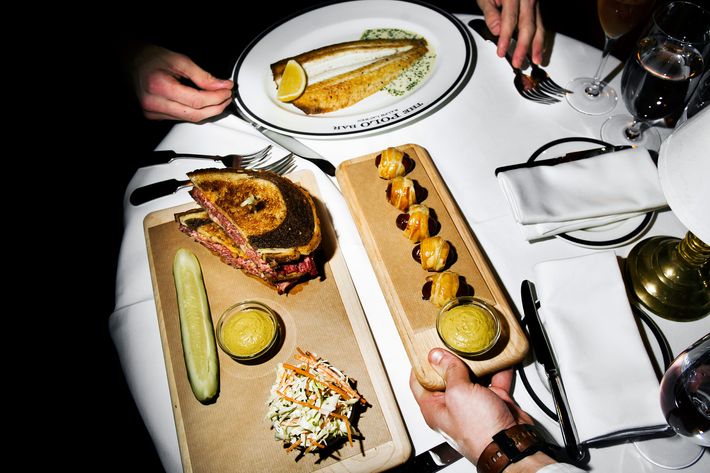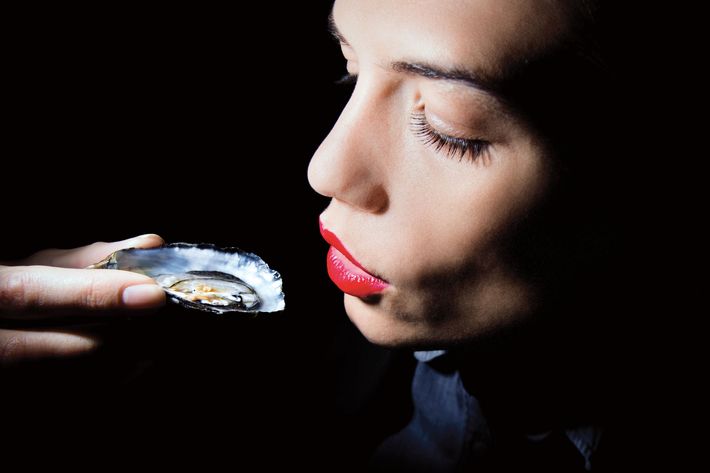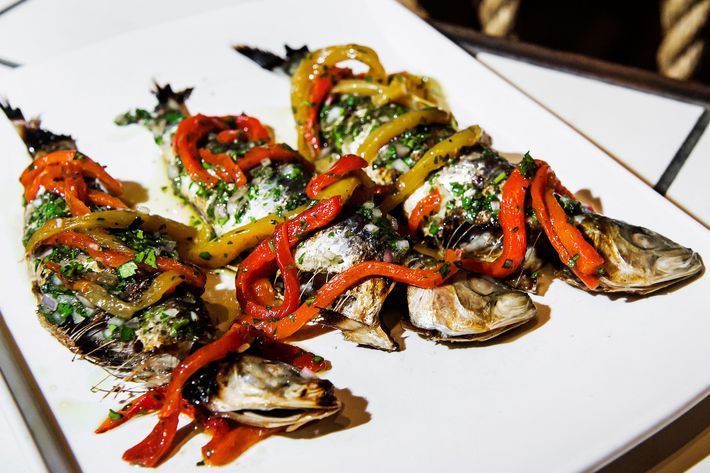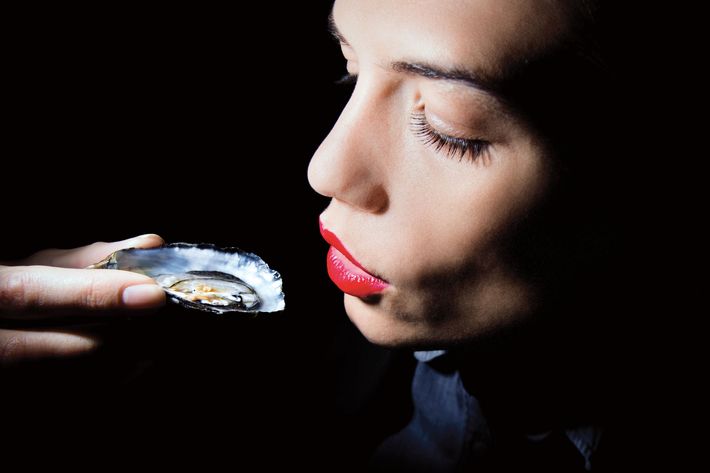 This town has always been a melting pot and mecca for international cuisines, but lately an unusual number of talented chefs seem to have set up shop here from around the globe, and they're translating their local recipes for New Yorkers in unique and tasty ways. I don't know if Hawaiian food is technically an international cuisine, but if that great island delicacy Spam is your particular thing, I suggest you book one of the pint-size tables at ­Noreetuh, in the East Village, where, on my visits earlier this year, the former Per Se cook Chung Chow stuffed this versatile meat product into little pouches of fresh-made agnolotti and garnished them with hon shimeji mushrooms and curling bonito flakes from Japan. Chow is a Chinese-­American who grew up in Hawaii, so it's not surprising that he has a special facility with pork, that other island specialty, which is served cool, in jellied terrine form, at this pleasing little restaurant, or fried in bountiful round kalua croquettes (pay attention to the barbecue-style katsu sauce sweetened with applesauce), and as a classic pork-belly entrée, braised to a sticky softness in pineapple juice and soy.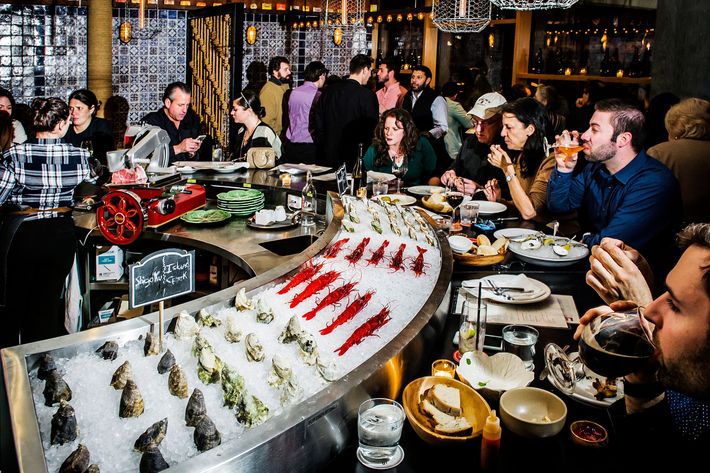 Korean home cooking is the theme at the excellent, strangely named new restaurant Oiji, which opened across First Avenue from Noreetuh in a space once occupied by the old East Village standby Dok Suni. Like Chow, the co-owners, Brian Kim and Tae Kyung Ku, are accomplished young cooks who've done time in the city's great kitchens, and also like Chow, they specialize in turning out high-minded iterations of the comfort foods of their youth, like fried chicken (sizzled in a light coating of tapioca instead of the usual greasy clouds of flour), bowls of slow-cooked oxtail, and a buttery version of the rice-and-beef dish jang-jo-rim, which was so good I ordered it twice. Instead of the usual giant haunch of pork butt, the ssäm at this sophisticated little establishment consists of a vegetarian spiced-tofu option along with a bowl of shredded pork, but whatever you do, save room for the "honey butter chips," which, as any self-respecting Korean-food gastronaut will tell you, are an addictive concoction involving freshly fried potato chips, melted butter, and a finishing drizzle of honey.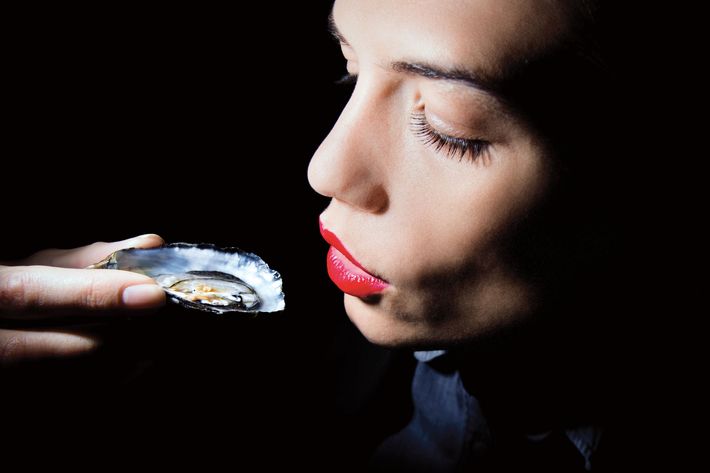 I'm not wild about the cobbled-together room at George Mendes's fine new Portuguese-themed gastropub, Lupulo, but short of hopping a plane to Lisbon, you won't find a better example of the magisterial, multilayered bacalhau-and-potato casserole, which he and his cooks construct here with layers of thinly sliced creamy potatoes and chunks of codfish in a cannonball-size cast-iron pot. If you're pining for a little slice of the Amalfi Coast now that winter is closing in, you could do an awful lot worse than a bite or two of the great cecina (chickpea pancake) at Team Torrisi's new Meatpacking District restaurant Santina, which the festively dressed wait staff serve along with a whole blizzard of Mediterranean creations: pepe rice tossed with guanciale; spaghetti and blue crab; a scrambled-egg-and-melted-Fontina breakfast sandwich.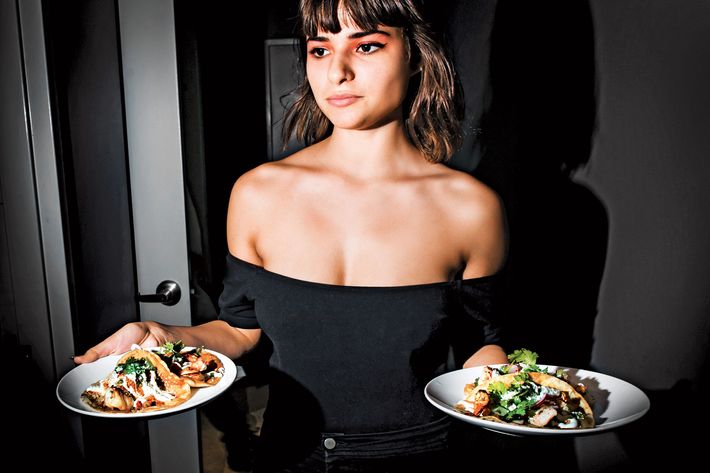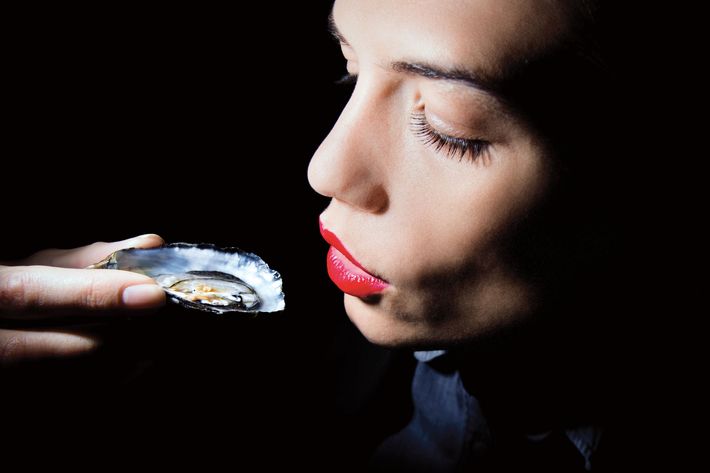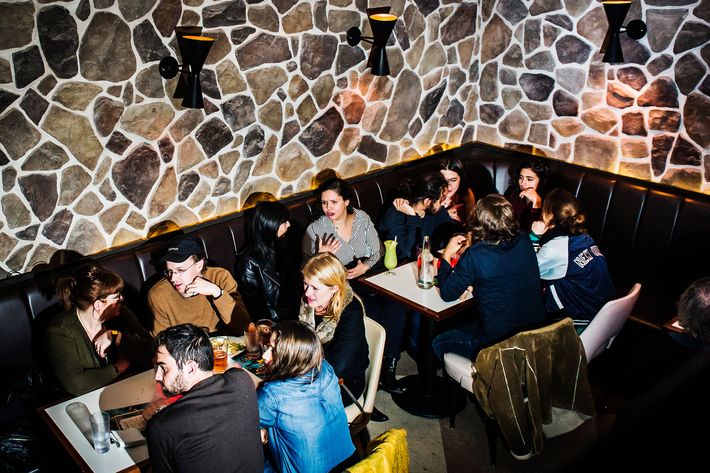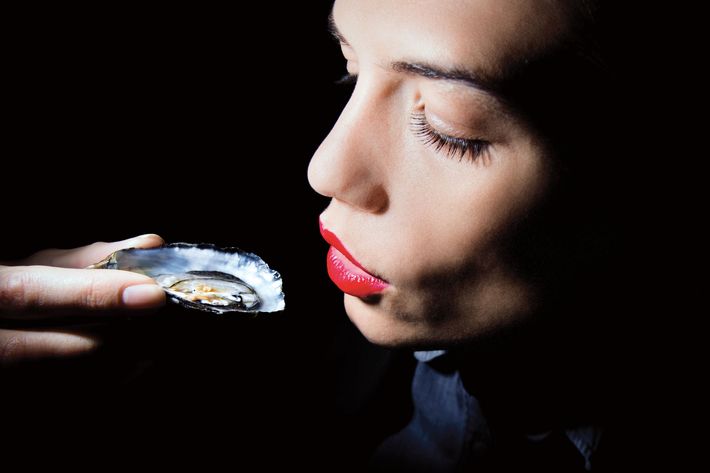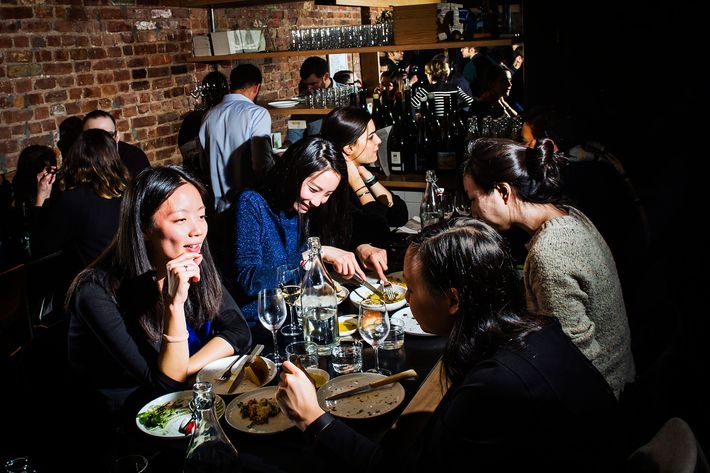 The gently aged, suet-rich Cheddar burger at The NoMad Bar is still my favorite newfangled pub burger above 14th Street, and whenever I'm in the mood for a quick lunchtime infusion of protein-rich beef fat at the office, I like to sneak off to the bar at the fine new bistro Houseman on Greenwich Street, where Ned Baldwin and Adam Baumgart build their impressive double-decker burger with two artisanal-beef patties from Vermont, melted Swiss mingled with a confit of onions and mushrooms, and a toasted Martin's roll. Similar pleasures are available at The Happiest Hour, on 10th Street in the West Village, whose four California-style burgers all have comforting names like Bacon Deluxe and All American Cheese, but the place to enjoy them is the small Art Deco speakeasy downstairs called Slowly Shirley, where the bartenders pour a fine roster of classic cocktails and you can enjoy your messy, two-fisted bar burger in relative peace. For many months now, my uptown boozehound friends have been blearily extolling the virtues of the opulent, triple-crème-­covered mutton burger at Seamstress on East 75th Street. There's a comfortable dining room at this unexpectedly elegant watering hole, which sits at the bottom of an old gray building off First Avenue, although the best place to sample the exceptional house cocktails is the snug, ten-seat front bar, which was filled, when I dropped in not long ago, with members of the local mixologist cognoscenti gobbling pieces of deep-fried smoked Yardbird chicken drizzled with a spicy honey sauce, and a strangely intoxicating version of oysters Rockefeller finished with drops of absinthe. If throwback Tex-Mex cuisine is your particular addiction, washed down with wave after happy wave of frosty Hemingway daiquiris, inebriating Zombie cocktails, and tall, neon-colored punches, you'll briefly attain a kind of nirvana at El Cortez, which the great Brooklyn dive-bar impresarios Stephen Tanner and Chris Young opened this past summer in a whitewashed two-story building among the old graffiti-covered footwear factories of East Williamsburg. For something slightly more refined to go with your carefully crafted bourbon cocktail, the choice is Grand Army, the highly civilized neighborhood bar on the edge of Boerum Hill, where the Long Island oysters are portaged to your table in hubcap-size salvers heaped with crushed ice and served with four different sauces fashionably poured into tiny eyedroppers. The new Macdougal Street bar The Up & Up is where I like to retreat, on steamy summer evenings in my own Manhattan neighborhood, to drink myself slowly blotto on a well-crafted version of that beautifully named, martini-style drink the Archangel, which, if you ask politely, the bartenders make with muddled cucumbers and a whisper of Aperol instead of vermouth. For the ultimate in cocktail bliss, however, there's no better new destination in the city these days than Bar Goto, which the former Pegu Club bartender Kenta Goto opened several months ago on Eldridge Street just north of Chinatown. Goto's comfortably sleek little wood-paneled room feels like an homage to the famous bars of his hometown, Tokyo, which means the Umami Mary is laced with miso and shiitake mushrooms, and the smooth house martini is garnished seductively with a single diaphanous cherry blossom. But what separates this discreet little saloon from the other trendy new gin joints around town is the selection of refined drinking snacks: decorous stacks of celery speckled with sesame seeds, bowls of miso-caked chicken wings topped with freshly cut scallions, and that great fried cabbage-and-egg comfort dish okonomiyaki, which comes stuffed with five different fillings (try the melted cheese or the pork-belly-filled Classic) and is decorated on top with waves of Bulldog-style sauce and Kewpie mayonnaise, like some exotic, savory form of umami pastry.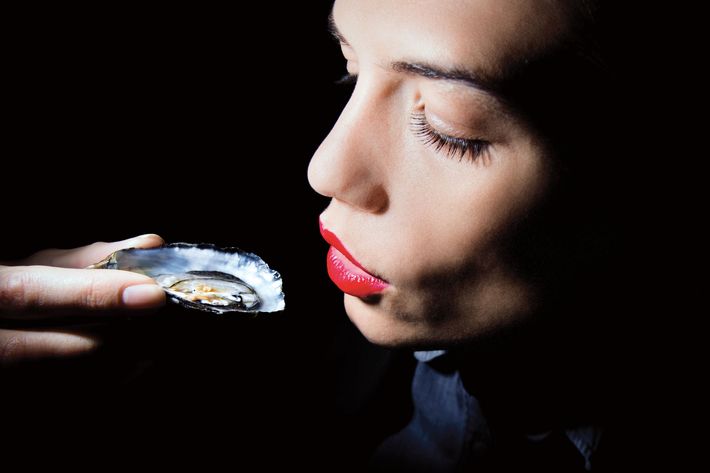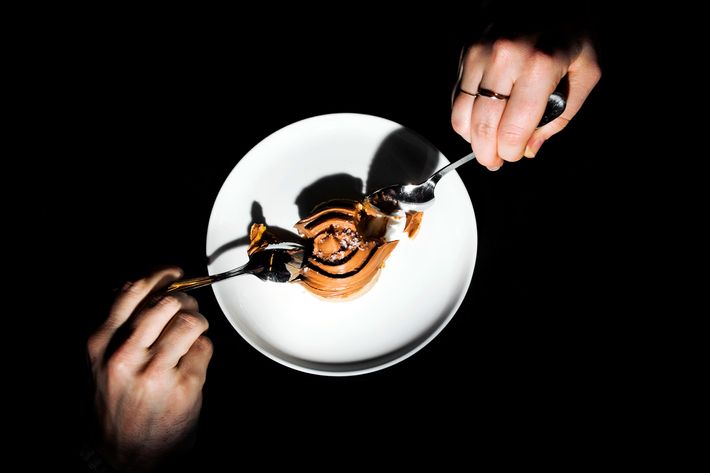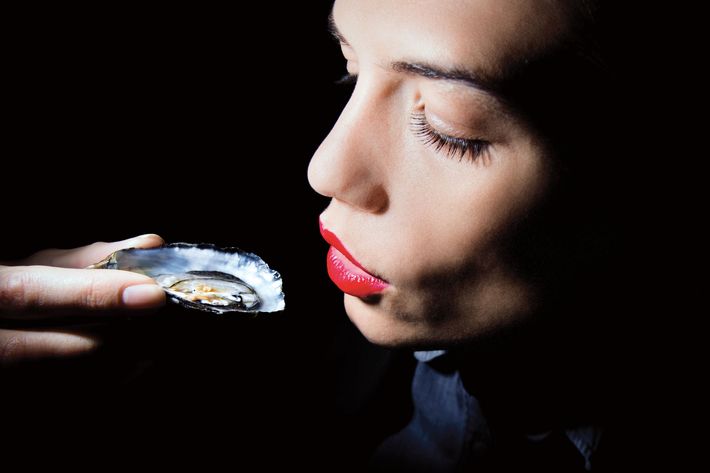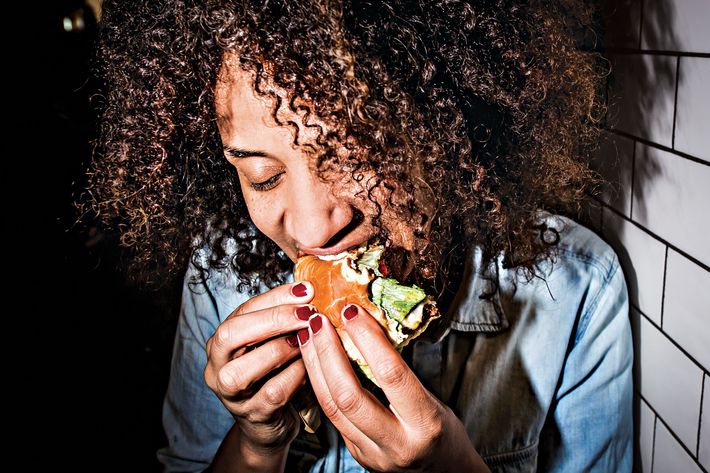 There's a nice selection of Saxelby cheeses available at Jeremiah Stone and Fabian von Hauske's excellent Orchard Street wine restaurant Wildair, where the small, accessible list of non-sulfate-­saturated wines includes tart glasses of Muskadig Breizh (the ye olde term for Muscadet in Brittany, in case you didn't know) and bottles of fruity and drinkable Mendall Tempranillo made in accordance with ancient vintner techniques by a former IT wizard in the hills of northeastern Spain. Stone and von Hauske run the cutting-edge tasting-menu establishment Contra down the street, which means you can enjoy these wines with a variety of well-crafted dishes like slices of toasted sourdough piled with choppings of littleneck clams and lardo, puffy cuts of pork Milanese garnished with gribiche sauce, and a wonderful version of fried calamari seized in a masarepa-based batter as thick as ribbon candy and garnished with lemons. Add a few slugs of a satisfyingly obscure Italian digestif, the deceptively elegant desserts (try the tart made with chocolate and buckwheat), and we're not talking about your father's favorite little wine bar anymore. We're talking about a restaurant that, for its size, serves some of the best new food and, yes, wine in the city.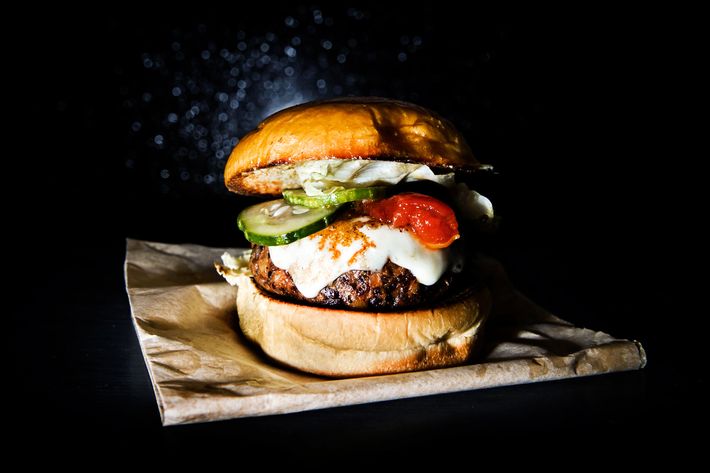 Vegetables have been a trendy boutique item for several years now, although lately this passing fad seems to have morphed into something much more profound. If you don't believe me, join the mob of lapsed beef lovers, recently converted "daytime vegans," and other reformed carnivores who gather outside Brooks Headley's tiny East Village vegetarian joint Superiority Burger, on a more or less daily basis, to clamor for a taste of his famous vegetable burger. It seems there are billions and billions of veggie burgers available these days in the Naked City, including a surprisingly palatable one that the short-order chefs make with beet ketchup and a "tempeh-lentil-chai-walnut patty" at the even more insufferably mobbed new vegan hangout By Chloe on Macdougal Street. But what separates Headley's ingenious creation from the rest of the faux-burger rabble is its uncanny similarity to the real thing. The former Del Posto pastry chef builds his nicely proportioned burger with a Martin's potato roll, like they do at Shake Shack, and garnishes it with flaxseed mayonnaise, a scrim of roasted tomatoes, and a beef-burger-style strip of iceberg lettuce instead of the usual thatch of alfalfa sprouts. But the key is the perfectly weighted quinoa-and-mashed-carrot patty, which is folded with crushed nutmeg to provide a just-off-the-griddle crunch and gets denser and more delicious as you eat it, just like a real burger should.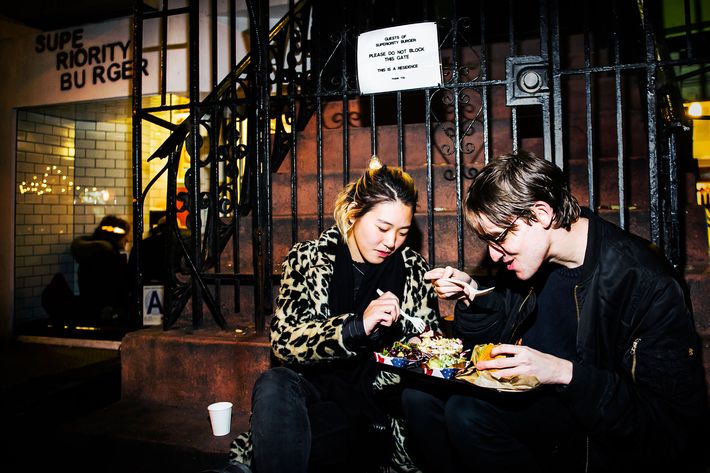 There's an exceptional old-school beef burger available lunchtimes in the bright, pleasantly buzzy dining room of Andrew Carmellini's vegetable-centric Tribeca establishment Little Park, although let the record show that the Cheddar-topped beef is grass-fed. If you're feeling virtuous, you can complement it with six sophisticated, rigorously seasonal vegetable dishes (try the beetroot tartare, or the crispy Brussels sprouts doused with apple cider), along with several bites of the house MLT, made with fat country mushrooms, aïoli, and toasted sourdough. Lunchtime is also my favorite time of the day to browse through bountiful non-meat options at Danny Meyer's upscale, soon-to-be-tip-free restaurant Untitled, which opened its doors several months ago on the ground floor of the new, downtown Whitney Museum. The room itself isn't much to write home about, but it quickly fills up with reflected sunlight, and if you sit at one of the back corner tables, you can see a slip of the mighty Hudson as it flows down to the sea. The vegetable-heavy menu is overseen by Michael Anthony, that great master of Slow Food cooking, and his talented chef de cuisine, Suzanne Cupps, and as the seasons turn, it also fills up with all sorts of wonders, like roasted beets touched with buttermilk, caramelized cauliflower poured with coconut curry, and, on my last visit, a spiky medley of leeks seared to a kind of brûléed crunchiness, touched with oranges, and arranged on the plate in a decorative symmetrical pattern like one of the art pieces upstairs.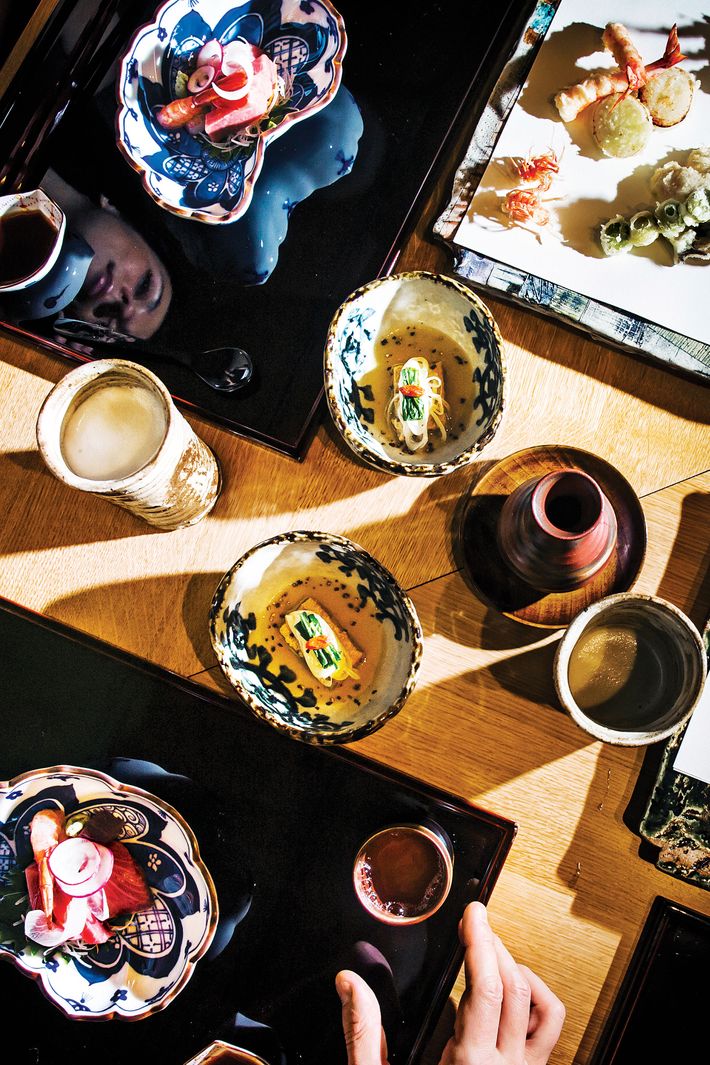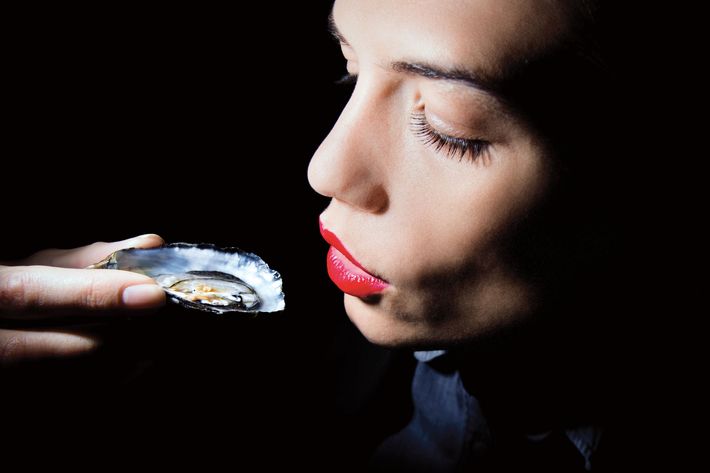 When I mentioned to several food-mad friends, not long ago, that I'd spent several exhausting (and expensive) days gorging myself on endless marathon dinners at the latest crop of discreet new dining bars and tasting rooms around town, one of them asked hopefully whether I was planning to write the obituary of this seemingly immortal trend. It pained me to inform the poor gentleman that the great omakase craze, which began nearly a decade ago with the opening of David Chang's influential tasting bar Momofuku Ko, and has accelerated ever since, seems to be more popular now than ever before. Witness the rebirth of the even more ambitious Ko, which Chang and his growing legion of cooks opened last year in a much larger, more comfortable, if slightly more antiseptic space near the Bowery. Some Momofuku veterans will miss the familiar downtown terroir of the original restaurant (the new 15-course tasting dinner costs $175, compared to $85 when the restaurant opened in 2008), but there's no doubting the range and quality of the new operation. The eclectic, ever-evolving menu, as overseen by the executive chef Sean Gray, is constantly being restocked with mysterious creations informed by Chang's frenetic travels around the globe — trout roe mille-feuille dusted with matcha powder, chickpea macarons, soft scrambled eggs folded with Israeli caviar and crème fraîche — and if you have the resources, the wine (and sake and cider) pairing put together by the restaurant's friendly and knowledgeable beverage director, Jordan Salcito, is one of the most interesting in town.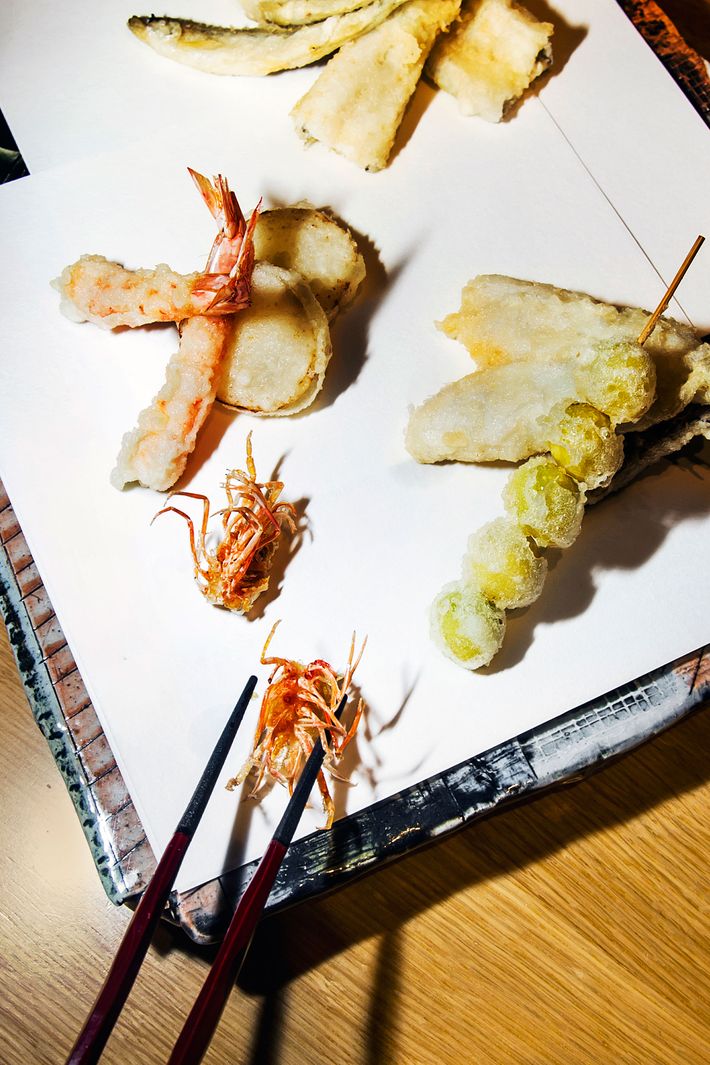 Whenever my fat-cat friends ask for advice on where to go for a cutting-edge, big-money Japanese omakase feast, I direct them to Nick Kim and Jimmy Lau's posh little Union Square sushi-ya, Shuko, for a taste of immaculately procured sushi and a slice of the restaurant's famous apple pie, and if you happen to have several hundred dollars burning a hole in your pocket and don't want to wait for a reservation at the city's more trendy sushi joints, I suggest you take a seat with the rabble of oligarchs and international gastronauts who wash up every night at Tim and Nancy Cushman's old-fashioned sushi palace O Ya in the Flatiron District. With its sparsely appointed dining room and assembly line of blowtorch-wielding, Mao-cap-wearing sushi chefs, the Cushmans' New York operation (the original O Ya is in Boston) looks a little like the kind of place you might encounter next to the gambling floor of a second-tier Vegas casino. But the Cushmans are experimental sushi maestros of the old Morimoto and Masa school, which means there's nothing second tier about the quality of the uni or fatty tuna belly, both of which are flown in from oceans around the world, or their elaborately seductive sushi creations, which, on the evening I enjoyed my $300 dinner, included vividly orange slips of ocean trout topped with rosy bits of tomato confit; soft pats of freshwater eel flavored with Thai basil, among other things; and an opulent little vegetable-sushi creation made with slivers of Italian truffle and a single, carefully fried fingerling-potato chip.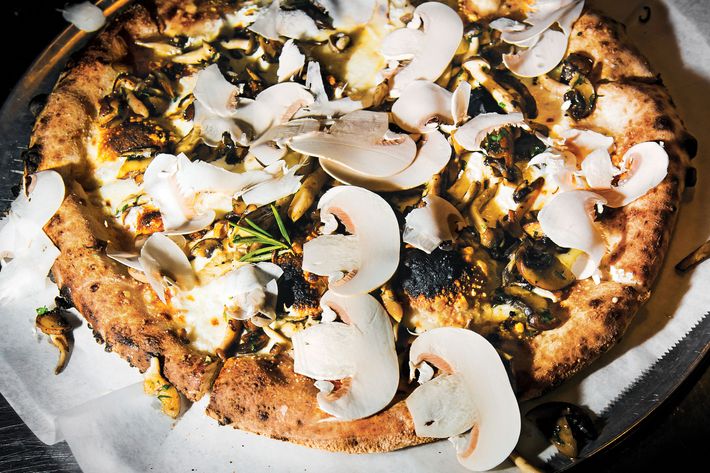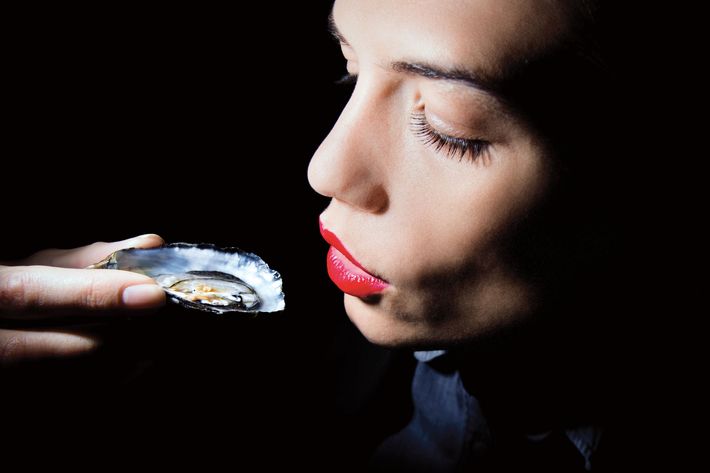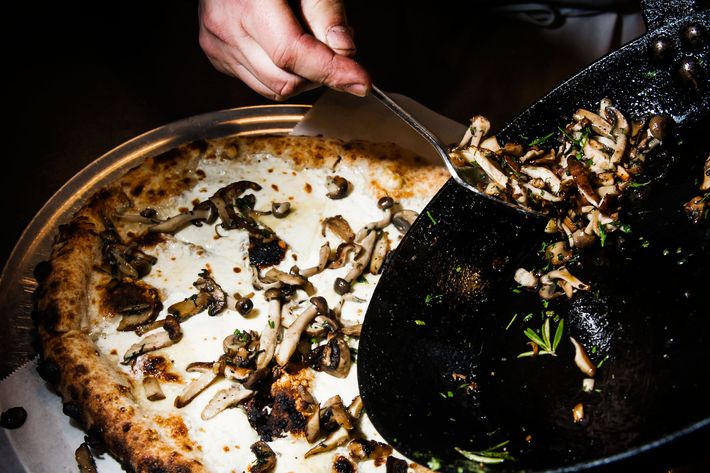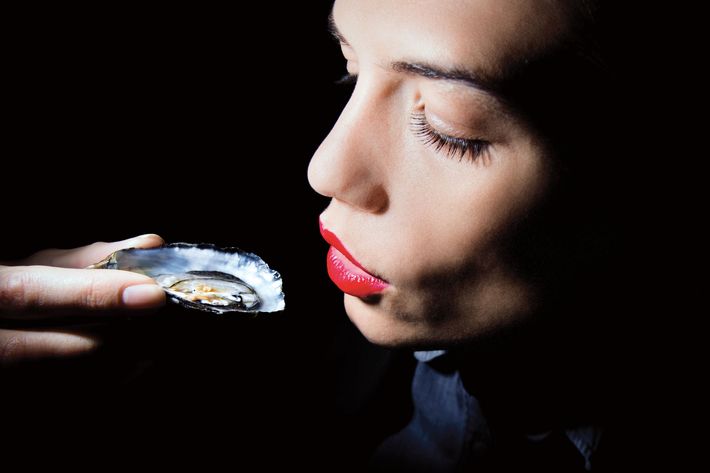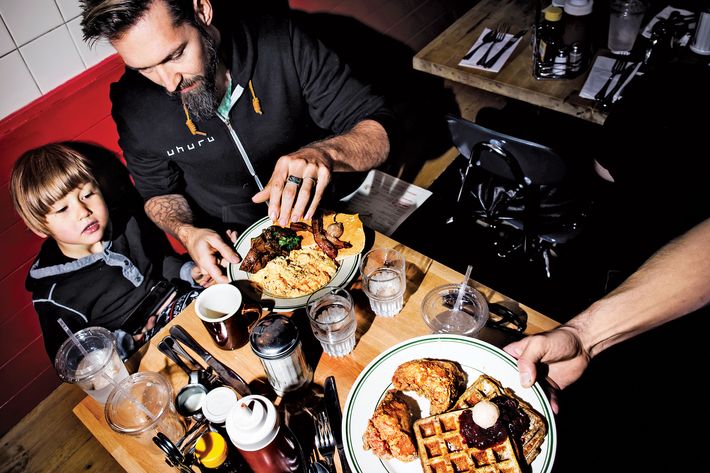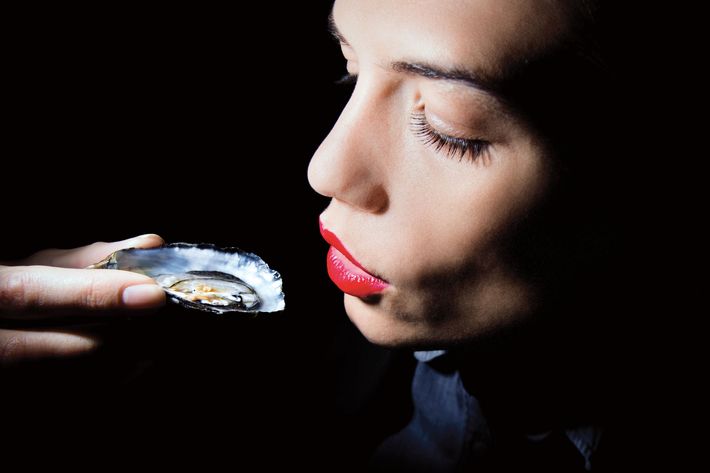 New Yorkers have always been breakfast obsessives, but for a whole variety of ­reasons — the hotel-restaurant boom, the continued fixation with comfort in all its edible forms, the return of the artisanal bagel — the opportunities for a proper morning-time feed, whether before noon, all day long, or during the sacred weekend brunch hours, have never been more plentiful. The expertly procured herring plate is still my favorite morning delicacy on the expertly procured menu at the Russ & Daughters Cafe down on Orchard Street, but if you wish to sample the diverse fruits of the city's latest breakfast boomlet, I suggest you wander a few blocks south, to the expanded home of the West Coast–style café Dimes on the eastern end of Canal Street, for a taste of scrambled-egg tacos touched with mangoes and threads of melted Cheddar, and the superb breakfast sandwich made with more scrambled eggs, Sullivan St Bakery focaccia, and chunks of avocado. If by some miracle you're still hungry, then waddle a few doors east, to the new Manhattan outlet of the great Brooklyn fatso institution Pies 'n' Thighs. On any given morning you'll find a merry crowd of cops, hung-over musicians, and shopkeepers from the neighborhood lined up at the long Formica bar devouring southern-style hungry-man dishes like stacks of buckwheat waffles garnished with baked apples and fried chicken, platters of fried catfish mingled with fried eggs and Cheddar grits, and the magisterial, deceptively simple signature breakfast dish called "Rob Evans on a Biscuit," made with scrambled eggs and a gorilla-size buttermilk biscuit, all smothered in a properly thick country gravy dappled with tasty little chunks of crumbled sausage.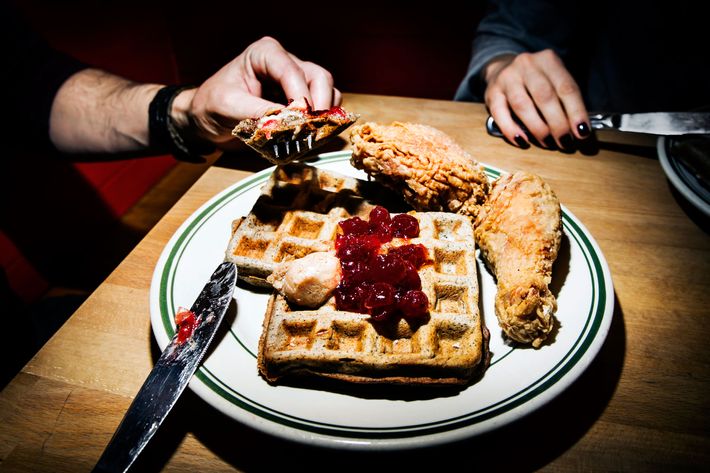 I'm as weary as the next guy of sifting through fashionably healthy breakfast bowls piled with layers of chia seeds or fronds of kale or granola drowned in buckets of soy milk searching in vain for something substantial to eat, so the dish I always call for on my visits to the fashionably healthy
El Rey Coffee Bar & Luncheonette on Stanton Street is the poached egg and flatbread "Avocado Del Sur," which works just as well for breakfast as it does for lunch, or even as an afternoon snack. And if I'm in the mood for something a little more substantial, I'll stagger on down to Mario Carbone and Rich Torrisi's grand new fresser destination Sadelle's, which has been packed to the rafters with assorted downtown poseurs and bagel snobs ever since opening its doors several months back among the glittery boutiques of Soho. The last time I dropped in for a mid-morning snack, the elaborate, Keith McNally–style smoked-fish "tower" cost a cool $100, so my party and I subsisted on crispy soft egg-and-bacon sandwiches made with sizzled slices of challah and a scrim of mayonnaise, a more or less perfect, though pricey, salmon Benedict, poured with hollandaise, and a decent facsimile of that old deli warhorse salami and eggs, which works better once you wipe the strange decorative drizzle of mustard from its top. The real specialties of the house, however, are the bagels, which are carried through the room by members of the antic wait staff spooled on long wooden sticks, and the gratifying calorie-bomb pastry creations (the chocolate babka, the sticky buns, the dense slabs of chocolate-chip loaf) made by the talented ex-Roberta's baker Melissa Weller, which are best enjoyed oven fresh at the table, or right when you get home, while standing over the sink.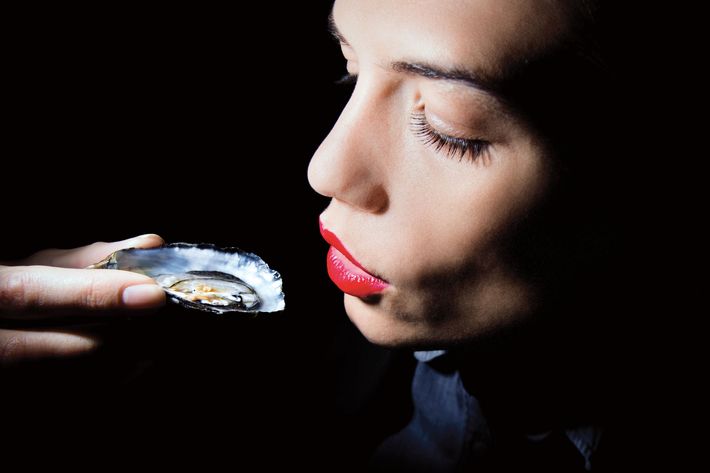 I'm not one of the thousands of trend-conscious souls who've bought tickets seven weeks in advance for a taste of the evening tasting menu at Dominique Ansel Kitchen, but my daughters and I can vouch for the qualities of the great, pillow-size croque monsieur that the pastry chef serves every morning at his new Seventh Avenue South outlet. And whenever we're feeling hungry on a weekend afternoon in the West Village, we like to drop in to Rita Sodi and Jody Williams's pleasant, well-run trattoria, Via Carota, and call for bowls of buttered pasta (for them), and a helping of the scrambled eggs, chicken liver, pancetta, and French fries (for Dad), to go with the exceptional house Bloody Mary (also for Dad), which the waiters bring to the table on a polished silver tray. Similar nourishing brunchtime treats are available at Justin Smillie's popular lower Park Avenue hangout Upland, where it's a pleasure, on Saturday mornings, to sit at one of the café tables by the busy bar and call for helpings of eggs Benedict, plump baccalà cakes topped with fried eggs, and what is quite possibly the finest breakfast sandwich in this egg-sandwich-addled town, made with the restaurant's famous roast porchetta, tangy hot peppers, and a freshly toasted ciabatta bun. For the ultimate in gourmet brunchtime pleasure, however, this year's blue ribbon goes to Enrique Olvera's fine Mexican restaurant Cosme. The Flatiron District dining room can be a madhouse during the evening service, but on Sunday mornings, the noise level calms down to a pleasant murmur, and the menu includes updated versions of classic Mexican breakfast specials like crisped chilaquiles heaped with strips of chicken and crème fraîche, and a soupy, purist version of huevos rancheros, which you can eat with stacks of warm corn tortillas and loose, buttery johnnycakes served with pots of red-currant jam. The crunchy, faintly eggy churros are world class too, as are the intoxicating Bloody Marías, which the drinks director, Yana Volfson, concocts with freshly muddled tomatoes and refreshing amounts of Siete Leguas tequila infused with just the right hint of chile pepper.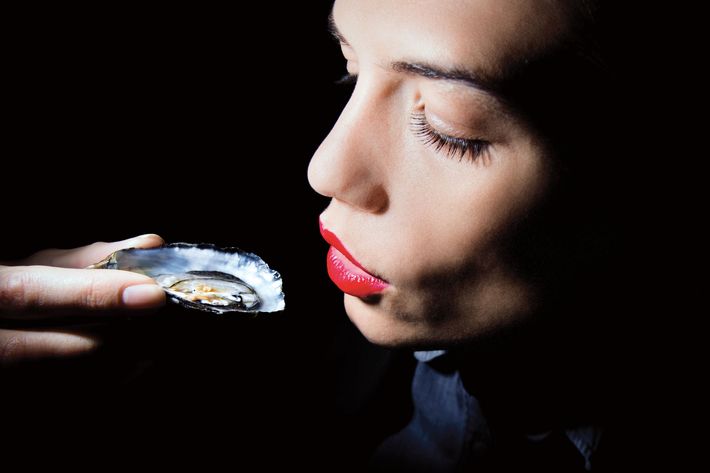 *This article appears in the December 28, 2015 issue of New York Magazine.