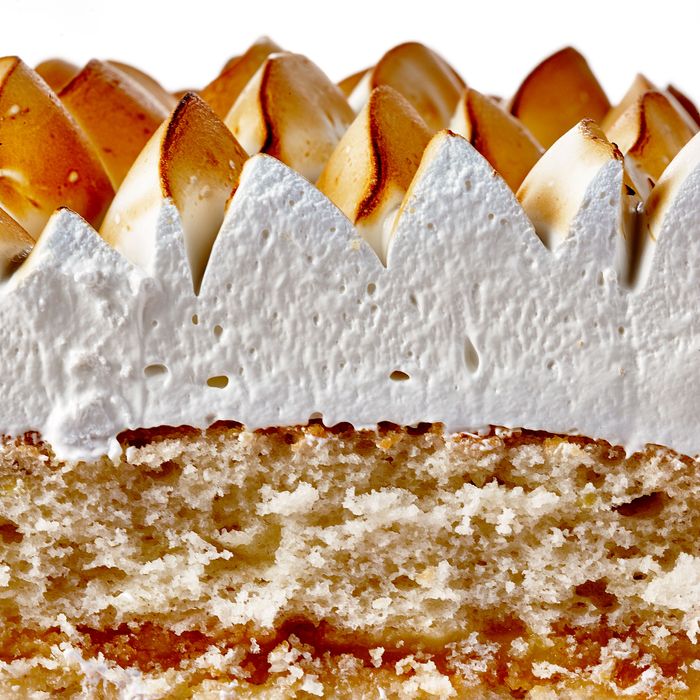 "How do we mitigate the risks of not being one of the 90 percent of restaurants that fail every year in New York City"
Photo: Bobby Doherty/New York Magazine
Umber Ahmad hasn't even opened the first brick-and-mortar location of Mah-Ze-Dahr Bakery yet, but she's already laid the foundation for an international food empire. Two years ago, she started her business as an online-only, delivery-based venture, partnering with Tom Colicchio and working out of his 'wichcraft headquarters. Come January, she'll finally have her own space in the West Village, and then, she hopes, she'll promptly conquer the rest of the New York, and then America, and then, perhaps, the world.
Ahmad has always been precocious: Starting at age 3, she excelled at the violin, and she also learned to fly planes at a young age. But after a hand injury abruptly ended her musical career, Ahmad went on to study genetics at MIT and earn a master's degree in public health from the University of Michigan and an MBA from the Wharton School. She then thrived at Morgan Stanley and Goldman Sachs — and starred in Risk/Reward, a documentary about women on Wall Street. It was four years ago, though, that Ahmad first entered the food space by co-founding Specialized Capital Management, which helps restaurants and luxury brands expand their businesses into the Middle East.
One of her clients, Tom Colicchio, heard that Ahmad had a knack for baking, and he asked to try some of her goods. She had had no professional training but liked to bake for friends and as an outlet to relieve stress. "There continues to be this disbelief that anybody would cook for Tom Colicchio, let alone me," Ahmad says. "I thought, You're food, and I'm finance, and never the twain shall meet. Never did I think that this was going to be my actual career."
Ahmad baked cakes and cookies and brownies for Colicchio over the course of a few days, and he'd always take a few bites and push the treats aside. "On the fourth day, he finally looked at me and said, 'What do you want to do with this food?' I thought, Should I throw it away? Should I give it to someone else?" And then I knew he meant I should do for myself what I had always done for other people, which was to build a meaningful, sustainable luxury brand, and have it take the form of pastry."
Mah-Ze-Dahr became the first brand under the Colicchio Discovery platform (through which he identifies and mentors emerging food enterprises), and the duo managed to do the impossible — build a successful business in New York without even paying rent on a storefront. This kind of slow rollout — especially of products that you want to see, smell, and taste — seems counterintuitive, but the decision to start Mah-Ze-Dahr online was actually quite strategic.
"I am not naïve enough to believe that an incredible brownie is enough to build a business," Ahmad says. (Though her brownies won over New York's Underground Gourmet, and her brioche doughnuts received a rave review in the New York Times.) "As a banker, I only think about the long-term outcome. And when I identify that outcome, I work backward into it and say, 'How do I get myself there as efficiently as possible? How do we mitigate the risks of not being one of the 90 percent of restaurants that fail every year in New York City?'"
The online-only strategy has allowed her to work out many kinks: She has refined her recipes, trained her staff, figured out what her customers buy, secured wholesale clients like JetBlue, and perfected her delivery system. Plus, she's achieved something that's critical to the success of any New York food concept — she's built hype. "I wanted to create brand awareness so strong that by the time we actually opened our first retail store, the response wouldn't be 'What is this?' It would be, 'Finally, you're open.'"
After the brick-and-mortar bakery, complete with a commissary kitchen, opens at 28 Greenwich Avenue next month, she'll open two smaller "jewel-box-type" stores in New York. She's in talks with a luxury retail brand about an international partnership, and she's considering expanding to Los Angeles, Chicago, Washington, D.C., Boston, and cities in Texas, where, oddly enough, she has a large customer base.
Meanwhile, as she grows Mah-Ze-Dahr, Ahmad is still involved with Specialized Capital Management. And somewhere along the way, she has found time to become a successful voice-over artist, drawing from her fluency in five languages. ("I just had an audition for the voice of a female-warrior character in a video game," she says, laughing.) Though she's confident about her next moves, at least when it comes to her bakery, Ahmad's well aware that her planning can only go so far. "I used to bake because something simply looked interesting to me," she says. "Never did I think that it was going to be my actual career.