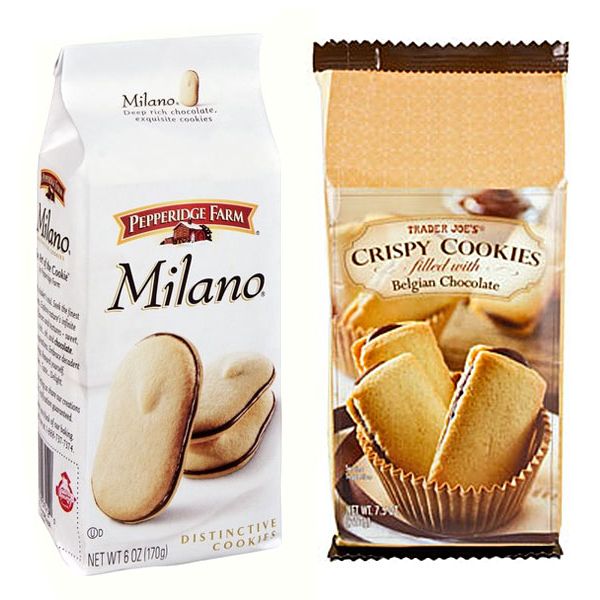 Questionable.
Photo: Pepperidge Farm; Trader Joe's
Milanos have a fairly distinctive look, and it's one that Campbell's-owned Pepperidge Farm is claiming Trader Joe's illegally copied with its off-brand Crispy Cookies filled with Belgian dark chocolate. According to a lawsuit, the Trader Joe's wafer cookie "contains a chocolate filling sandwiched between two rounded rectangular cookies, mimicking an overall oval shape," and the company contends that this similarity is "malicious and calculated to injure Pepperidge Farm." Crispy Cookies come in a similar-looking bag, and the copycat cookies sit on "fluted paper trays," just like the original.
Trader Joe's knocks off Goldfish (another Campbell's property), too, only as cheesy rockets — which is why losing a case like this would be a nightmare for Trader Joe's, as well as other makers of off-brand products. Pepperidge Farm's trademark clearly extends to the name and package design, but from there, it's a leap to owning the idea of a Milano. Intellectual-property law has never really been applied to food successfully — just ask the guy last year who tried to sue Church's Chicken because he claimed he invented fried-chicken sandwiches.
But at least people can scratch Pepperidge Farm off the list of possible brands that secretly make Trader Joe's products.
[Fox News]