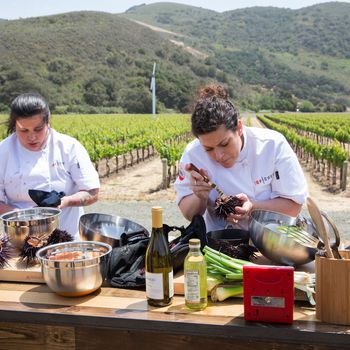 It's urchin time.
Photo: Dale Berman/Bravo
After two entire challenges in L.A., which have apparently exhausted the culinary possibilities of the City of Angels, the 15 remaining chefs must pack up their knives, their aprons, and their little Top Chef baseball hats and take a road trip north. "This season, we are dreaming big," Padma declares, before revealing the big dream is: Santa Barbara, a drought-ridden coastal paradise.
In addition to being a practical means of conveyance, road trips turn out to be the perfect occasion for us to get to know our chefs just a little bit better. For Kwame, the road trip is a chance to reflect. "Four years ago, I was kinda at the bottom of the totem pole, literally," he confesses. "I was selling candy on a train to start a catering company." I now feel terrible for every piece of train candy I have not bought, which is all of them. Jeremy loves road trips, he exclaims, because they remind him of his daughter, Madeleine (after the cookie), and also Swedish Fish (the candy, occasionally sold on trains). "Do you have a road-trip story?" dessert queen Marjorie asks Frances. "Oh, yeah" Frances says cheerfully. "I run away with the car. My dad told me he doesn't want me in the house anymore." One gets the distinct sense that this is not the kind of road-trip story Marjorie had in mind. Once, I got stopped at the Canadian border without ID, which began an extended heart-to-heart with the guard about 9/11. In a different way, this is also not the road-trip story Marjorie is looking for. It is very difficult to be Marjorie, I think. (It is also extremely easy to get home from Canada.)
But there's no more time for deep talks, because the chefs have arrived at a dock in Santa Barbara, where they're greeted by Stephanie Mutz, local urchin-diver. What an auspicious coincidence! Phillip loves sea urchins! He loves sea urchins almost as much as he loves vegans. After a dockside uni taste test — during which Jason helpfully explains that it has this "really delicate, briny, buttery, cucumber, melon flavor," which is, indeed, a series of descriptive words — Stephanie hands over an enormous cooler of urchins and sends the troops off to meet Padma and Associates at a winery. Yet before that can happen, Phillip aggressively seizes the opportunity to personally introduce himself to Stephanie. He approaches with the slick, unearned confidence of a white man with a screenplay. Tomorrow he will request to connect with her on LinkedIn.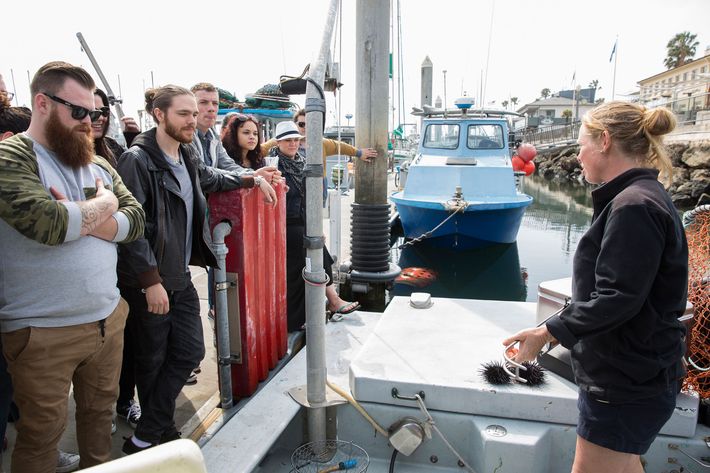 Now, though: uni. "Good morning, chefs!" bubbles guest judge Dana Cowin, soon-to-be-former editor-in-chief of Food & Wine. "How are you guys! I recognize one of you!" Uni poet Jason, we learn, was once named Best New Chef by Dana Cowin herself. Padma, meanwhile, is so low-key about this whole thing that she's now wearing a blanket, or a sheep. "Enjoy this stunning view," she menaces from her fashion bedding, because it's time for a Sudden Death Quickfire challenge: successfully pair two of Santa Barbara's most beloved ingredients, uni and wine — or else. This is no problem at all for Grayson, who has sexually transmitted wine inspiration from her sommelier boyfriend. This is a significant problem for Chad, who doesn't drink. Giselle, too, is facing an uni crisis, because although she "freakin' works with uni all. the. time," she can't find the eggs she needs to execute her scrambled-eggs-uni vision, and now she's stuck doing a potato-onion-uni triple threat that is almost certainly a terrible idea. Meanwhile: "Sea urchin and eggs is one of my favorite combinations," says low-profile egg-thief Carl, whisking smugly.
For what might be the first time in her life, Grayson's commitment to doing nothing pays off with an understated uni-and-crab salad with cucumber and grapefruit, paired with Viognier. "It's bold to do so little," Dana raves. "It's bold to do so little" also happens to be my life philosophy. Carl's stolen uni omelette is deemed a "thoughtful combination," and Wesley's creamed corn and uni medley builds, one flavor into the next, to a feverish crescendo of buttery-briny-cucumber-melon flavor, but with corn. If Carl's eggs win, Giselle may do something she regrets: She thought of the eggs first, god damn it. But in the end, it's Grayson's simplicity that wins immunity, which should be a small comfort to loser Giselle, whose "puzzling" potato dish is poised to get her knocked off. But it's not over yet! Giselle will now have a chance to redeem herself, suggesting that there is actually nothing "sudden" about this "Sudden Death" at all: In Prolonged Suffering, Round Two, Giselle will go head-to-head with the chef of her choice. If she wins, she reclaims her spot on actual television. If she loses, she will be forced to compete with gustatory philosopher Garret on the internet.
Who will Giselle choose? "I think it's important to be fair and pick from the people who were already on the bottom," Giselle opines, heroically, before selecting Angelina. Much to Giselle's delight, the ingredient is … ostrich eggs, which they'll cook to the soothing sounds of collective heckling from their fellow chefs, cheering them on like a brigade of obstetricians ("push, push, push!"). Both Angelina and Giselle do scrambles, but Angelina adds tomato jam and too many vegetables, while Giselle serves hers in unappealing bowls made from pieces of the eggshell. Despite the "surprising" presentation, Giselle wins, Angelina stays, and a lot of eggs were scrambled for no reason.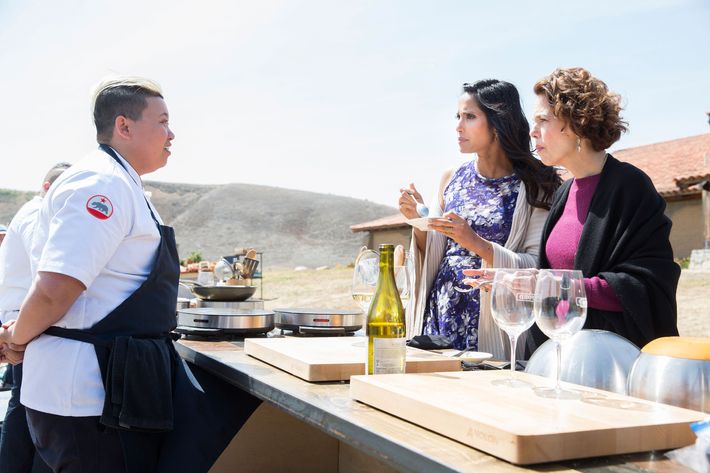 Having successfully axed no one, it's time for the real elimination challenge. Since Santa Barbara is apparently known for its "wildly eclectic collection of proteins" — I keep my own personal protein collection in the drawing room — the chefs will pair up to create the "ultimate" surf-and-turf dish. "Let's do this, buddy," Frances whispers to Jason. "Let's fucking kill this shit," Chad threatens Kwame. Grayson, having immunity, will be working alone, which is fine with her, because "in a team, at least one person will usually screw up something." Amen, Grayson. Amen.
But before anyone can fucking kill any shit, Tom emerges, ghostlike, ready to wreak havoc in a classic cowl-neck sweater. "Are you all happy with your surf-and-turf dishes?" he taunts. The answer doesn't even matter, because we're playing by Tom's rules now. Cooperation? Cooperation is for communists. He lays it out: Instead of competing with their partners, the chefs will now be divvying up their ingredients to compete against them in a little number he likes to call "surf versus turf." This presents a slight complication for Jason, who doesn't know how to cook with Frances's Thai ingredients. This also presents an issue for Phillip, who suddenly doesn't have enough potatoes. "Honestly, if you have to have the potatoes, that's cool, but I would really like potatoes" Phillip tells Jeremy. "I need the potatoes. That's the only thing," Jeremy bluntly informs Phillip. These people are probably very fun to be on email chains with. (Jeremy gets the potatoes.)
As Wesley uses a custom stencil to artfully apply asparagus purée to his plates and tries to ignore the sous-vide-rib-eye disaster that will accompany it, many, many judges sit down to dinner. There are too many judges to bother counting. One of them is Dana. Another one is grumpy. Things they agree on: You should never sous-vide a rib-eye steak; Grayson's lacquered pork belly with spiced carrot is "fascinating and dynamic;" Jeremy is every bit the gnocchi artist he believes himself to be; custom stencils are stupid; and Jason should not have acquiesced to Frances's Thai demands. Things they do not agree on: whether Chad's asparagus-mint purée was more or less "rockin'" than Kwame's "playful and fun" crab salad. (Less, decides head judge Tom.). Backstage, sous-vide Wesley is holding back the tears of a soldier — a soldier who maybe should have just grilled his fucking steak.
Against the din of gentle coastal breezes, the chefs are called to formation, ready to meet their fates. The top three: Karen, despite not giving Padma any fish; Jeremy and his soulful gnocchi with spot prawns; and Kwame, who wins not only the challenge but also barrel of wine (with custom label!), thanks to his quirky crab salad. The news is less good for Angelina, Frances, and a devastated Wesley. "I cooked like a child today," he says, defeated, fate sealed, not unlike a sous-vide bag. Except it isn't. Like Giselle before him, Wesley has been spared: It's Frances and her overcrowded plate that will be heading off. "To all the people out there who're losing hope," she tells the camera, "it's never too late. There's always hope." And there is always hope, for something, if not for winning Top Chef.
Next stop on the tour d'California: Pack your bags, 'cause we're going to Palm Springs, where Padma will play golf in a confusing architectural crop top, and Phillip will cook rocks. See you next week!