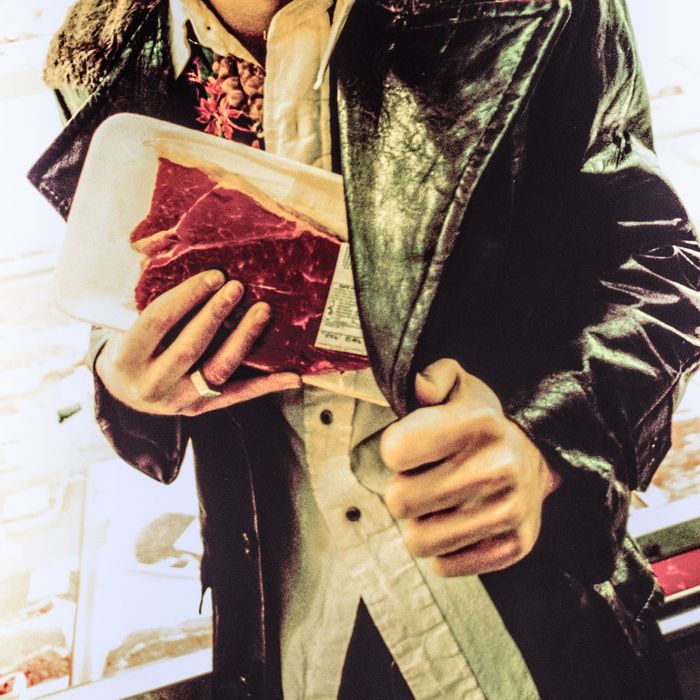 "They definitely know what they're looking for."
Photo: Mauro Speziale
In this era of $10 artisanal mayonnaise and $50 "bacon steak," shoplifters' tastes have also changed accordingly. Steven Millard, a vice-president of Murray's Cheese, says he remembers being on a train leaving the Union Square subway station and watching in astonishment as a young man pulled hundreds of dollars' worth of steaks out of his pants — heisted, Millard presumes, from the Whole Foods just upstairs. It surprised even Millard, who has seen all sorts of theft during his time in the specialty-foods business, from wedges of precut cheese with bites missing to $40 bottles of olive oil swiped from store shelves. Millard isn't alone: Laura Nuter, the co-owner of the Filling Station, an olive-oil boutique in Chelsea Market, recalls the time she caught a well-dressed woman in her 60s slipping a $22 jar of truffle salt into her bag.
Indeed, there have been shoplifters at least since the 1850s, when, in an effort to increase sales, workers at Paris's Le Bon Marché department store moved products from behind the counter onto the show floor to create enticing displays — but in these food-obsessed times, many owners say they've seen a rise in the realm of gourmet-food theft. Grub Street spoke to about a dozen shop owners, and even some thieves, who say the phenomenon has only gotten worse in recent years.
Call it kleptogastromania: High-end food boutiques are being hit hard by shoplifters with discerning tastes, grabbing a curated list of things like luxury condiments, pricey sweets, or bottles of wine that retail for hundreds of dollars. Understandably, purveyors are often reluctant to discuss theft in their own stores: "A merchant would probably prefer that their customers who aren't stealing don't know there might be customers who do steal there," says Jon Springer, an editor at Supermarket News who has been covering retailers for more than a decade. "They don't want to give the perception that their store is a place where criminal activity happens."
But it does happen. Nationally, shoplifting costs food retailers more than a billion dollars each year. In the United States, there are an estimated 27 million shoplifters — 1 in every 11 people — and approximately 10 million people have been caught over the last five years, according to the National Association of Shoplifting Prevention (NASP), an organization that offers online theft-education and -prevention courses.
It's easy to see why high-end food is a desirable target for sticky-fingered members of the public. In addition to the food being good, it can also be an easy target. A $30 shirt on a department-store shelf will be protected by a sensor tag, but not a bottle of wine that costs ten times as much. Andy Arons, CEO of Gourmet Garage, also points out that shoppers now often bring their own bags to the store, an environmental victory that also gives the larceny-minded a convenient place to stash stuff and creates a certain ambiguity around their intentions, at least until they walk out the door with something they didn't pay for. "It gets very difficult to ask them, 'Did you buy that here?'" Arons notes.
High-end heists aren't uncommon, and the recent theft of four tons of Comté from a French dairy proved the black market for items like cheese and truffles is still alive and well. But there isn't a booming market for alderwood-smoked salt that's been fenced from store shelves, and, at a retail level anyway, gourmet-food theft is unlikely to be carried out by professionals. Owners say that most of the criminals they see in their stores are middle-class, well-dressed, and looking to save a few dollars on coveted ingredients. According to Andrea Ceriello, the founder of Ceriello Fine Foods, "They definitely know what they're looking for." He says they tend to focus on expensive olive oil, balsamic vinegar, and anything with truffles.
Ceriello says he does call the authorities for the most egregious offenders, like a husband-and-wife team at his Williston Park store who, with two children in tow, filled up an entire cart with groceries and then pushed it straight out to the parking lot. Other retailers have varying methods for dealing with crooked cooks. Some, like Arons of Gourmet Garage, pursue them aggressively, with store security and law enforcement. Others make decisions on a case-by-case basis, depending on, in part, the size of the theft, or the size of the thief. Once, at Zabar's, general manager Scott Goldshine confronted a famous cookbook author who had stuffed an array of goods under her mink coat. "She was hysterical," Goldshine says. "She ended up running out. Someone wanted to grab her, but I said, 'Just let her go.'"
Goldshine says confrontations do happen, like the time he had to face down a regular, well-liked customer — then also a well-known adviser to the Democratic Party — who always concluded his visits by slipping a pint of Häagen-Dazs under his sport coat. "I had to take him to the side and say, 'First of all, if it comes out, it will ruin your career.'" And second of all? "I said, 'You're my friend, and I love you. But you can't come in here anymore.'"
Barbara Staib, a spokesperson for the NASP, says shoplifters always know what they're doing is wrong. "In order to excuse their own behavior, they rationalize it," she explains. "They convince themselves, 'I spend enough in this store every week, so it's not a big deal,'" or, "'The store makes so much money that it's okay if I take a little bit.'"
These attitudes were on display at a meeting of Shoplifters Anonymous, a self-help group that meets twice a week in Manhattan and follows a 12-step approach borrowed from Narcotics Anonymous. One health-conscious shoplifter admitted to switching the labels on organic groceries with the cheaper conventional product, "because organic is quite expensive — a dollar more on each thing — even if you're earning a good living," thereby managing to be both virtuous and crooked at the same time. A father of two admitted that for nearly two decades he would enter a store in Chelsea, spend $60 and pilfer another $30- or $40-worth of meat, cold cuts, or "anything that could be hidden in the bottom of a bag" — especially high-end cookies — even though he was employed and could have afforded the food.
Of course, there can be a certain pleasure in getting something for nothing — and achieving that emotional state can be a goal that takes over the lives of some people (even very well-heeled ones). Take the case of a successful white-collar professional who began stealing wine from stores at the age of 50 after several deaths in his family. Like many wine connoisseurs, he was guided by Robert Parker's wine reviews and aimed for bottles with a rating of at least 95. Then he set a goal of boosting $1,000-worth of wine in a week, and succeeded. Along the way, though, he was arrested several times and spent heavily for lawyers to avoid a felony conviction that might have cost him his professional license.
Through Shoplifters Anonymous, he was able to break the compulsion and is now approximately 1,300 days into recovery. Nevertheless, he kept the wine. "Years after I stopped, I would take out a bottle for the holidays," he says. "Once I had a guest over and he said, 'Oh, my God, this wine is unbelievable! You're really going to serve it?' … The wine, when I got it, was $150. It had aged and was now worth over $400. I said, 'Let's enjoy!'"
Julie Scelfo is a former staff writer for the New York Times who writes about human behavior.