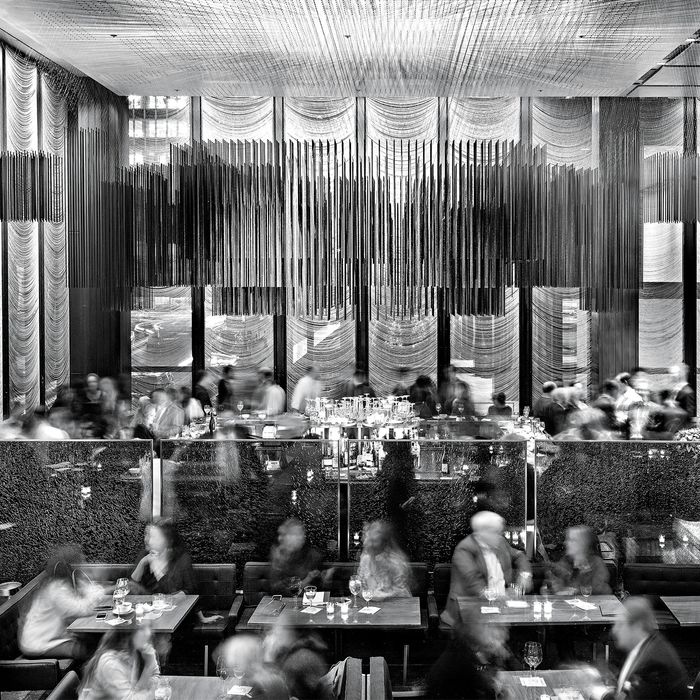 Photo: Courtesy of the Four Seasons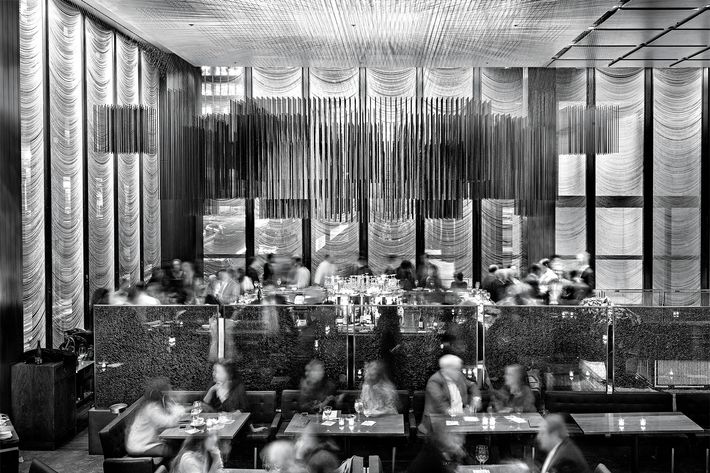 Sheraton: I knew the Four Seasons when it was all concrete blocks and hanging cables. I worked as a consultant for the restaurant from that point until it opened. My first impression was that it was sort of a nightmare of a place, but I knew that it was going to be something beautiful. The theme was very interesting: It stressed seasonal, natural, and local foods long before that was thought of very much by anyplace else. And they did a lot of their own fusion — like wasabi with shrimp — when nobody had ever heard of wasabi outside of a Japanese restaurant. As it was explained to me, it was going to be the crossroads of the history and geography of food, because New York was the crossroads of the world.
My role was menu research. James Beard was also a big consultant, and we all sat together and wrote menus and figured out how things ought to look. One of the most fun things was for about five weeks before the opening, every day at noon, we met at the Hotel Lexington, where they were operating the Hawaiian Room, and we did a tasting of the Four Seasons menu. We did 35 dishes a day. That was great fun because it was wildly experimental.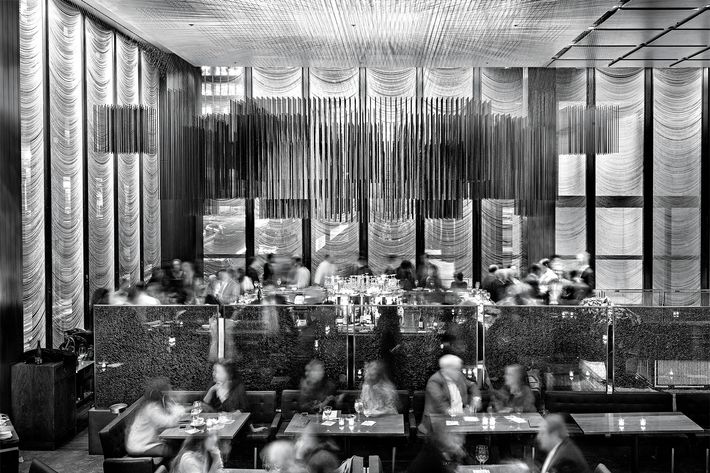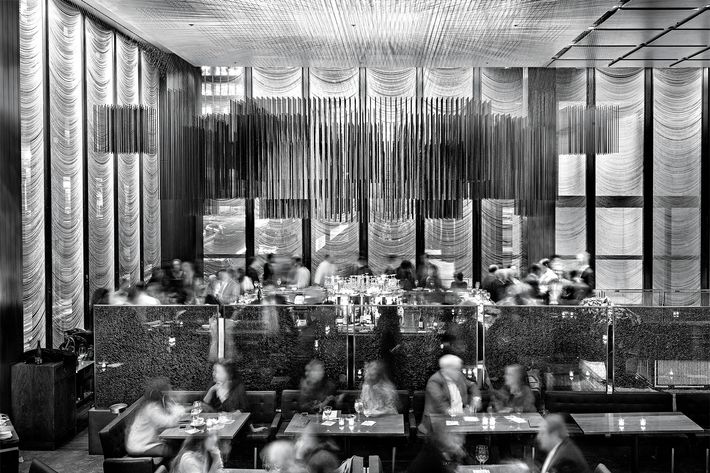 And then there was a fabulous dessert wagon. Three-tiered, with the most elaborate high cakes and pies and bowls of macédoine, and people usually chose two or three: I'll have a slice of this, and a slice of that, and give me a pear. It was all very grand, and everything changed with the seasons, not only the menu but the colors. The cummerbunds on the waiters and the plants and even the color of ink on the bills that were sent out. The menus were beautiful: The covers were Japanese rice paper with silk thread in it. All were silk-screened. The furniture, as I remember it, had blond horsehair, which is fantastically perishable. (It was never blond horsehair — or any other kind of horsehair — again.)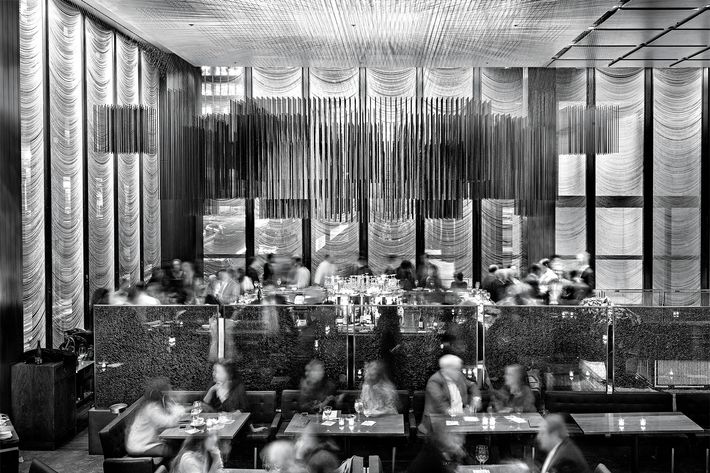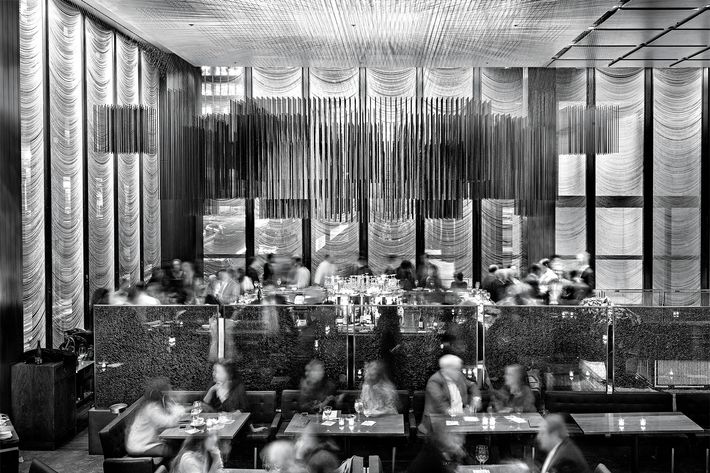 The Grill Room was publishing central when I started my magazine. It has been my banker's favorite lunch spot — Jane Heller has her own table there, and I'd go at least every two months with Jane. I saw [Four Seasons architect] Philip Johnson there frequently, and he always sat at his table in the back left corner of the Grill Room. He had a very limited diet of foie gras and Negronis, but he was always charming. One day I was having lunch there, and a man came up to me to shake my hand to meet me and left his phone number in my hand on a little piece of paper. I think a lot of that kind of stuff went on at the Four Seasons. That turned out to be a nice, umm, interlude for me, meeting this man. 
Carter: I came to New York in September of 1978, and I first went to the Four Seasons in December. I had read about the Four Seasons most of my life, but it was not at all what I expected. The stark modernism of it threw me — I thought it was going to be like the Oak Room. And then, by the second time you go, you appreciate it. And then by the fifth time, you realize it's the most beautiful restaurant in the world. It is epic and cozy and elegant all at the same time. One thing I always marveled at was that if you put a water glass on the table, the lights from the ceiling sparkle around the water glass, and if you move the water glass, the lights follow it exactly.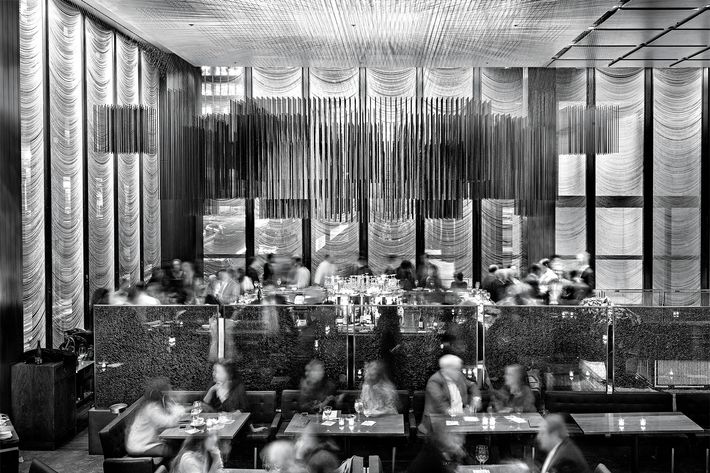 Sheraton: I learned a great deal. It was how I learned to be a critic, in seeing how much attention was paid to every element. Are the seats high enough? Are the blades on the steak knives strong enough? It took two weeks to choose the black pepper. So when I became a critic, I thought, Well what kind of salt are they using? What kind of pepper are they using? All while realizing no one puts thought into it like they do.
In those days, Joe Baum, the Four Seasons founder, contacted people like John Cage, who supplied all the mushrooms. (The composer was also a mushroom forager.) He had a school in the Bronx that grew fresh herbs that came in in pots several times a week. He contacted the famous Malabar Farm in Ohio trying to get some of their organic stuff, but they couldn't do it on a regular enough basis — from Ohio to New York in 1959 — for it to be practical. I mean, those were the things he had in mind before anybody said "local" or "organic."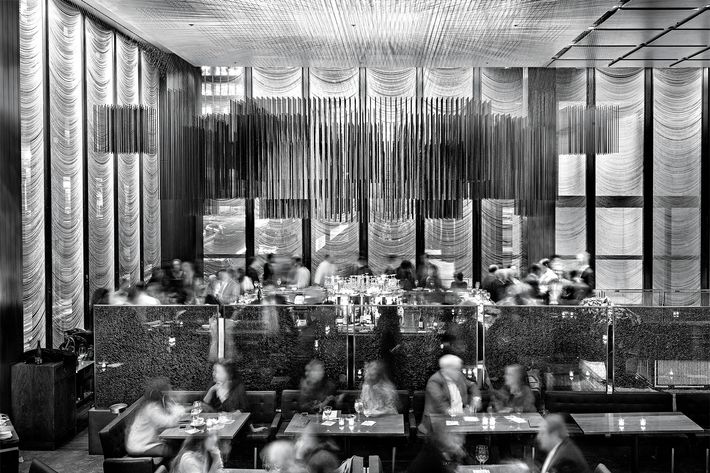 Carter: Looking around the room was, for me, how I learned who was who in New York at a certain level. You'd ask who this person was, and someone would say, "Oh, that's John Loeb" [the investment banker]. One of the first times I laid eyes on Barry Diller was at the Four Seasons. And if you'd read about these people your whole life, seeing somebody in the flesh — at a restaurant, eating at a few tables away — that's an interesting aspect of life in this city. I loved when I used to go there and see Brooke Astor with Phillip Johnson, or Brooke Astor with David Rockefeller, and take in the big footprint of the last century. I remember Si Newhouse used to keep a tie and a jacket in his office just for when he had to go to a lunch at the Four Seasons. Even Si Newhouse paid that respect.
Stewart: Another fun thing that happened was one day I was having lunch there with a whole group of businessmen, and A suitor who found out I would be there sent me 400 white roses in a great big bouquet. He had it carried in by four waiters and put down on my table. That was the most romantic thing that has ever happened to me. Every man in the room was jealous, of course — jealous that they hadn't thought of doing that for somebody. The room is big enough to accommodate such a flamboyant gesture. 400 roses is a lot! It was hysterical.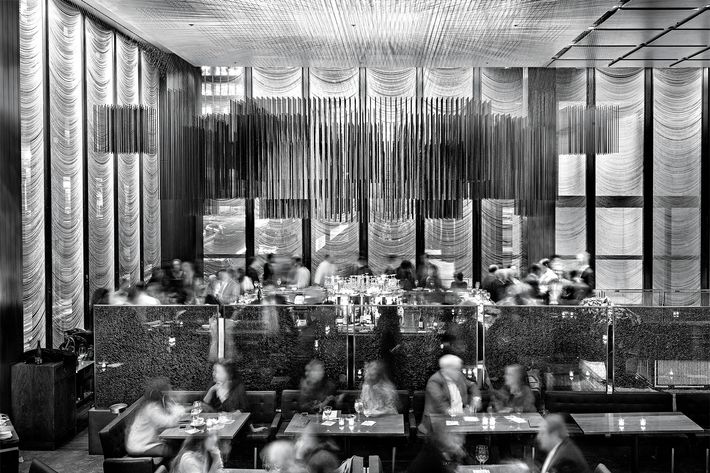 Boulud: As a ritual, I spend my birthday at the Four Seasons every year. It was the first restaurant that I went to when I arrived in New York in 1982, and I still remember where I was seated and the meal I had: the crab cakes, the rack of lamb, and a soufflé. It is the quintessential, classic American restaurant. Coming to New York — a city in all its grandeur — the Four Seasons was the perfect match. It doesn't matter when you go, it's always the same, and that's something very special in life: to be able to go back to a place that doesn't change that much.
Diller: I don't like restaurants. My purpose for going there is only for business meetings because it's atmospherically conducive — it's the most congenial place to have formal lunches. The room is, of course, beautiful, but I think it also has to do with the sensibility of service, which is not intrusive. It's properly informal, if you go there a lot. It's easy for people who go there regularly because they know exactly where they're sitting. I have a standing thing, which is that I always pay for lunch. Or at least I assume I pay for lunch because they send the bill.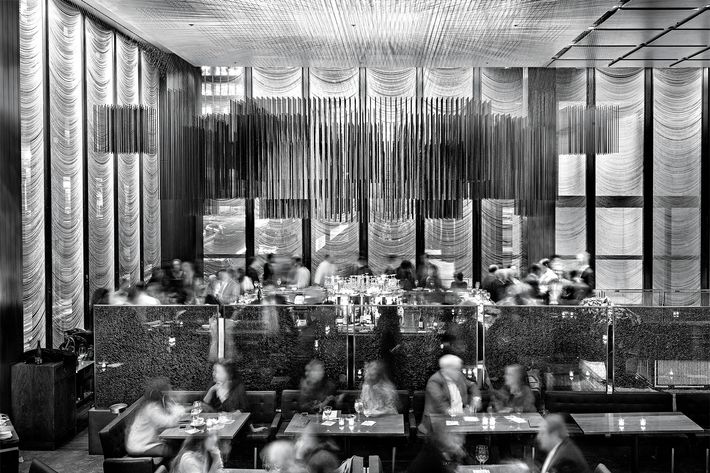 Carter: It's good for business because of the distance between the tables. You don't have people in your lap like you do at some restaurants. I remember one time going there with Art Cooper and Mordecai Richler, and Mordecai drank a bottle of wine at lunch, and probably three after-lunch brandies, and was completely sober throughout the entire thing.
Sheraton: All things considered, it has aged pretty well, although if you know how it looked originally, you're not really very happy with how it looks now. The height and the proportions create the same impression — especially in the daytime, when light comes through the chains — so the overall effect is big and airy and glossy, but the details are very different. They changed the color of the carpet. They put the wine-dispenser wall near the reservation desk in the Grill, which I think is abominable. It looks like a Coca-Cola soda–fountain stand. That would never, ever, have been there while Philip Johnson and Phyllis Lambert, who oversaw the whole design, were in charge. The furniture is less beautiful, too; they used to have much better plantings. They've hung some terrible art in the Pool Room — terrible stuff. Last time I was there, there were people in tank tops.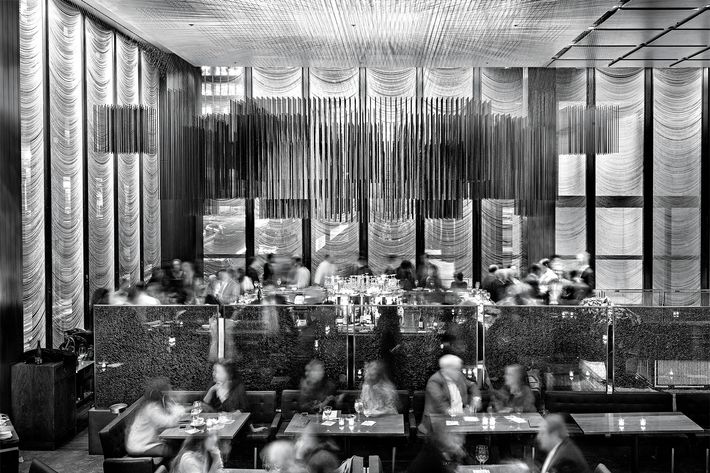 Stewart: The food has had its ups and downs. At present, because of their uncertainty and the threat of closing, I think the food is not the foremost interest to the guys who run the place. The food has been amazing, then mediocre, then amazing, and then not so good. When the food is not so good, you order oysters or clams on the half-shell and crab cakes, which are always good. We learned how to work in and out of the menu.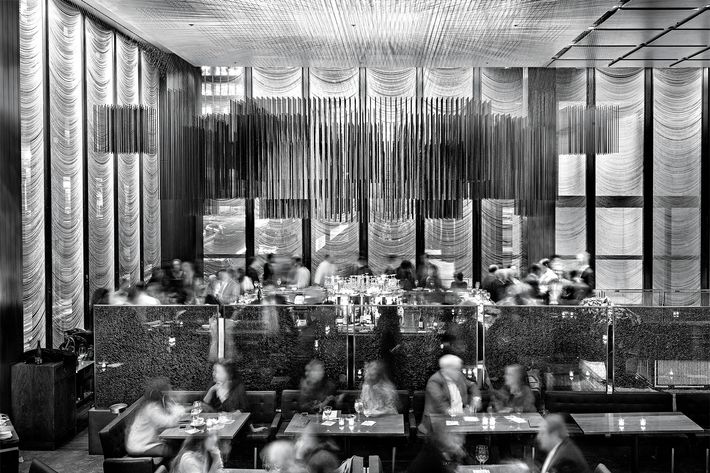 Carter: Ninety percent of the time, I have either crab cakes or fish. Chef in, chef out; year in, year out: The food is always consistent. It never declined. It has probably evolved with the way food has evolved, but I also see the same staff I saw there in the late 1970s. The food was never four-star food, but it's consistent two-to-three-star food. New York Times–star terms.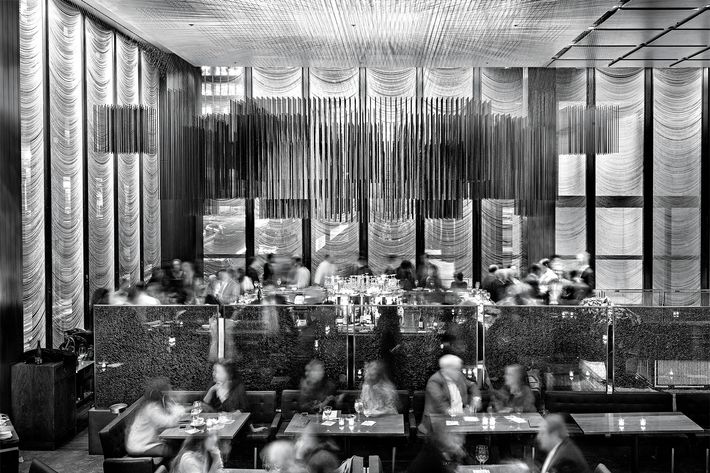 Sheraton: I had lunch there twice last spring and I was quite stunned at the croissant. First of all, there were none. When I asked for them, they brought out these terrible little knots of dough — all flaky, thick pastry — and I thought that was a pity. I think there was a good soup one day or something, but the crab cakes were not very good.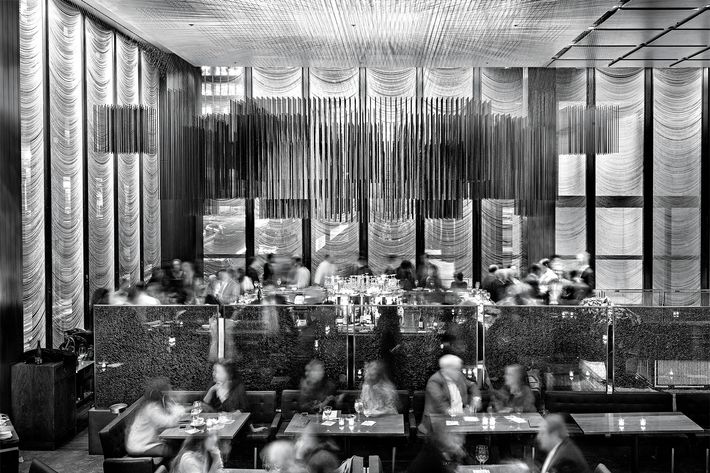 Diller: This is not a place for experimentation or surprise. One of the maître d's orders for me because, otherwise, I'll order too much. He changes it up. It's nice to surrender.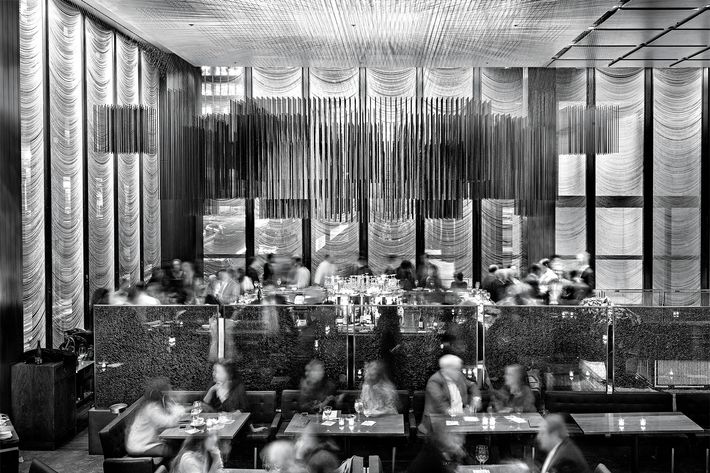 Carter: Julian [Niccolini] and Alex [von Bidder, the Four Season's two managing partners] brought a lot. First of all, they are there every day, which is very important. They run the show. It will be a very different animal afterward, and who knows what it will evolve into. Fortunately, the looks cannot change that much.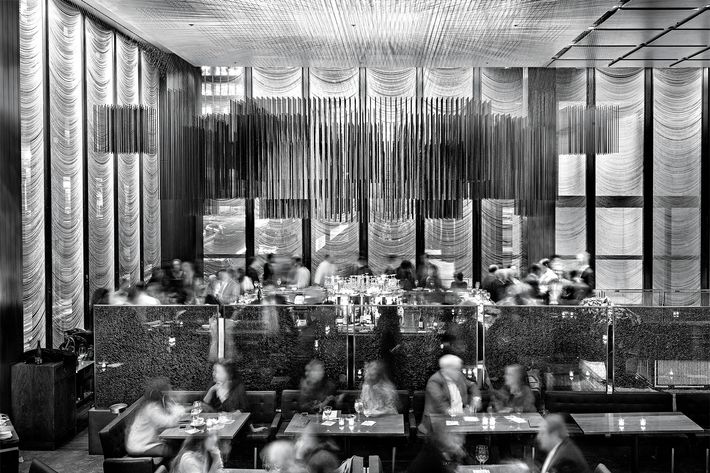 Sheraton: It's a grand place, and I don't think it will ever be the same again. First of all, they are going to take the name away because the name belongs to Alex and Julian, and if [Seagram Building owner] Aby Rosen wanted the name, he would have had to have given them many millions of dollars. So he's saying he does not want it to be called the Four Seasons, which I think is ridiculous. It's so identified with the name that it's going to be meaningless.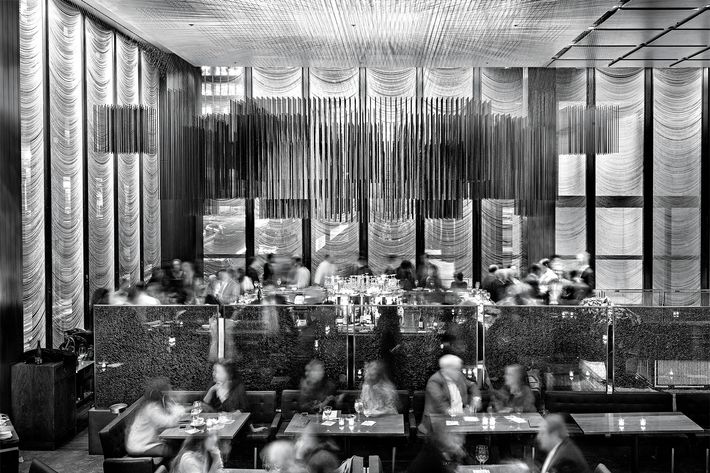 But I love the people who will take it over. I think they're jolly and fine, and they work hard, and they're creative and funny. I send them advice that they don't ask for. I don't know what they plan to do, but I don't think they can do riffs on the original food, because nobody remembers the original food, and the original food was, in a way, not riffable. They're cruisin' for a bruisin' in a place that big and that serious. I mean, it's not funny. It's not Soho, it's not Tribeca, and it's not the West Village. It's Park Avenue in a major, major building of major proportions. It should reflect that kind of elegance and easy formality. Not corny formality. They should have a dress code. Men should wear jackets, and I think they need ties. It has to be a New York restaurant: the quintessentially urbane New York. I can see them having a roast beef sliced in a wagon that goes around, if they want to be really grand.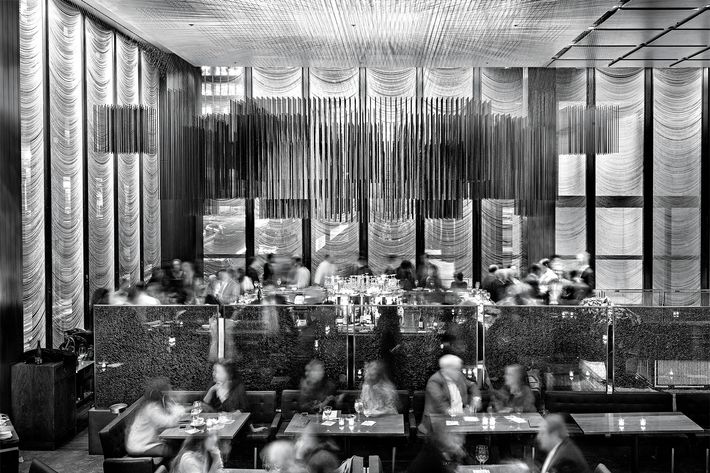 *This article appears in the December 14, 2015 issue of New York Magazine.