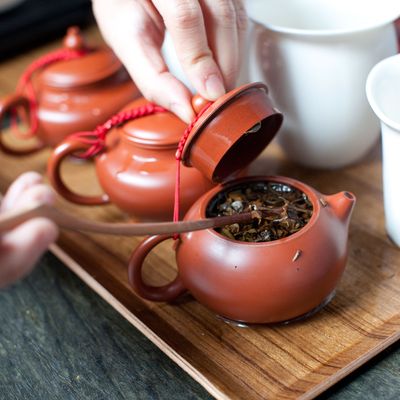 Tea time.
Photo: Melissa Hom
Elena Liao launched Té Company in 2012 while still holding down a full-time corporate job: She wanted to make the Taiwanese oolong teas she loved drinking more accessible Stateside. She ended up carving out a niche: While matcha has recently gone mass, American tea drinkers are perhaps less familiar with oolong teas, which are semi-oxidized, and fall halfway between green and black teas, in terms of fermentation. So, after finding wholesale success with restaurants like Per Se, Eleven Madison Park, and Atera, Liao decided to open her own brick-and-mortar space with the help of her partner, Frederico Ribeiro, formerly a sous-chef at Per Se.
The tea room quietly opened last month in a space that food lovers will recognize: the tiny room on West 10th Street that formerly housed Bonnie Slotnick Cookbooks. It's a serene, intimate setting — perfect for sitting down for a whole pot ($6 to $10.50), talking to Liao about 30 different varieties, and tasting one of Ribeiro's excellent snacks — but it's casual enough that you can also order a cup ($3.50 to $5) of tea to go. Liao, who insists she's new to the tea world herself, doesn't want Té to be serious or stuffy, which makes her a wonderful ambassador for spreading awareness about oolong. Grub talked to her about her unlikely path into the tea business, what's so special about oolong, and her heartwarming relationship with Slotnick.
How did you become interested in tea?
I moved here from Taiwan, but tea was not a thing in my family. None of them grow or sell tea. Somehow, it just happened. I think it was during 2008, when the economy was bad. I was working at Ann Taylor at the time, and it led me to rethink what I wanted to do. When I'm out of tea, I have to ask my mom to mail it because I can't find the teas I want easily or accessibly. I started going to seminars and reading books, and then I would just go to Taiwan and ask my mom, "Who do we know who has tea gardens?" Slowly, little by little, we started doing tastings for restaurants, and they liked the teas.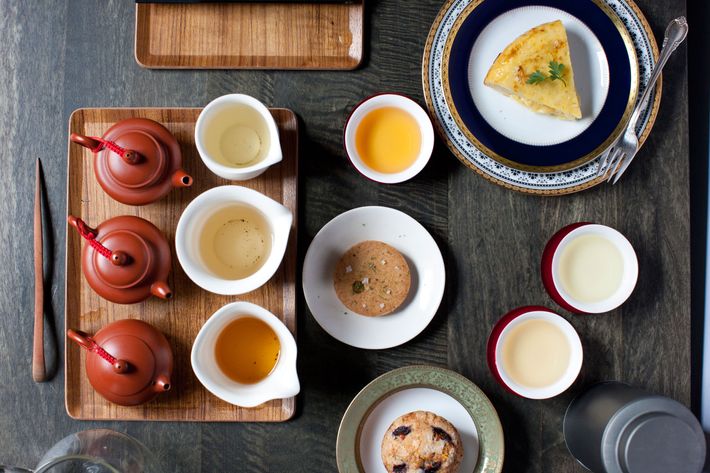 Why oolong?
I wanted to focus on just oolongs because, one, it's the least-focused-upon by the tea companies. Two, I'm from Taiwan, and that's what we're known for. We make beautiful oolongs.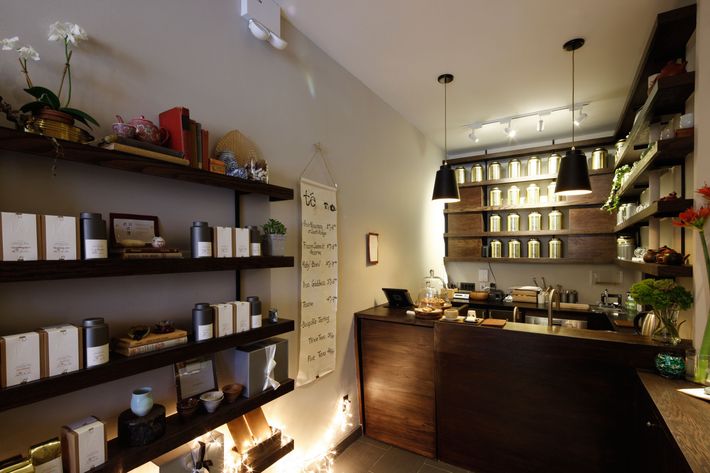 How would you describe oolong tea to someone who isn't familiar?
The most technical way to explain it is if you know green and you know blacks, oolong is in between. So you can make all of the teas from the same plant, and once the tea is harvested, if you don't oxidize it and you process it immediately, it's green. And then if you let it oxidize, like an apple or an avocado, browning all the way through, it's black. Anything between is oolong. Because it has such a wide range, you can have 15 percent oxidized oolong, you can have 75 percent oolong, and anything in between. The flavor profiles and aromas are extremely wide in the varieties. And many of the oolong styles call for roasting. That, by itself, is a very particular craft, and you have to apprentice — at least that's how they do it in Taiwan.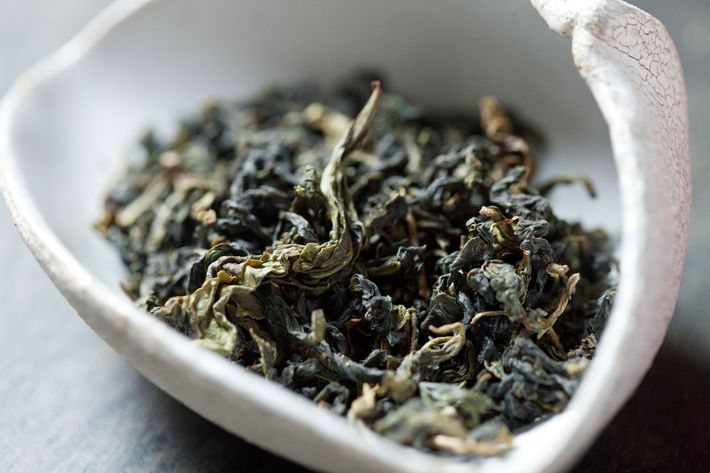 How caffeinated is it?
About a third of a cup of coffee. But it really depends. If it has more bud in it, generally that has more caffeine. It also has more antioxidants. Everything is more concentrated when there is a tea-bud leaf.
Per Se was your first big client. How did you get connected with a restaurant of that caliber?
There's actually not that many tea companies that do very highly specialized teas, especially not oolongs. I would say that in New York there are probably two or three companies that good restaurants will get teas from. Obviously, Fred was working there at the time, so he introduced me to the sommelier at Per Se. I was so nervous. In the end, really, you're just putting some water in some tea leaves, but I don't have a hospitality background. I have barely any tea background; I just learn as I go.
So it was a discovery process for them, just as much as I'm discovering what people like and what the palate is here. Oriental Beauty was the most obvious style of tea that resonated with all of the restaurants. We took it to Per Se, then Eleven Madison Park, and then Atera. I think it's easily understandable. It's a full-bodied tea. It's a good tea to introduce oolong to the American palate.
Why did you decide to open a brick-and-mortar?
Online is also not the right way to sell this — it's very much a touch, feel, smell tea. And drinking it is a very communal kind of activity. That's how it was consumed traditionally. It's actually different here, because I feel like tea is a personal experience instead of a communal experience. You take a cup to go. I'm not going to make you sit and do a five-step ritual. You can if you choose to.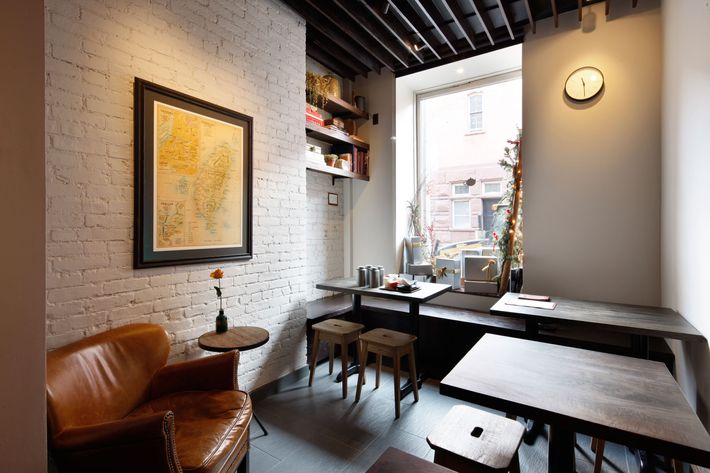 How many teas are on your menu?
We have about 25 to 30. We try to feature five every month or so, because if we just lay out everything, it's way too overwhelming. But there's a tea bible that flies around the room, and there's a little page on every single tea.
Food lovers know this space quite well, since it used to house Bonnie Slotnick Cookbooks.
I didn't even realize that. I never had been in her bookstore. I walked by it a few times, but never went in. We were looking at spaces around the neighborhood, and we saw the sign that it was available, and it looked small enough. We thought it would be a relatively lower-budget way for us to see what resonated with New Yorkers.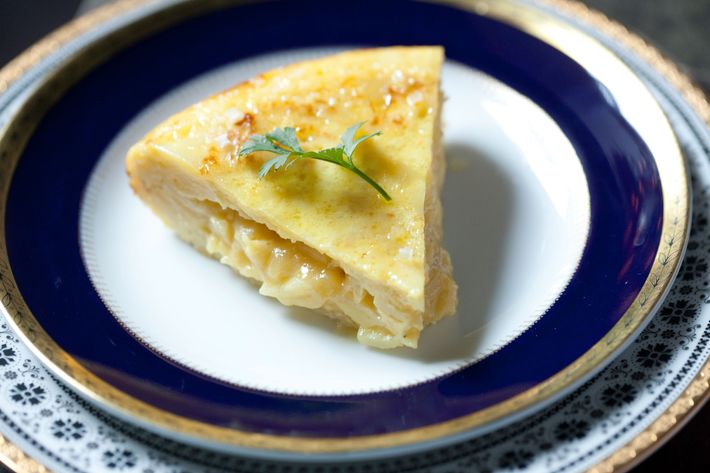 Have you been in touch with Bonnie?
Yes. She was sweet. She was being very helpful — like, "You should look out for this. You should do this. I know this." And we visited her at her new location. We invited her back for almost, like, a Bonnie homecoming: a potluck with the neighbors. She was here for so many years, and they all know her and love her. We thought it would be a good forum for everyone to get together now that we're fully open and comfortable. We had 15 neighbors in. Everyone made a little dish. And I don't know if this is typical because I never really lived in the West Village, but there are people who have lived here for 35 years who are friends with Bonnie, and one used to cook, and whatever he didn't finish, he would bring Bonnie dinner. Now we get the dinner. Just really cute. It's a true small building community.
Fred, you worked as the sous-chef at Per Se. What's your outlook on the snack menu here?
Ribeiro: The food is really simple. It has to be all market-driven because we have 0 percent storage space for anything else … It's like if you would go to Spain or Portugal for snacks. There's a tortilla that I learned how to do in Spain. There's a few cured meats from New Jersey, some cheeses. And then there are two sweets. One is the pineapple linzer cookie, which is a riff on a traditional Taiwanese pineapple cake but made with Yuzukoshō, a Japanese-pepper seasoning. The focus should be on the tea!