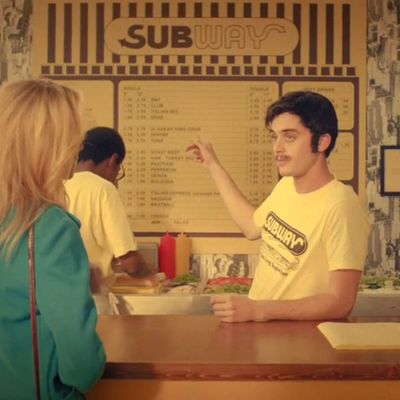 The new ad plays up nostalgia.
It has been a truly terrible year for Subway: Former spokesman Jared Fogle got sentenced to 15 years in prison for paying to have sex with minors and possessing child pornography; the chain took heat for firing a worker for being HIV-positive; and it had to settle a huge class-action lawsuit about exaggerating the size of its sandwiches. It's no surprise, then, that Subway is overhauling its public-relations strategy.
The company's new advertisements, which premiered on Sunday, emphasize the freshness of its sandwiches, stating, "Subway was fresh before it was fresh to be fresh." (Apparently, subtlety is not Subway's strong suit.) "Panera and Chipotle talked about it and got all the credit. It annoyed us," Subway's chief advertising officer, Chris Carroll, tells Nation's Restaurant News. "We wanted to go back and stake the claim of freshness. That's exactly what this ad is intended to do." Carroll also boasts that instead of hiring actors, the "sandwich artists" in the ads are real employees.
Subway seeks to associate the brand with a face other than Fogle's: Co-founder Fred DeLuca died this year, and his son plays him in the ad, which depicts the chain's beginning days. (Carroll also notes there will be no more celebrity endorsements.) It's smart for Subway to capitalize on nostalgia — DeLuca's charming backstory involves starting a sandwich shop to raise money for college — and this is quite a departure from the chain's previous ads, which mostly emphasized the affordability of its sandwiches and, of course, the potential for weight loss.
For what it's worth, Carroll claims this plan has nothing to do with Fogle's scandal: "We started this work before the whole thing with [Mr. Fogle] went down," he tells Ad Age. "We had made the decision [that] what he stood for around losing weight and … no fat, no calories — that was what fresh used to be. If we were going to redefine the brand, we had to redefine it with a new strategy and new tactics."