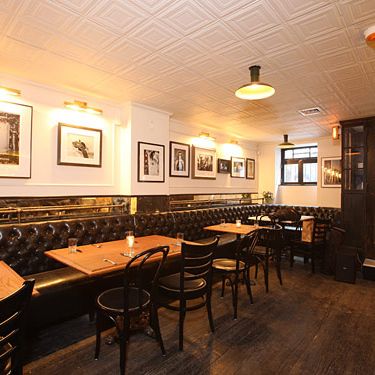 Fedora's the testing ground.
Well, this is happening fast: Gabriel Stulman has joined Danny Meyer, Daniel Humm and Will Guidara, Andrew Tarlow, and several others in the movement to topple tipping. The prolific New York restaurateur — who owns Fedora, Montmartre, Jeffrey's Grocery, Joseph Leonard, Perla, and Bar Sardine — announced in an email that starting on January 4 there will be no tipping at Fedora.
Per the new standard, menu prices at Fedora will increase, including everything but tax. "While the prices for individual menu items may seem high at first, the overall cost of the meal will be only slightly greater under the new system," Stulman writes. He notes that kitchen workers will benefit greatly from this new policy, and explains that, for front-of-the-house staffers, "Instead of tips, dining room staff will receive a share of the restaurant's gross sales on top of a higher hourly wage … our dining room staff will continue earning at a level equal to, or in some cases higher than, their current rate."
Stulman notes that there are tentative plans for his other restaurants to follow suit, too. So which big-name restaurateur is next? Is it you, Mario Batali? Andrew Carmellini? David Chang? New York has certainly reached its tipping point — ba-dum ching.