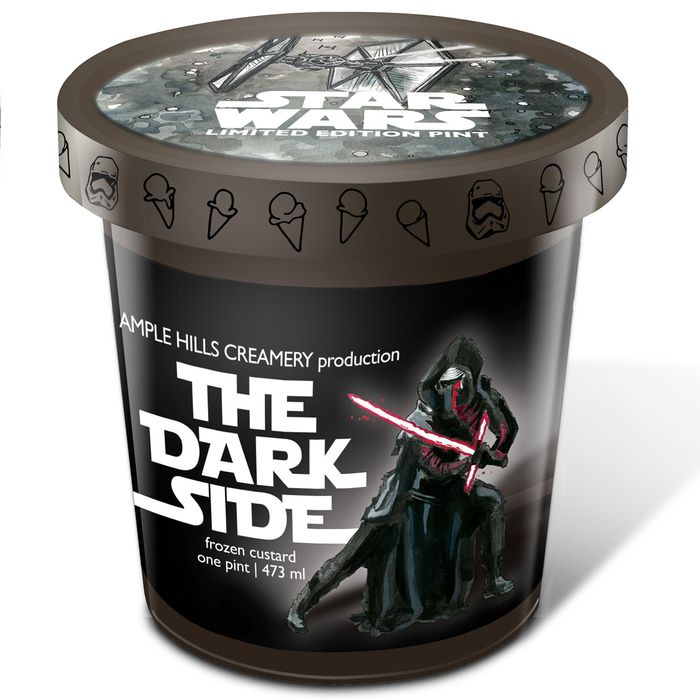 Impressive.
Photo: Courtesy of Ample Hills
Co-owner Brian Smith claims Ample Hills Creamery's two new frozen custards are, in all likelihood, "the coolest thing we've ever done," and really, it's hard to find fault in that assessment: New York's beloved ice-cream-maker worked directly with Lucasfilm and Disney to whip up a pair of official flavors for the release of Star Wars: The Force Awakens, both of which are available for preorder right now.
Per Ample Hills, the Light Side and the Dark Side are as follows:
The Light Side flavor is a bright marshmallow ice cream with homemade crispie clusters, as well as a smattering of handmade cocoa crispies (to represent the dark side still lurking within the light).

The Dark Side, by contrast, is an ultra-dark chocolate ice cream with espresso fudge brownies, cocoa crispies, and white chocolate pearls (to represent the light still hiding in the dark, waiting to burst through).
It's a big coup, particularly for Smith, who used to be a sci-fi screenwriter. Pints are being sold online only in four-packs for $36, so local Star Wars buffs hoping to stroll in for a Wookiee cone will be sorely disappointed, though they can swing by the Gowanus store if they prefer picking up preordered pints in person.